GET Stock

Quotes


Confused and Disappointed, Internet in No Mood to Celebrate Nawaz Sharif's Jail Term Suspension
The internet is disappointed after Nawaz Sharif's jail term suspension, with many calling it a big disgrace for a democratic nation.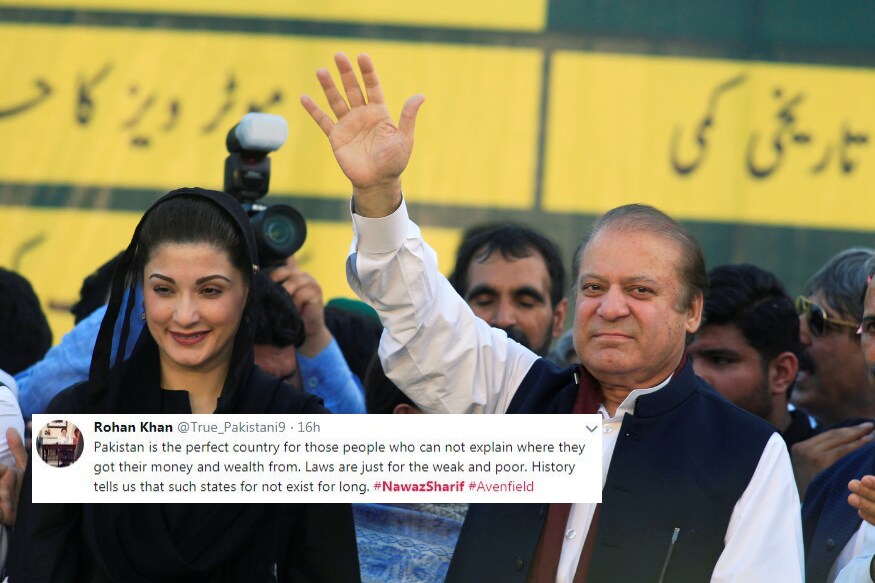 (Image: Reuters)
Although Pakistan lost against India in the Asia Cup match, Wednesday was a good day for Pakistan's former prime minister Nawaz Sharif, his daughter Maryam Nawaz and son-in-law Mohammad Safdar after the Islamabad High Court suspended their jail term in the Avenfield corruption reference case. The court case against the three began after the revelation of Panama Papers in 2016 disclosed that Sharif's family owned several apartments in London through offshore companies.
They were sentenced to jail by a lower court in July. However, the verdict has now been quashed by the high court after the prosecution failed to corroborate any evidence that proved Sharif was guilty of owning the London apartments.
And while Nawaz Sharif's supporters are in jubilation, the reactions on social media were mostly confusing, with many condemning the verdict and many wondering whether Sharif was in fact jailed to keep him from contesting in the Pakistan elections.



PMLN rightnow#NawazSharif #IslamabadHighCourt pic.twitter.com/wCmG9hGuNl


— Foji®™ (@Planet_Walaa) September 19, 2018

So what does the suspension of the jail sentence against former #Pakistan PM Nawaz Sharif mean? That the 'powers that be' only wanted him in jail to prevent him from contesting the July 25 general election and not to permanently bar him from politics? #NawazSharif

— Mehreen Zahra-Malik (@mehreenzahra) September 19, 2018




Mithaai at workplace Cause Sherrrr #NawazSharif #MaryamNawaz pic.twitter.com/3zjkyM36mJ


— Fatima K (@famadramaa) September 19, 2018

Everything is obvious now why #NawazSharif and his daughter @MaryamNSharif were subjected to torture and media trial is the only reason they went up for a democratic federation of Pakistan having supreme parliament and independent foreign policy

— Malik Achakzai (@MalikAchkJourno) September 19, 2018




#NawazSharif and Maryam Nawaz are set to be released from prison.
Isn't this an another example of scam in the country? I must say that Pakistan has become a mere joke among the world because of these Sharif dramas.


— Kiya Parmar (@kiyapag) September 19, 2018

The best conspiracy theory on #Avenfield so far: #NawazSharif gave 8 billion dollars in reparations to get off the hook ... but he handed the money to #Saudi Arabia, which in turn, will give it to #Pakistan for bailout
کیا زرخیز دماغ ہیں ظالموں کے

— Mohammad Taqi (@mazdaki) September 19, 2018




End of healthy diet for Noora #NawazSharif I thought jail was good for him, well at least his waistline. Ho hum


— Sara Taseer (@sarataseer) September 19, 2018

This decision will change the fate of Pakistan's politics. "Islamabad High Court".
A good day for Democracy? Or a worst day for Law?
PAKISTANI POLITICS IS UNPREDICTABLE.#Avenfield #NS pic.twitter.com/wLl4tsQmdV

— Mubashir Iqbal (@MubashirrSays) September 19, 2018




So Nawaz Sharif and his dear
daughter has been released from the prison.
And defeated the justice.
oky Mr Nawaz Sharif you will escape from the court easily but don't forget there is a God who has power.
And you will be answerable on Day of Judgement.
Don't forget!!#NawazSharif


— ZOONISHA (@The_Geminiann) September 19, 2018

I just can't thank enough Allah , seriously waking up to this news and the way my dad and uncles and cousins are happy !! Thank you so much .... #Avenfield

— Syeda Mahinu Shah (@syedamahinu) September 19, 2018




#NawazSharif and Maryam Nawaz are set to be released from prison.
Isn't this an another example of scam in the country? I must say that Pakistan has become a mere joke among the world because of these Sharif dramas.


— Kiya Parmar (@kiyapag) September 19, 2018

#NawazSharif
1 judge of Islamabad High Court has made entire Judiciary laughing stock by suspending the judgement of 5 senior judges of Supreme Court. Remember that the judgement in #Avenfield was unanimous 5/0.This is Murder of Justice by Judiciary itself. NOT YET NAYA PAKISTAN.

— Rana Hira (@Gulgoona1) September 19, 2018




#NawazSharif and Maryam Nawaz are set to be released from prison.
Isn't this an another example of scam in the country? I must say that Pakistan has become a mere joke among the world because of these Sharif dramas.


— Kiya Parmar (@kiyapag) September 19, 2018

Our Judicial system is a joke. Where rapists of kids roam free who belong to lower class & can't even pay bail money, how can you expect the multi billionaire looters to stay inside. A dark day.#NawazSharif

— Khadija Abbas (@TheKhadijaAbbas) September 19, 2018




#NawazSharif and Maryam Nawaz are set to be released from prison.
Isn't this an another example of scam in the country? I must say that Pakistan has become a mere joke among the world because of these Sharif dramas.


— Kiya Parmar (@kiyapag) September 19, 2018

Seriously !
If this convicted criminal can get a bail out. I tell you let all the prisoners be free from jails.
End up the concept of right and wrong Please DO! #MaryamNawaz #NawazSharif

— Mah Noor (@_Mah_noor_) September 19, 2018




#NawazSharif, Maryam Nawaz and Capt. Safdar jail sentence has been suspended. They have been freed from jail. Nothing is more confusing than Pakistan's judicial system.


— Suraksha Dodai (@SurakshaaD) September 19, 2018

So I'm really disappointed in the Pakistan courts today. I was hoping they finally turned to fight corruption. So we have a suspended sentence and a upheld conviction demonstrating the if you're rich, famous and have contacts, you can walk the earth, a free man. #NawazSharif

— Dr Rita Pal (@dr_rita39) September 19, 2018




Pakistan lost today
A theif wins #NawazSharif


— Abdul Rafay (@rafay7428) September 19, 2018

#NawazSharif
A Black day for Pakistan.

Judge intentionally overlooked the evidence and gave relief to the criminals on petty legal lacuna.

— سائینس دار (@TimeSpaceMe) September 19, 2018




Pakistan is the perfect country for those people who can not explain where they got their money and wealth from. Laws are just for the weak and poor. History tells us that such states for not exist for long. #NawazSharif #Avenfield


— Rohan Khan (@True_Pakistani9) September 19, 2018
Read full article