Congress Shares 'Many Facets' of Rahul Gandhi in Berlin, Photos Become Meme Gold
The Congress President cannot seem to catch a break!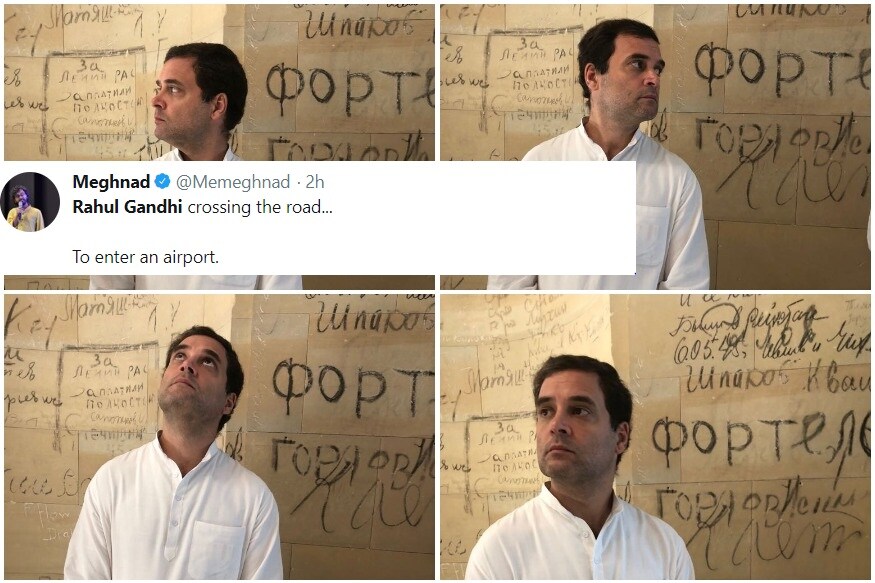 The Congress President cannot seem to catch a break!
New Delhi: Congress President Rahul Gandhi, who is currently on an official visit to Europe, spent some time at Bundastag- the German Parliament.
His pictures at the historical building in Berlin published by Congress' official handle went viral on the Internet.
The many facets of Rahul Gandhi. #Bundestag pic.twitter.com/MtoNs1TxjO

— Congress (@INCIndia) August 23, 2018
Twitterati were at a loss about the purpose of posting the images of Congress president staring blankly at nothing. The trolls were un-sparing and soon, the Congress president ended up a meme.
Here are some of the most hilarious reactions to the images:
When you're traveling without ticket & suddenly TC enters the compartment.. pic.twitter.com/kbwYm64eBj

— Arjun (@Zoomfatak) August 23, 2018
Mom : ye dress kithne ka hai?Shopkeeper : 5000rs Mom : 1000rs me dedo Me : pic.twitter.com/n6J3gGKKAN

— Mohammad imran (@mohdimran46) August 23, 2018
"DP worthy honi chahiye" pic.twitter.com/7rOay6rFtI

— East India Comedy (@EastIndiaComedy) August 23, 2018
Me when my mom starts talking about my marriage pic.twitter.com/k0bCIf0g8Z

— Shreemi Verma (@shreemiverma) August 23, 2018
Whoever is running this account is either @RahulGandhi's biggest enemy or biggest lover. Any idea who? https://t.co/5RYAIMAvHY — Vivek Agnihotri (@vivekagnihotri) August 23, 2018
Rahul Gandhi crossing the road...

To enter an airport. pic.twitter.com/lrvM9mfWoa

— Meghnad (@Memeghnad) August 23, 2018
Rahul Gandhi writing exam 😂 pic.twitter.com/b25jH96jG9 — Maithun 🇮🇳 (@Being_Humor) August 23, 2018
BJP Karnataka's Twitter account also joined the trolling: 
Not sure about many facets but this more or less looks like a worried @RahulGandhi searching for existence of Congress in the country. https://t.co/PrlQ5SoqNO — BJP Karnataka (@BJP4Karnataka) August 23, 2018
During his two day tour of Germany, Rahul Gandhi would also be meeting German NGOs and industrialists, and address a conference organised by the National Overseas Congress.
Get the best of News18 delivered to your inbox - subscribe to News18 Daybreak. Follow News18.com on Twitter, Instagram, Facebook, Telegram, TikTok and on YouTube, and stay in the know with what's happening in the world around you – in real time.
Read full article