Corpse Flower Bloom After 9 Years; Brings Hundreds to Kerala Garden
The flower's bloom lasts for just 48 hours before it collapses in on itself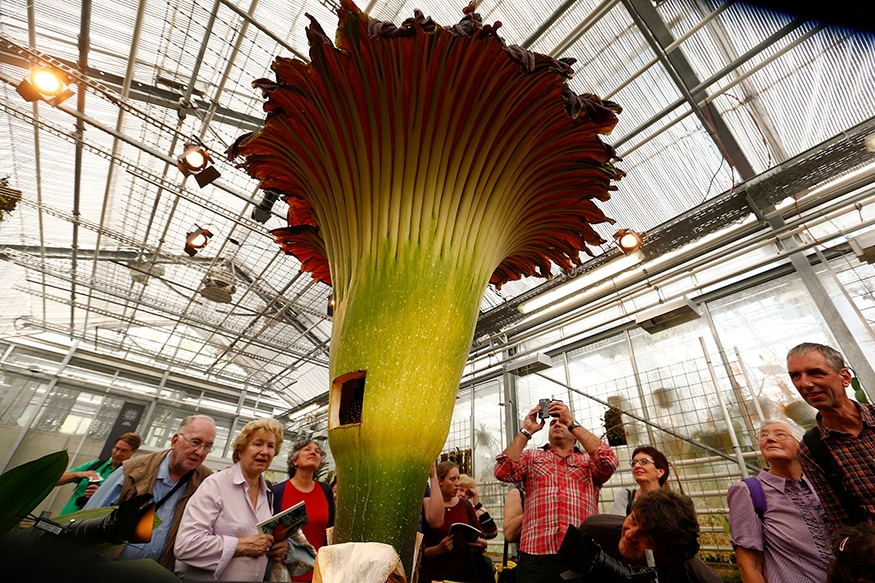 Visitors look at a blooming Titan Arum (Amorphophallus titanum), one of the world's largest and rare tropical flowering plants, at Basel's Botanical Garden September 29, 2014. The flower, which emits strong odour likened to rotting meat, which gives it it's common name 'corpse flower', wilts and dies after two days. Both the 'fragance' and the flower's meat-colouration attract pollinators - carrion flies and beetles. REUTERS/Arnd Wiegmann (SWITZERLAND - Tags: ENVIRONMENT SOCIETY) - RTR486QC
Amorphophallus titanum gets the dub 'corpse flower' because of its distinct odor: rotting flesh. It is the largest species of flowers in the world and recently one bloomed in Kerala after 9 years.
Hundreds of people flocked to the Gurukula Botanical Sanctuary at Alattil to watch this rare flower in bloom. This flower, that stands at almost two metres tall, will last for just 48 hours before it collapses in on itself.
This flower, a native of rainforests in western Sumatara, Indonesia, is unable to pollinate on it's own uses its stench of rotting meat to attract pollinators like flies and beetles. The flower owing to its rarity is classified as a 'vulnerable' species with the next stage endangered by the International Union for Conservation of Nature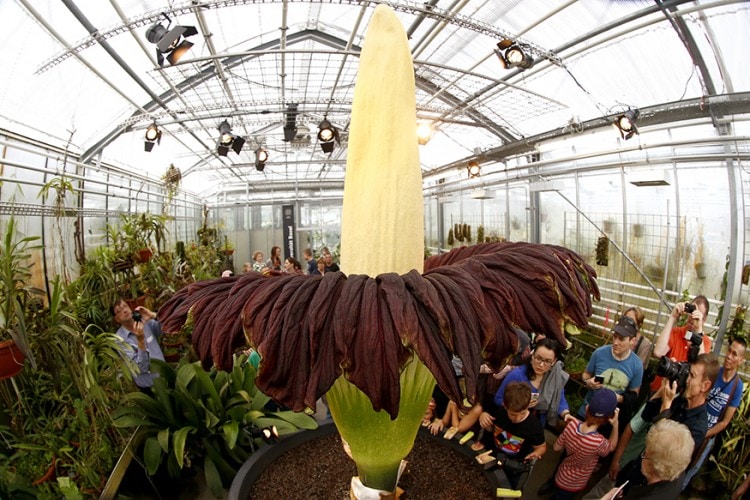 Visitors look at a blooming Titan Arum (Amorphophallus titanum), one of the world's largest and rare tropical flowering plants, at Basel's Botanical Garden September 29, 2014. The flower, which emits strong odour likened to rotting meat, which gives it its common name 'corpse flower', wilts and dies after two days. Both the 'fragrance' and the flower's meat-colouration attract pollinators - carrion flies and beetles. REUTERS/Arnd Wiegmann
Get the best of News18 delivered to your inbox - subscribe to News18 Daybreak. Follow News18.com on Twitter, Instagram, Facebook, Telegram, TikTok and on YouTube, and stay in the know with what's happening in the world around you – in real time.
Read full article