Cricket Australia's Cheeky Birthday Wish For Damien Fleming Has Left Tendulkar Fans Fuming
A tweet posted by Cricket Australia on Tuesday sent Sachin Tendulkar's fans into a tizzy.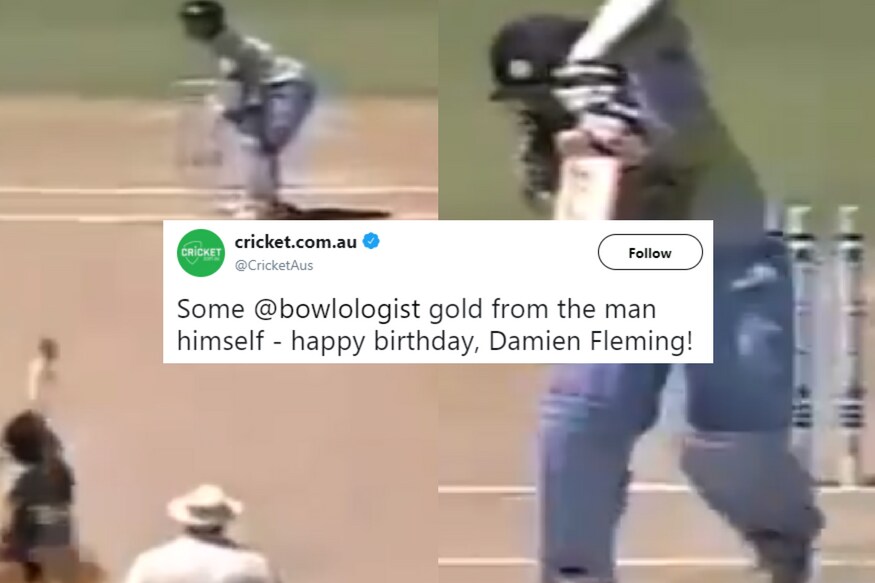 Cricket Australia / Twitter
Master Blaster Sachin Tendulkar, widely regarded as one of the world's best batsman, turns 45 on Tuesday. So does the former Australian pace bowler Damien Fleming.
As the country recalled and celebrated their favourite memories of the cricketing legend Sachin, it was a video posted by Cricket Australia that has left several Sachin fans fuming on the microblogging site Twitter.
The video shows the Aussie pacer Damien Fleming getting Sachin out clean bowled with an inswinger in an ODI in Perth during the 2000 Carlton & United Series.
Some @bowlologist gold from the man himself - happy birthday, Damien Fleming! pic.twitter.com/YcoYA8GNOD

— cricket.com.au (@CricketAus) April 24, 2018
Unimpressed by their tongue-in-cheek humour, Indian fans hit back at Cricket Australia. "I believe, Aussie's are doing ball tampering from long time ago. Only it came into picture with proof this year. You are lucky @bowlologist as you didn't got caught, Happy birthday..." wrote one irked fan.
No matter how many bans, Australians will never change...😁On Sachin's Birthday you are posting a video how Damien Fleming bowled him. Couldn't you find another batsman instead of Sachin? #HappyBirthdaySachin

— शशांक (@iShhhshank) April 24, 2018
How about This @CricketAus ?A Classic cover drive as Birthday gift from one Birthday boy @sachin_rt to another Birthday boy @bowlologist! 😁🙏 pic.twitter.com/TxF1v11UIr

— शशांक (@iShhhshank) April 24, 2018
Also sachin smashed Australian strong bowling attack back in 1998 😀#HappyBirthdaySachin https://t.co/XZzwmNSzSF

— HBD தலைவா 😍😍😍 (@freakoffl) April 24, 2018
I think you missed this master stroke from our own @sachin_rt against so called Swing King @bowlologist pic.twitter.com/pv5K3bVjIz

— Kalai Selvan🇮🇳 (@kalais036) April 24, 2018
The swing...who tampered that ball? By the way of Smith's and Warner's birthday, kindly post some of their VDO's for the act they are famous for!!!

— Gaurab Mukherjee (@thumpsup) April 24, 2018
Dis is very bad... Arn't u aware of d things.. Don't play with our emotions..very pity to see dis..

— Anupoju Sai Chandra (@chandu_131097) April 24, 2018
I think this is the only moment to boast for damien fleming .so cricket australia is showing . No matter if he bowled sachin sachin will always be a legend damien or sachin without comparing career we can claim who is real superstar

— Mukul (@Mukul40650846) April 24, 2018
speaks volumes about the shame you bring to the gentleman's game. no wonder players are involved in unfair practices .

— Devopam Mittra (@devopam) April 24, 2018
However, there were many who took the Tendulkar dismissal video sportingly.
Why should they? What's wrong in this video, it was such a good bowl.

— KRISHNA (@KRISHNA17560103) April 24, 2018
I see what you guys did here 😁😁. We need some sharjah clips here. Anyways happy Birthday to @bowlologist and the GOD @sachin_rt

— Rajendra raju (@raju666) April 24, 2018
Interestingly, the 48-year-old Damien Fleming is currently in India, enjoying his commentating stint in the Indian Premier League (IPL) matches.
Get the best of News18 delivered to your inbox - subscribe to News18 Daybreak. Follow News18.com on Twitter, Instagram, Facebook, Telegram, TikTok and on YouTube, and stay in the know with what's happening in the world around you – in real time.
Read full article