GET Stock

Quotes


'Cricket Cheats': Twitter Lashes Out at Steve Smith and Team Over Ball-Tampering Controversy
While world cricketers expressed their disappointment over the ball-tampering controversy, a lot of memes also surfaced following the unfortunate incident.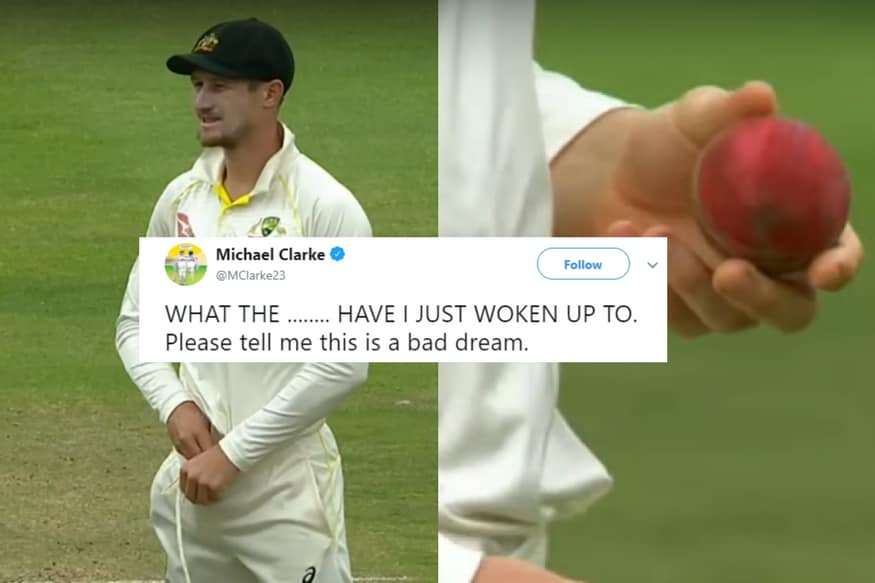 Image credits: 9 News Perth / YouTube
A lot has unfolded in the past 24 hours in the world of cricket.
The reputation of Australia's cricket team is in complete shambles after captain Steve Smith confessed to coming up with a plan with senior players to "cheat" South Africa by tampering with the ball in the third test.
Smith and Cameron Bancroft, the fielder chosen to carry out the tampering,
admitted to cheating
after Bancroft was caught on television using a piece of sticky tape to rub dirt into the ball, then trying to hide the tape down his trousers when umpires suspected something was up.
In an extraordinary press conference, Bancroft admitted to ball-tampering and Smith revealed it was the idea of the team management during the lunch break.
Steve Smith has
stepped down as the captain
of the Australian cricket team following the
sandpapergate
that has tainted Australia's image in the cricket world.
"The Australian camp has been lecturing people lately on how the game should be played and a line that shouldn't be crossed. Some of the stuff that has come out of the Australian camp, especially, has been laughable, former England captain Nasser Hussain told
Sky Sports
.
Disgusted by the unfortunate incident, cricketers and social commentators from all over the world took to Twitter to express their disappointment.
Oh no ! Bancroft. Very embarrassing. From the looks of it, this is not on. Haven't seen a series marred by controversies like this one in a long long time. The Cricket has been great, but this .. #SAvAUS pic.twitter.com/2uNhxtBXTv

— Mohammad Kaif (@MohammadKaif) March 24, 2018
My 2cents worth - This will be Darren Lehmann's greatest test as a coach, cos I will struggle to believe that this was all Bancroft's idea. #SandpaperGate.

— Kevin Pietersen (@KP24) March 24, 2018
Bud you know nothing in professional sport is done without the consent of your captain and coach... Tough times ahead.

— Dale Steyn (@DaleSteyn62) March 24, 2018
I need a bit of joinery doing at the house ... Are Aussies cheap ??? #SandpaperGate

— Michael Vaughan (@MichaelVaughan) March 24, 2018
Can we talk about this? pic.twitter.com/cmpRrOArgD

— Dale Steyn (@DaleSteyn62) March 24, 2018
WHAT THE ........ HAVE I JUST WOKEN UP TO. Please tell me this is a bad dream.

— Michael Clarke (@MClarke23) March 24, 2018
He definitely can add chafe to his list of stresses tonight https://t.co/t9QBtnWV8H

— Graeme Smith (@GraemeSmith49) March 24, 2018
Very interested in seeing how the match referee views this Bancroft matter. If indeed he was trying to hide the sandpaper, that makes him look very guilty.. Just as interested in seeing what the team management has to say about its team

— Harsha Bhogle (@bhogleharsha) March 24, 2018
Very disappointed with the pictures I saw on our coverage here in Cape Town. If proven the alleged ball tampering is what we all think it is - then I hope Steve Smith (Captain) & Darren Lehmann (Coach) do the press conference to clean this mess up !

— Shane Warne (@ShaneWarne) March 24, 2018
Shocked & disappointed #SAvsAUS

— Mitchell Johnson (@MitchJohnson398) March 24, 2018
Gaur se Dekhiye is shaks ko. Oscar - the cameraman. Inke camera se bachna mushkil hi nahi namumkin hai #SandpaperGate pic.twitter.com/NH5EGSdbuJ

— Virender Sehwag (@virendersehwag) March 24, 2018
As for the meme world, they did what they had to do.
Cameron Bancroft : What if someone sees me while tampering the ball

Darren Lehmann : pic.twitter.com/nnpS63MqE4

— SAGAR (@sagarcasm) March 24, 2018
#SteveSmith should call himself Steve Shame-ith now! pic.twitter.com/Y9VFpxRNmJ

— East India Comedy (@EastIndiaComedy) March 25, 2018
Next time when australian cricket team comes to play on ground #SandpaperGate #SAvAUS #stevesmith pic.twitter.com/Seyn0nwYXm

— KNR (@koustubh123rao) March 24, 2018
Steven Smith to ICC #AUSvSA pic.twitter.com/2g26YK8kO5

— Sunil- The Cricketer (@1sInto2s) March 24, 2018
Who did this? #SandpaperGate pic.twitter.com/GJy3oXfjd9

— Robin Adams (@RobinAdamsZA) March 24, 2018
Looks like Bancroft is just trying to get De Kock out. #SAvsAUS pic.twitter.com/XkvxRSnwZ7

— Trent (@trentslatts) March 24, 2018
The moment #bankroft performed magic and changed a small piece of yellow sand paper into a black cloth. #SAvAUS pic.twitter.com/P5eV0eKk32

— Rams Mabote (@RamsByTheHorns) March 24, 2018
This will never be not funny pic.twitter.com/flQXGStpBE

— RI (@Kahaanify) March 25, 2018
As for Cameron Bancroft, this tweet dated 2013 didn't age really well.
Speed cameras are very sneaky nowadays..

— Cameron Bancroft (@cbancroft4) September 20, 2013
International Cricket Council (ICC) has handed one-match ban and 100% of match fee to Steve Smith. While Bancroft has been fined 75% of his match fee.
Read full article
Countdown To
Elections Results
To Assembly Elections 2018 Results