India Just Beat Australia in Australia and Cricket Fans Cannot Keep Calm
India took a 1-0 series lead over the spirited Aussies, who fell short of just 31 runs with 323 target on the scoreboard.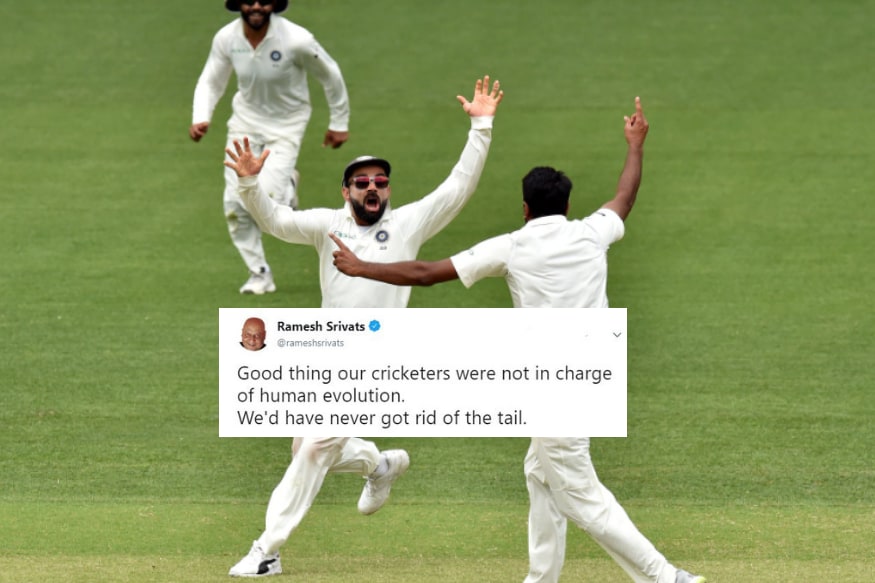 @cricketcomau / Twitter
What a glorious few days of Test match it has been for cricket fans, especially for the Indians.
Early on Monday, Team India ended their 10-year drought in Australia after the visitors defeated the hosts in what turned out to be a nail-biting 5th day, of the Adelaide Oval Test.
With this historic victory, India took a 1-0 series lead over the spirited Aussies, who fell short of just 31 runs with a target of 323 runs on the scoreboard.
Given that it was a huge moment to celebrate, fans united on Twitter to rejoice.
THAT IS IT! #TeamIndia has done it! Another glorious chapter added to our love affair with Adelaide. Got close in the end, but India win by 31 runs and lead the series 1-0 #AUSvIND pic.twitter.com/hmW1Lla2q8

— BCCI (@BCCI) December 10, 2018
India leading by 0-1 against Australia in Australia. Indians right now : pic.twitter.com/1DFqT8zYkI

— Bollywood Gandu (@BollywoodGandu) December 10, 2018
Indian fans in the last few minutes of the match. #AUSvIND pic.twitter.com/OSrJdpBBPD

— SAGAR (@sagarcasm) December 10, 2018
India won. #INDvAUS pic.twitter.com/uQ27omnC5a

— Pakchikpak Raja Babu (@HaramiParindey) December 10, 2018
Good thing our cricketers were not in charge of human evolution.We'd have never got rid of the tail.

— Ramesh Srivats (@rameshsrivats) December 10, 2018
2014 Adelaide test vs 2018 Adelaide test. It's been a journey, victorious journey. ♥️ #AUSvIND #Adelaide pic.twitter.com/wcl5fHQpQu

— kohlisflickshot previously 😂 (@_momosx) December 10, 2018
Test Cricket is Best Cricket. Great fight by Australia in the end but India were too good. Winning after being 41-4 in first innings is a special effort. Outstanding Test match for Pujara and great effort from our bowlers. Promises to be a great series #AusvInd pic.twitter.com/PEYzKuBsap

— Virender Sehwag (@virendersehwag) December 10, 2018
India winning a Test in Australia1977 - won by 222 runs at MCG1978 - won by an innings and 2 runs at SCG1981 - won by 59 runs at MCG2003 - won by 4 wickets at Adelaide2008 - won by 79 runs at WACA2018 - won by 31 runs at Adelaide#AUSvIND pic.twitter.com/IfBVgc5nNI

— Cricketopia (@CricketopiaCom) December 10, 2018
Virat Kohli scored his First Test Hundred at Adelaide Virat Kohli captained his First Test at Adelaide Virat Kohli scored Tons in both the innings at AdelaideVirat Kohli won the First Test Match in Australia at Adelaide #AUSvIND

— Mitul (@Eme2ul) December 10, 2018
Australia's partnerships today: 31, 41, 31, 41, 31, 32. Lose by 31. #AusvInd

— Ric Finlay (@RicFinlay) December 10, 2018
There was some nostalgia.
#Adelaide means always this picture only#INDvAUS pic.twitter.com/j6FKjaPZir

— Rohit TK (@Teekkayy) December 10, 2018
With 8 wickets in his bag and a fighting 24* and 38* in 1st and 2nd innings respectively, Nathan Lyon won hearts for his brilliant contribution to the cause.
Nathan Lyon, brilliant in defeat. #AUSvIND pic.twitter.com/BDWzRY2Cxr

— Adam Collins (@collinsadam) December 10, 2018
Nathan Lyon - 38 not out from 47 balls.A huge effort from the Aussie No.10 #AUSvIND pic.twitter.com/SfYR0Ff00T

— cricket.com.au (@cricketcomau) December 10, 2018
"It was important to stay calm. The odds were against them after Pat Cummins was dismissed. I wouldn't say I was cool as ice but you try not to show it. It was just a matter of one mistake or one good ball. Super proud to have four bowlers and take 20 wickets to win this Test match. As I said earlier, it's up to our batsmen to step up in this series. Pujara and Rahane stood up in this match. I thought we were the better team and deserved to win overall," Virat Kohli said in the post-presentation ceremony.
With 123 and 71 in the Test, Cheteshwar Pujara was adjudged the man-of-the-match.
"Playing before in Australia helped me, had prepared accordingly. We still need to improve as a batting unit overall and the credit for the victory should go to the bowlers. It means a lot, my father was the one who started coaching me when I was 8. I am sure he would be proud of me today," Pujara said.
7-187 at one point, Aussies looked pretty much done and dusted but Tim Paine (41), Pat Cummins (28), Mitchell Starc (28), Nathan Lyon (38) delayed India's victory and brought the crowd back alive at the Adelaide.
Here's the final scorecard:

Read full article