Where is it? Cricket Fans 'Struggle' to Spot Perth's Pitch Ahead of India-Australia Clash
BCCI was interested to know what fans felt about the Perth pitch.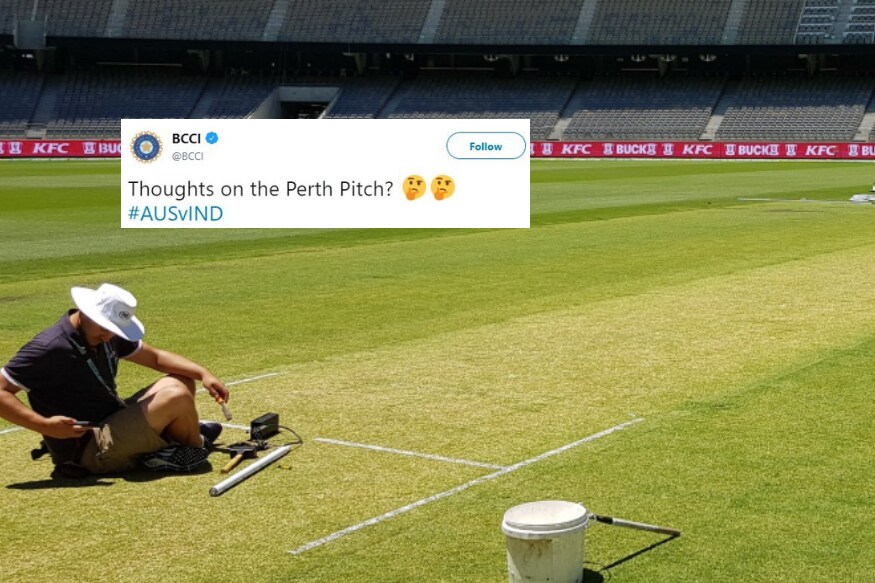 Image credits: BCCI / Twitter
Cricket fans are finding it hard to spot Perth's lush-green pitch and it is totally understandable.
India and Australia will play the second Test of the series at Perth on Friday and going by the photos taken on Thursday, Perth could offer a fast and bouncy track.
Ahead of the big clash, India skipper Virat Kohli said that with a big pool of world-class fast-bowlers, the team gets excited rather than getting nervous.
"Look, we're no alien to pitches like these. We've played in the past many times on these kind of wickets. So, it's nothing new for us. We know what to expect on a pitch like this as I said on a lively wicket with grass on it and the surface being hard, you're as much in the game as the opposition and there is no favourite to being the Test match," the skipper said.
"We certainly get more excited than nervous looking at lively pitches. We understand that we have a bowling attack that can bowl out the opposition now. When you have four, five bowlers at the peak of their ability, it is always a great feeling to have that in the side,"
As the talks around the 22 yards grew, the official handle of Board of Control for Cricket in India (BCCI) took to Twitter and shared a photo of Perth stadium, asking fans what they felt about the pitch.
Thoughts on the Perth Pitch? #AUSvIND pic.twitter.com/FQuUwRG3Yt

— BCCI (@BCCI) December 13, 2018
The grass was greener on both the sides.
kahan hai pitch?

— kirkitGuy (@kirkit14) December 13, 2018
Pitch ko identify karne ke liye uncle bhaitke chawkpiece se mark kar rha hai taaki differentiate kar sake

— Vijay (@Vijay_Aamir) December 13, 2018
In head coach style - "To hell with pitches, come mark your attendance and go back to pavillion "

— Fearless Kohli (@sreekuttans) December 13, 2018
December 13, 2018
There is no pitch pic.twitter.com/puWFDOtSkt

— Saket Ranjan (@ranjansaket) December 13, 2018
Where is the pitch? I see only grass

— Sagar Nangare (@sagarnangare) December 13, 2018
Ye kaisi pitch hai

— һѧяśһıҡѧ (@KohlisSpark_) December 13, 2018
Lethal for the batsmen, the pitch would be a delight for the pacers.
Bhuvi time

— dewl (@gryfffindhoe) December 13, 2018
Too much pacy wicket..will be a treat to watch fast bowling and will be an advantage of pacers#AUSvIND #Perth

— shodhan t shetty (@hereiamSHODhan) December 13, 2018
Indian pacers will love it!!

— Chandler Bing (@SarcasmChamp) December 13, 2018
Oh my God!!! Full cover of grass on the pitch. Seam, Swing and extra bounce. Sure will be a difficult test for the batsman.

— Aditya singh (@Adityas53467502) December 13, 2018
Help for pace attacks

— PARAVESH KHAN (@paravesh_khan) December 13, 2018
Get the best of News18 delivered to your inbox - subscribe to News18 Daybreak. Follow News18.com on Twitter, Instagram, Facebook, Telegram, TikTok and on YouTube, and stay in the know with what's happening in the world around you – in real time.
Read full article