Just a few weeks ago, cricketer Irfan Pathan was
trolled for posting a photo
with his wife wherein his wife Safa Baig was seen "showing" her face and arms.
Fans found the image 'unislamic' and mocked Irfan for being a Pathan and still failing to ask his wife cover her face and arms and also for allowing her to wear nail polish.
Irfan posted the photo with his wife on his official Facebook account on Sunday and it read: "This girl is trouble 🙈 #love #wifey."
Comments ranged from how Irfan should have asked Safa to cover her face as it is his duty to do the same as a Muslim and as a Pathan. Another fan said that while it was good that she was hiding her face, it was also important that Irfan asks her to hide her arms.
And now, the "fans" have lashed out at Pathan for sporting a Rakhi tied on his wrist.
As soon as the cricketer posted the photo on his official Facebook account, the Islamic radical trolls were quick to call him out on how it was "un-Islamic" while others showed disappointment over him celebrating a "Hindu festival".

The trolls were quick to comment.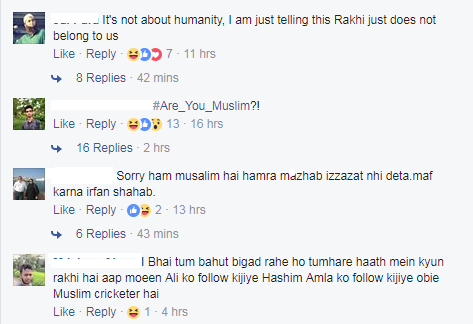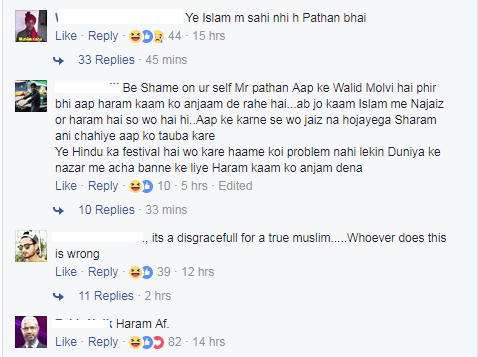 While some sensible folks tried to maintain peace in the comments section.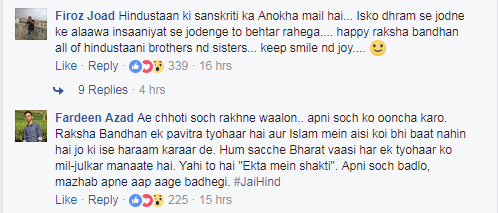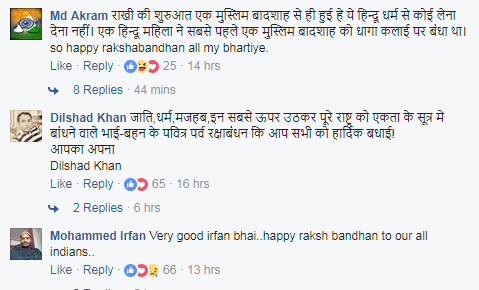 Last year Indian pacer Mohammed Shami had become the victim of religious bigotry online, after being attacked by the moral police over a photo he had posted on Facebook.
On 23 December, Shami put up a photo of himself with his wife in which she's wearing a sleeveless gown. Within moments, fanatics started hurling abuse in the comments section, attacking the cricketer over the 'immodesty' of his wife's attire.
Shami's fellow cricketer Mohammad Kaif stood up to the trolling on his behalf.
The comments are really really Shameful.
Support Mohammed Shami fully.
There are much bigger issues in this country. Hope sense prevails. pic.twitter.com/dRJO5WfOgU

— Mohammad Kaif (@MohammadKaif) December 25, 2016