Crossing The Swamp: Twitter Made Memes Out of a 'Heroic' Painting of Donald Trump
Trump is sailing on a boat much like George Washington - only he's going around in circles.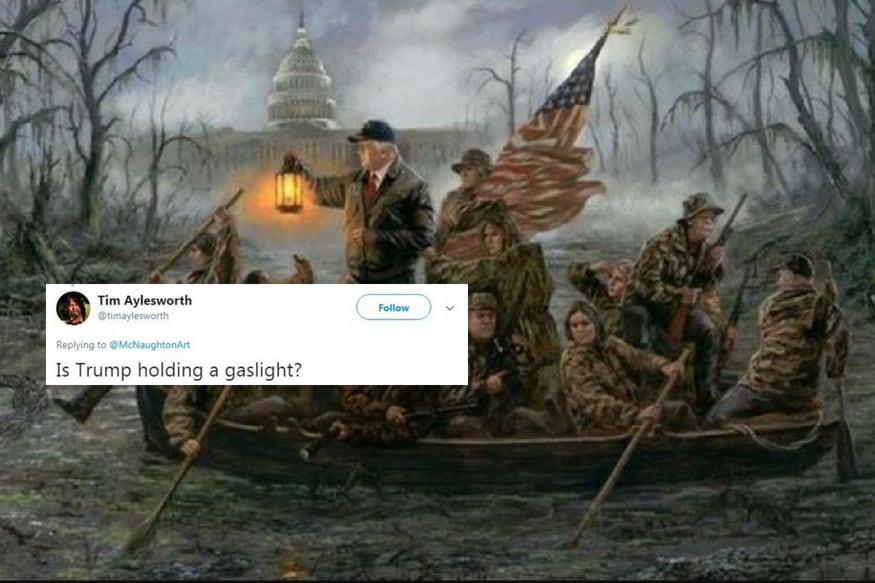 Trump is sailing on a boat much like George Washington - only he's going around in circles.
Trump is always in the media - something or the other he does or says manages to make headlines every other day. And now he's also in paintings.
An artist, Jon McNaughton, whose official page bio states that he is, "an established artist from Utah whose new paintings have attracted the international attention of millions over the last few years" has created a painting of the US President.
McNaughton based his work on a famous painting which is often featured in history books as The battle of Trenton and Princeton. In this painting, George Washington is seen rowing across the icy river of Delaware.
McNaughton has recreated that in a painting that features Trump as George Washington at the helm. Then, there are a lot of US soldiers, and Melania and Ivanaka Trump as well.
My new painting – "Crossing the Swamp"

"Never give up. Never lower your light.

Never stop till the swamp is dry." – Jon McNaughton

For a list of figures in the boat: https://t.co/ZIPdkBgcFU pic.twitter.com/CTPndvK5LM

— Jon McNaughton (@McNaughtonArt) July 31, 2018
McNaughton also shared a Youtube video of him creating the painting and explaining the significance of it.
"Trump endeavors to cross the 'swamp' of Washington D.C. as he carries the light of truth, hope and prosperity," McNaughton explained. "The murky water of the deep state is laced with dangerous vermin, perfectly willing to destroy American prosperity for their personal ideologies and financial gain."
While McNaughton may actually have had great intentions with the painting - Twitter on the other hand, had a field day with it. Some had some pretty nice observations to make about the painting itself.
Just lost at night, rowing in circles, because of their "leadership"... perfect metaphor of this administration. BRAVO — A. R. G. (@AdamRobGoCop) July 31, 2018
Looks like Jr. didn't make the boat.

— I went there 🇺🇸 (@realonediva) July 31, 2018
lot to unpack here but obvious observations first: Bolton looks like he's hunting Bugs Bunny and Jared Kushner has been left off the boat. https://t.co/G6kiZCi3XR — Jorge Ribas (@jribas) July 31, 2018
Of the many unintentional metaphors in this stunning work of art, John Bolton pointing an old-timey rifle the wrong way while staring into a distant past is perhaps the finest. #crossingtheswamp pic.twitter.com/R9CTjeGQqK

— Earl Hoffert (@Earl_Hoffert) July 31, 2018
another gem from the "Crossing of the Swamp" painting: Ben Carson is clearly paddling in the wrong direction and somehow that fits perfectly into the scene. pic.twitter.com/PQkG0voubT — Alex Thomas (@AlexThomasDC) July 31, 2018
Why is Trump's McDonalds bag glowing?

— Demos Cybernetician (@Kyberneticus) August 1, 2018
Some, on the other hand turned the the painting into better versions of the original.
K. I lied. It's #StillNotDone Andy. pic.twitter.com/Kyn3LNULeg — Billy Kapcoe (@BKapcoe) August 2, 2018
#Fixedit pic.twitter.com/VyNkGa433v

— Rolf Asphaug (@rolfdenver) August 3, 2018
look a little harder at who is crossing the swamp pic.twitter.com/zDORBx7xQs — sara yasin 😐 (@sarayasin) July 31, 2018
Fascist painter John McNaughton has another "masterpiece": Trump Crossing the Swamp of Washington.

However, I thought it needed a little touching up..............https://t.co/M6U6mHC65O

(ain't satire fun?) pic.twitter.com/HSRb19TwVe

— Tim Evanson (@TimintheCLE65) August 1, 2018
McNaughton also posted a tweet of how he tried to promote this painting of his on Facebook, but Facebook turned it down
I can't believe my Facebook advertisement was REJECTED! See the painting at https://t.co/lrt1pNWMsQ pic.twitter.com/zVn68ls7oW — Jon McNaughton (@McNaughtonArt) August 3, 2018
This is not the first time McNaughton has made paintings of Trump - however, this is the first one which has got him so much flak on social media. It doesn't seem to be his last, either.
It's coming my friends. It's coming soon. My painting, "Expose the Truth." Learn why I painted this here: https://t.co/fAprlVFadN pic.twitter.com/T2smu91WV3

— Jon McNaughton (@McNaughtonArt) August 2, 2018
Get the best of News18 delivered to your inbox - subscribe to News18 Daybreak. Follow News18.com on Twitter, Instagram, Facebook, TikTok and on YouTube, and stay in the know with what's happening in the world around you – in real time.
Subscribe to Moneycontrol Pro and gain access to curated markets data, trading recommendations, equity analysis, investment ideas, insights from market gurus and much more. Get Moneycontrol PRO for 1 year at price of 3 months. Use code FREEDOM.
Read full article