Cute, Cuddly and Captive: The Story of a Panda in Vienna Zoo Whose Each Painting is Sold for ₹40,000
Cute, cuddly - and captive.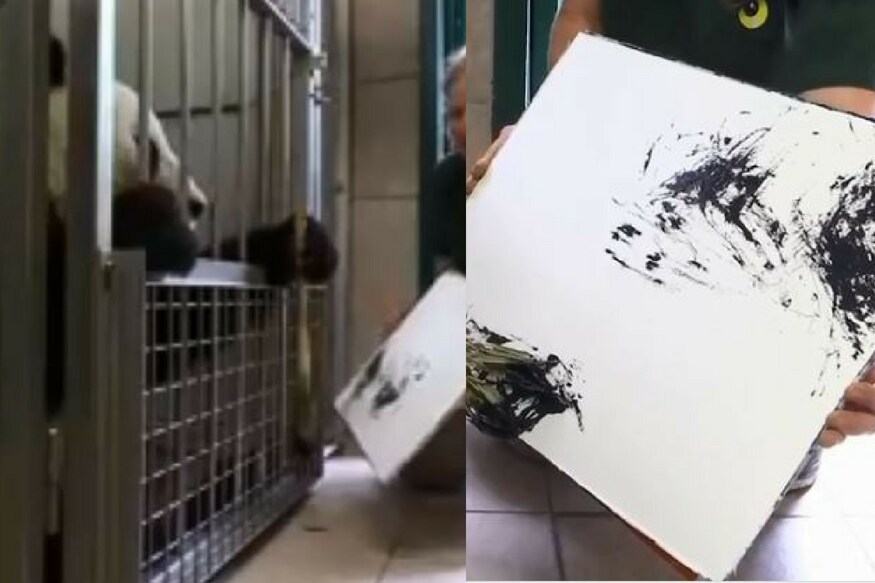 Cute, cuddly - and captive.
A panda from a Vienna zoo called Yang Yang makes more by selling one painting than a lot of Indian artists.
According to a Reuters report, the Vienna Zoo is luring visitors with their new attraction: a painting panda. Yang Yang, a female panda that gave birth to twins two years ago, has learned to use a brush to paint.
His paintings are now being sold online for 490 euros each, or over 40,225 rupees. The fund from the picture is supposed to be used to produce a picture book about the Austrian zoo's pandas.
However, a video showing Yang Yang sparked a debate on how this animal is being used just for commercial purposes - and the entire act borderlines on animal cruelty.
The Vienna Zoo is selling paintings made by 18-year-old panda for $560 each, raising funds to produce a picture book https://t.co/nOLA4cR0MQ via @ReutersTV pic.twitter.com/utev0v6iEi

— Reuters Top News (@Reuters) August 27, 2018
The video shows how the panda is fed something only to be encouraged to use a bamboo-shoot branch crafted into a brush to paint - and people aren't too happy about it.
Feeding a panda to make it "paint" from jail. Bravo. #smh

— 🎩🕷💀STEVER 💀🕷🎩 (@KARENSTEVER) August 27, 2018
came here to say exactly this. That panda is assuming that if it does this certain task, it will be rewarded. they're basically making it work for it's treats.

— J Λ D Σ D (@mologbalsack) August 28, 2018
Such a shame to see this panda in a cage in 2018!

— Erika Ius (@ErikaIus) August 27, 2018
It should not be in a cage!

Let's lock them up and see how they like it, I will give them a pad and some paint see if I can sell there art!

— xKitty (@xKittyCam) August 28, 2018
I wish someone fed me treats while I painted! Cute panda but animals making art is pretty ridiculous.

— Shelly T (@VexedShelly) August 27, 2018
However, a lot more people were supportive and partly amused by the concept of a panda making art.
$560 for a painting by a panda at the Vienna zoo. Do they accept $BTC?

— Andrew Dice Sorkin (@andydicesorkin) August 27, 2018
"Her style is unique and impressive." 😂😂 https://t.co/PdC0016Rpe

— marytee (@linuxgrrl) August 27, 2018
Not bad - you know - for a Panda.

— Hugh Beaumont (@beaves_dad) August 27, 2018
This tweet is perhaps a reflection of what recognizing a panda as an artist in modern times means.
Art Critic: I can really see the artist's pain and struggle living in a society forcing their generation to find their true identity

A panda drew it

Art Critic: oh...

— King of the Castle (@rapsfan25) August 28, 2018
Get the best of News18 delivered to your inbox - subscribe to News18 Daybreak. Follow News18.com on Twitter, Instagram, Facebook, Telegram, TikTok and on YouTube, and stay in the know with what's happening in the world around you – in real time.
Read full article