Dear Indian Cricketers, Have You Seen Mahela Jayawardene's Tweet Condemning Violence In Sri Lanka?
Twitter believes it is time for Indian cricketers to speak up on the growing violence in India.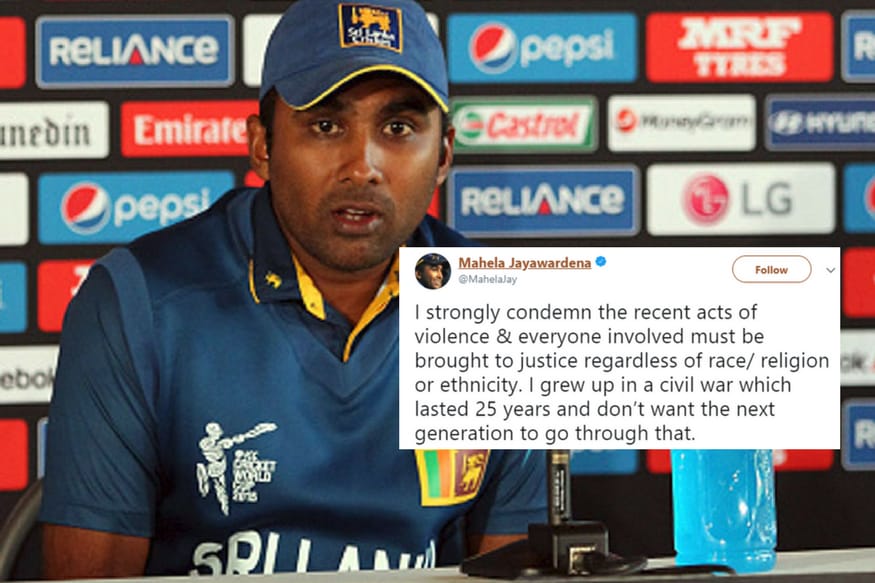 Photo credits: Getty Images
Sri Lanka declared a nationwide state of emergency on Tuesday after anti-Muslim riots left two people dead and more than 100 homes and shops ablaze in the popular hill resort of Kandy.
Armed forces including elite police commandos had to be deployed to restore order after rioters defied an overnight curfew and went on a rampage.
Realising the gravity of the situation in their country and how their message of peace could inspire many, cricketing legends Mahela Jayawardena, Kumar Sangakkara, and Sanath Jayasuriya took to Twitter on Wednesday.
"I grew up in a civil war which lasted 25 years and don't want the next generation to go through that," a worried Mahela wrote.



I strongly condemn the recent acts of violence & everyone involved must be brought to justice regardless of race/ religion or ethnicity. I grew up in a civil war which lasted 25 years and don't want the next generation to go through that.


— Mahela Jayawardena (@MahelaJay) March 7, 2018
Urging to "stand together" and "stand strong", Sanga wrote, "We are One Country and One people. Love, trust and acceptance should be our common mantra. No place for racism and violence."

No one in Sri Lanka can be marginalized or threatened or harmed due to their ethnicity or religion. We are One Country and One people. Love, trust and acceptance should be our common mantra. No place for racism and violence. STOP. Stand together and stand strong.

— Kumar Sangakkara (@KumarSanga2) March 7, 2018

Sanath Jayasurya too had something to say.
Disgusting and sickening to see the acts of violence in Sri Lanka. I condemn strongly and to bring the involved culprits to justice. I request people of Sri Lanka to be wise and stay together in these tough times

— Sanath Jayasuriya (@Sanath07) March 7, 2018
While the situation looks grim in the neighbouring country, things aren't any better back in our home.
Vandalism of statues is an issue that is plaguing India right now.
A statue of Vladimir Lenin was toppled in Tripura's Belonia town on Monday, following which a statue of Dravidian activist Periyar was vandalised on Tuesday.
It doesn't stop there. B R Ambedkar's statue was vandalised in Meerut district's Mawana Khurd on Wednesday morning.
With the rising communal violence and unrest in the country, people on Twitter wondered why the Indian celebrities aren't speaking up, just like their Sri Lankan counterparts.



how some subcontinental cricketers respond to majoritarian violence in their country. pic.twitter.com/p7YOxIujdc


— Rosie Roti (@supriyan) March 7, 2018

Very well said. A lot of Indian celebs can learn from this tweet.
THIS is how you tweet responsibly.
Thank you, Mahela.
Hope to see the Sri Lanka situation get normal soon. https://t.co/Avqc2BovkU

— Raja (@Raja_Sw) March 7, 2018




Mr shewag should take a class frm mahela


— sudheshpnair (@sudheshpn) March 7, 2018

Kuch seekh le @virendersehwag https://t.co/5kFrVv4Dg1

— नवेन्दु (@NavenduSingh_) March 7, 2018




Wish we had this kind of cricketers pic.twitter.com/MfDDdWSv6O


— बुद्धिजीवी 🙊 (@Buddhiijeevi) March 7, 2018
See.. Even he is concerned about his own country and on other hand we have Sehwag who Lits fire on Twitter with his tweets and at home with Shilajeet https://t.co/Wlzo34skku

— DoubleTrouble (@utterlybutterly) March 7, 2018
Here's world cup winner Sanath Jayasuriya condemning communal violence and calling for harmony.
Indian cricketers like Virender Sehwag and Gautam Gambhir spit hate on social media. https://t.co/PogGfAap1Y

— A time for wolves (@Maq_one) March 7, 2018
Many were clearly miffed and Virender Sehwag's name popped up several times, presumably because he had given the recent Kerala lynching a communal colour.
A mentally challenged tribal, Madhu, was lynched over stealing a bag of rice, who later succumbed to his injuries on the way to the hospital.
"Madhu stole 1 kg rice. A mob of Ubaid , Hussain and Abdul Kareem lynched the poor tribal man to death. This is a disgrace to a civilised society and I feel ashamed that this happens and kuch farak nahi padta," tweeted Sehwag.
Sehwag found himself in a foot-in-mouth situation after the entire list of accused was released.



It's is a crime to name accused from only one religion . Here is the name of all arrested. Aneesh, Hussain, Shamshudeen, Radhakrishnan, AbuBakkr, Jaijimon, Ubaid, Najeeb, Abdul Kareem, Harish, Biju, Muneer, Sateesh! Do you have the courage to put out all names, @virendersehwag ? https://t.co/C3jB3QVGHR


— Sneha Koshy (@SnehaMKoshy) February 24, 2018
Sehwag's attempt to selectively highlight only Muslim names was called out on Twitter by many.

16 arrested belong to various faiths. This crime is awful enough and killers need severest punishment. Communalising it is unfortunate & unexpected of an icon like Sehwag https://t.co/KdOjOoRnlq

— Shekhar Gupta (@ShekharGupta) February 24, 2018

Sehwag later apologised for the misleading tweet.
"Non acceptance of a fault is itself a 2nd fault.I apologise I missed out on more names involved in this crime bcoz of incomplete info & sincerely apologise 4 it but the tweet is not communal at all.Killers r divided by religion but united by a violent mentality. May there b peace," he wrote.
But let's not just blame Sehwag.
Whatever happened to the cricketers who we worship? If Mahela, Sangakkara, and Jayasuriya could speak up about their country, why is there a deafening silence from our heroes at a time of violence and hooliganism?
Read full article
Countdown To
Elections Results
To Assembly Elections 2018 Results