OPINION | Dear Society, Why is the Choice of My Bra Colour Offending You?
If a man spots a bra or even a part of it—you have done what exactly the world was scared of, you have trapped him.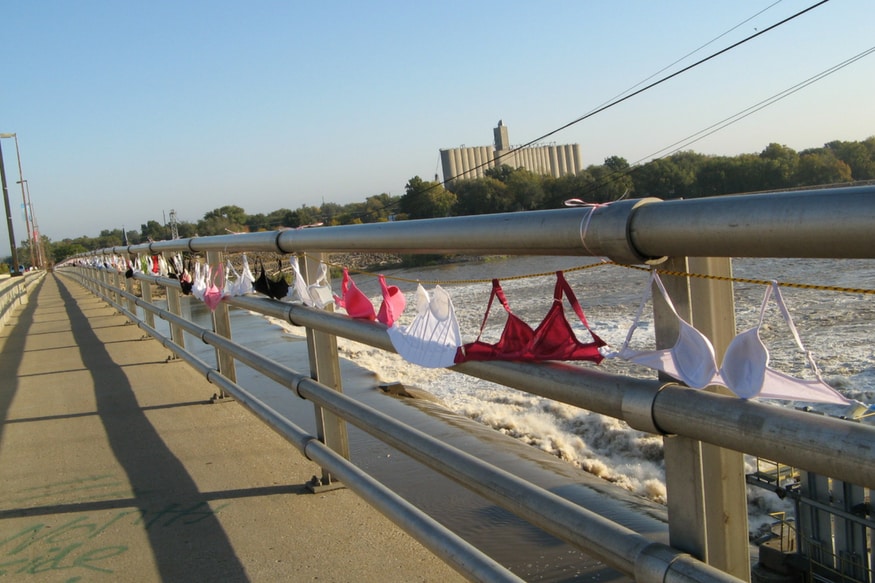 Image source: Flickr | Ali Eminov
Going to a convent school necessarily means diktats—mine was no different. We were asked to tie our hair in two ponytails or braids, our skirts had to be at least three inches below our knee, we were forced to wear a white slip under our shirt that had to be long enough to be pulled down from under our skirt for the regular checks that would happen, and, we were not allowed to wear coloured bras—only white.
Back then, these rules didn't make much sense (Not that they do now). We were asked to follow it, and we did. No one questioned the school on how they decide what we wear inside our shirts. I went to an all-girls school, so there were no boys (not even male teachers) if their justification was to protect us from the apparent male gaze. Maybe, it was their way to condition us in a way that we forget all the colourful bras and never even dare to show a strap.
So, it comes as no surprise that the girl students of Delhi Public School (DPS) Rohini were asked by their teachers to make sure that they wear slips along with their bras. The students were also told to conceal their bras, and to make sure that their undergarment is not visible, they were asked to wear only skin-coloured bras.
For some reason, bras have been an offensive piece for clothing for as long as history goes. This piece of essential underwear is seen as this venomous monster luring young boys and men alike. If a man spots a bra, or even a part of it—you have done what exactly the world was scared of, you have trapped him. Apparently, the lingerie is so magical that a sight of it can seduce all male species. And God forbid, if it's colourful. That would mean it was your intention all along to seduce the man, you evil bitch!
In a woman's lifetime, she probably has to buy a hundred bras—one to wear under T-shirts, one that has transparent straps (You are not supposed to show straps), one that's for when you go out running, one that has rigid and hurtful underwires (Because, how can your breasts even sag?), another one if your breasts are a size smaller than what society sees as the 'right' size. But is the woman safe and pure if she decides to ditch the bra altogether, since it's so offensive? Nope. You will be shamed for that too.
A New York Times article notes that the bra became widespread in America during the First World War, in part because the metal previously used to make corsets was needed for ammunition at that time. The necessity, like most products, was created. Slowly, it became a decorum. And for some reason, it became just an offensive object—it's offensive to see it, it's offensive to not see it.
But this 'don't-wear-coloured-bra' is, in fact, a common rule across the world. Even in Manchester, far away from India, female students at a school were once told they will be sent home if they wear coloured bras apparently because their male peers were getting 'distracted'.
And back in our home, it's considered to be so obnoxious that it's even removed from films. Although the Pahlaj Nihalani-led CBFC board has taken some bizarre decisions, this one probably topped it all. In 2016, the CBFC demanded a shot showing a woman's bra to be removed from the Sidharth Malhotra-Katrina Kaif-starrer time-travel drama Baar Baar Dekho before granting it a 'U/A' certificate. The reason? The Examining Committee found it 'offensive.'
The year before that a Disney-esque advertisement for a lingerie brand that aired on 'Cartoon Network' was found to be 'too offensive'. Inspired by the film Frozen, the musical ad featured an animated version of top American model Hannah Ferguson, 23, who finds the right sized bra, with a little bit of help. She is then shown in a changing room looking in a mirror, saying: "I found it".
Apparently, it was so offensive that people started writing to the television network complaining about its ill effects.
In all of this, there is one disturbingly underlying statement: The woman is out there, in her red, probably lacy bra, to get at the naïve man. Instead of working on sensitising boys on gender issues, from schools to neighbours to films—everyone out there have decided that the girl should be asked to dress properly to avoid being sexually harassed. Because, like Mulayam Singh Yadav had once said, boys are boys no?  They will obviously gawk and letch. And, it's your fault if you are wearing a colourful bra, and then daring to reveal it.
If Aamir Khan's black-netted vest under his bright yellow shirt in Rangeela isn't offensive, and if you don't bat your eyes when you spot a man in an underwear ad smeared in lipstick marks, in turn, making a woman his trophy, then you have no right to be offended by my choice of bra, or its colour.
Get the best of News18 delivered to your inbox - subscribe to News18 Daybreak. Follow News18.com on Twitter, Instagram, Facebook, Telegram, TikTok and on YouTube, and stay in the know with what's happening in the world around you – in real time.
Read full article