Deepika and Ranveer's Wedding Photos are Making Bollywood Stars Want to Get Married too!
'Deepika Padukone and Ranveer Singh might be one of the most attractive couples I've ever seen, their wedding pictures are so beautiful. I want to radiate this level of happiness on my wedding day.'
Image credits: Deepika Padukone / Instagram
Karan Johar, Sonakshi Sinha, and several other B-Town celebs now want to get married after seeing Deepika-Ranveer's wedding photographs and we can totally understand why.
After keeping their fans and Bollywood colleagues waiting for a week, Deepika Padukone and Ranveer Singh blessed us with photos from what seemed like a dreamy wedding.
On Tuesday, Deepika Padukone and Ranveer Singh took to their respective social media accounts and shared photos from their Sangeet-Mehendi-Shaadi ceremonies which were held in Italy's Lake Como earlier this week.
In the pictures, the power-couple seems to had a lot of fun. From Deepika dancing to the tunes of Bollywood numbers to Ranveer having a gala time with the guests, the pictures are pure gold.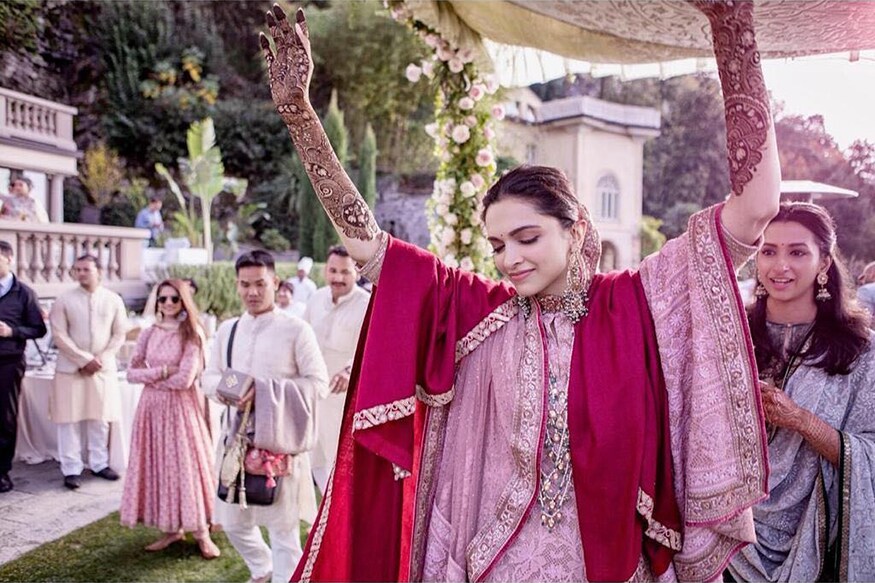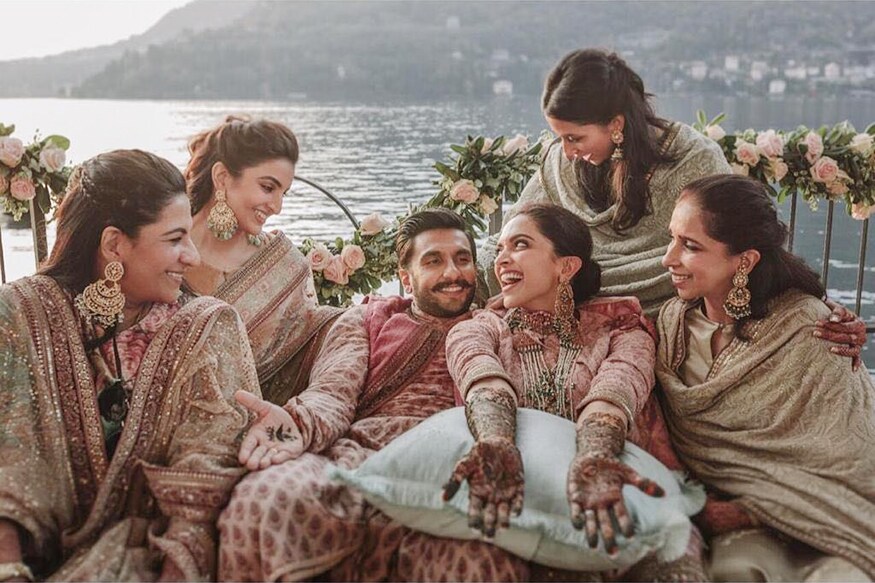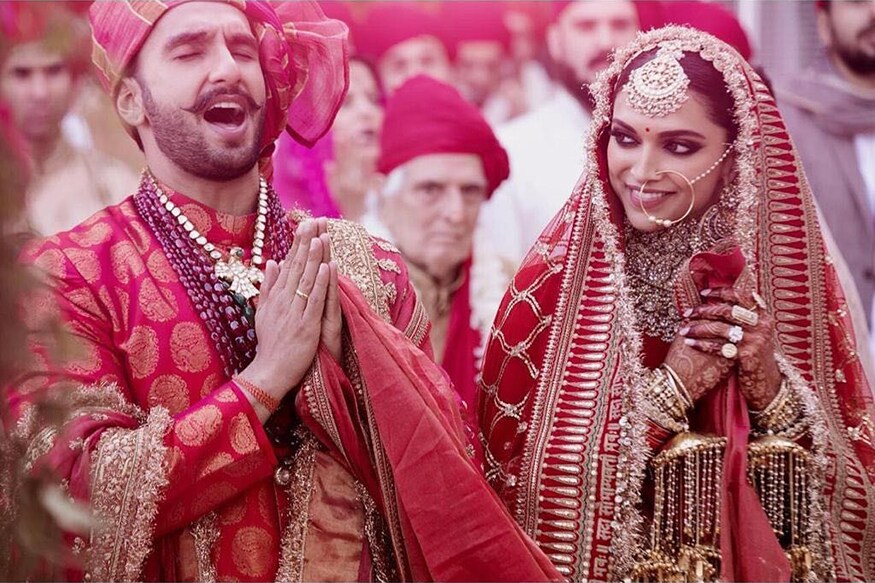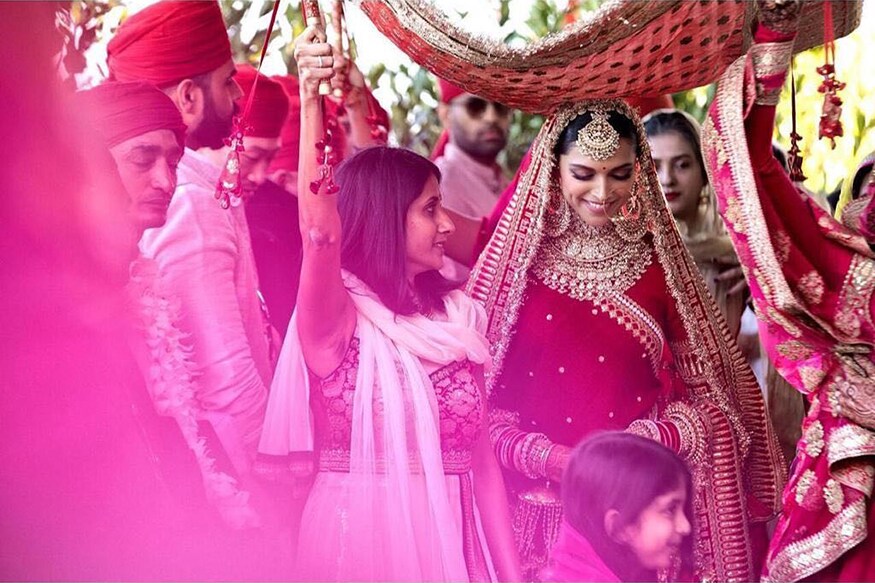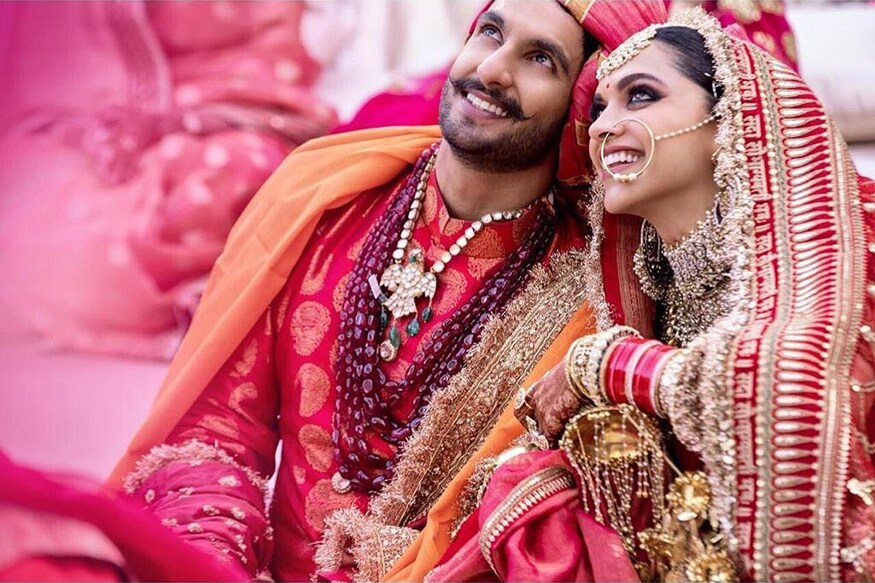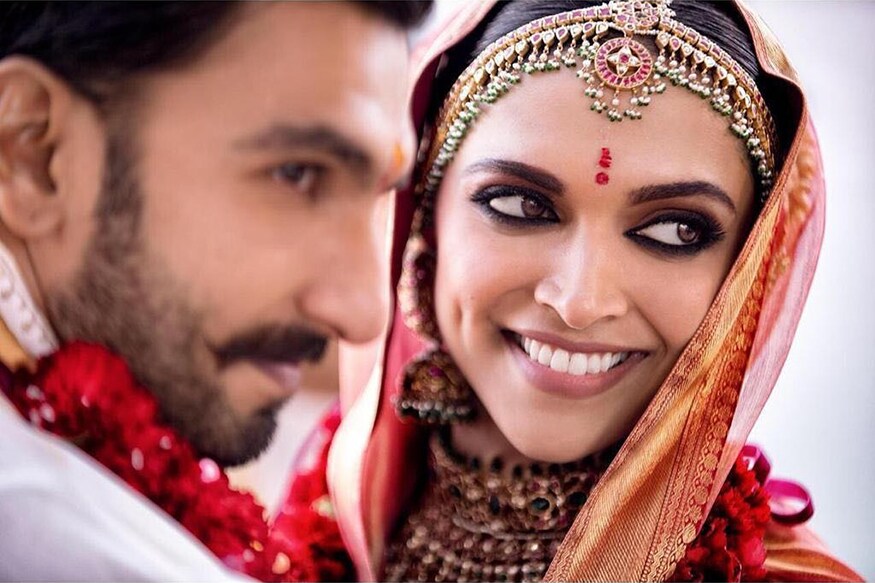 (Image credits: Deepika Padukone / Instagram | Ranveer Singh / Facebook)

With such gorgeous pictures on display, Deepika and Ranveer's posts were flooded with congratulatory messages from their celeb friends and fans worldwide.
Karan Johar cannot wait to get married now.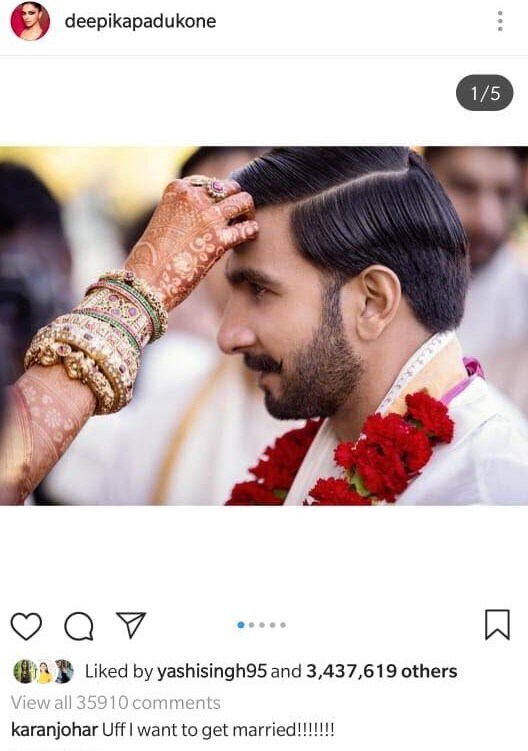 Love and happiness forever.....these are such a full of pyaar wala pictures! For those of us who don't have a life partner it's a very "haiiiiiiiii" wala feeling! https://t.co/h1dtYel2be


— Karan Johar (@karanjohar) November 15, 2018
So does Sona.

Touch wood ! Soo happy! letting you in a secret @RanveerOfficial ,on a long chatty flight with @deepikapadukone a couple of years ago,she said "Ranveer makes me feel I'm home " I'll never forget those words,and truly she looks like she's Home.Godbless you both ❤️❤️❤️🕉 https://t.co/ahSLnAmSIR

— Raveena Tandon (@TandonRaveena) November 20, 2018




My heart just burst into a million puddles you guys @deepikapadukone @RanveerOfficial 💗 💗💗 May you always bring out the best in each other! pic.twitter.com/bnUfRdLROB


— Dia Mirza (@deespeak) November 20, 2018

Masha Allah !! You both are making me want to get married like NOW 💕💕💕 @deepikapadukone is just glowing https://t.co/SieBEPTcWo

— Huma Qureshi (@humasqureshi) November 20, 2018

And Twitterati just want a guy who would look at them the way Ranveer looks at Deepika. Same feelings.



It's not even about the extravagant wedding or the super expensive clothes or events..

Just look at the way Ranveer looks at Deepika, any girl would glow if her guy looks at her with THIS much love....haye my heart is melting. pic.twitter.com/ZJBNAY3DBI


— نوشین (@ItsAllBakwas) November 20, 2018

Deepika Padukone and Ranveer Singh might be one of the most attractive couples I've ever seen, their wedding pictures are so beautiful. I want to radiate this level of happiness on my wedding day pic.twitter.com/dCmAVfximO

— 🌞 (@arahatum) November 20, 2018




Ranveer and Deepika's wedding pictures make me next level happy I've never seen a couple radiate that much love & happiness and I'm INSPIRED who trynna get married I'm READY.


— sukhi (@mairanotmaria2) November 20, 2018

If you don't look at me the way ranveer looks at deepika I don't want you 😊 pic.twitter.com/yDxMq5OBAt

— ur dearly father🇧🇩 (@fatheriffxt_l) November 20, 2018




Deepika Padukone gets Ranveer Singh and I get this: pic.twitter.com/GHDd0hyicB


— Shreemi Verma (@shreemiverma) November 20, 2018

Deepika and ranveer posting pictures of each other at the same time on Instagram is exactly how much in love and extra I want to be with my partner.

— Angoor Stark 🍇🇮🇳 (@ladywithflaws) November 20, 2018




Googles: A guy who looks at me the way Ranveer looks at deepika. pic.twitter.com/Ewj28Q76te


— Abeeer shah! 👑 (@KabootarHunMain) November 20, 2018

deepika and ranveer set the bar for my unrealistic expectations for relationships

— hey shona (@sidrxh_) November 20, 2018




Can you guys believe it's actually Deepika who is looking so crazy at her wedding, while baba is the serene one?! 😂😂😂😂#MrandMrsDeepVeer pic.twitter.com/sUAu2mNehA


— Adhiti / Ladkiwale (@AravindAdhiti) November 20, 2018

Can we please all take a moment to sympathise with Deepika's earlobes who have been going through the most this week pic.twitter.com/pcjVKM2Nka

— Anjali. (@Anjalaaay) November 20, 2018

Read full article
Countdown To
Elections Results
To Assembly Elections 2018 Results