GET Stock

Quotes


Delhi Smog: Delhiites Take Smogfies Even As The Capital Continues To Choke
Smogfies!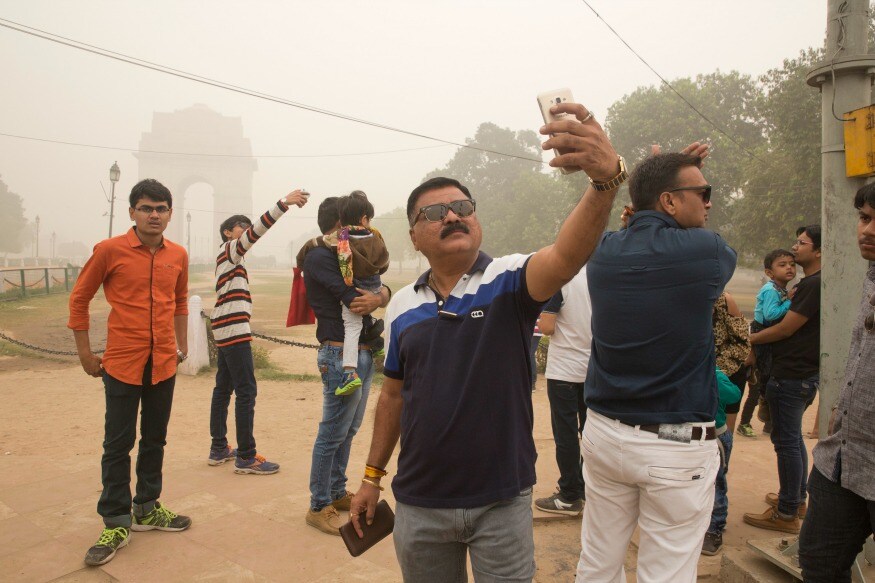 (Photo : AP/ Indian tourists take selfies against India Gate engulfed in smog.)
In an unprecedented move, the Delhi government on Sunday announced slew of measures to combat the crippling air pollution that has engulfed the city.
Delhi closed down its schools, halted construction and ordered that all roads be doused with water to settle dust, as the thick blanket of 'cancerous' smog continued to choke Delhiites.
And even while New Delhi, one of the world's dirtiest cities, saw levels of PM 2.5 — tiny particulate matter that can clog lungs — soar to over 900 micrograms per cubic meter on Saturday, with visibility dipping to as low as 400 metres in some parts of the city, some locals did not want to miss out on capturing the 'hazardous' air over Delhi in selfies.
Yes, even as the air quality dropped to dangerous levels for the city dwellers, especially those with lung disorders and health issues, some people did not forget to capture what is being called 'smog selfies'.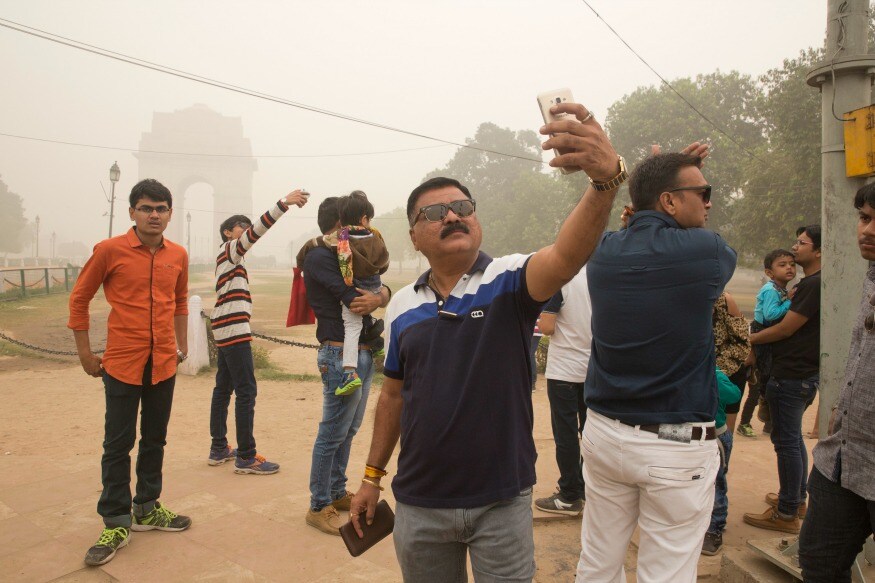 (Photo : AP/ Indian tourists take selfies against India Gate engulfed in smog.)
In the picture below, visiting cricket players from Gujarat posed in masks for a selfie even as their match was cancelled due to the city's rising pollution levels.
Delhi smog forces Gujarat player to take selfie. #LetsSaveDelhi #RanjiTrophy pic.twitter.com/xpq2Ztm9Wv

— Jay Jadhav (@Jayjadhav07) November 6, 2016
The Centre for Science and Environment, a New Delhi-based research and lobbying organization, said government data shows that the smog that has covered the city for the last week is the worst in 17 years. The concentration of PM 2.5, averaged close to 700 micrograms per cubic meter. That's 12 times the government norm and a whopping 70 times the WHO standards.
And while the government assesses what further steps need to be taken to control the situation, it is upon us to take measures so as to reduce air pollution.
With input from AP.
Also Watch

Beatles Drummer Ringo Starr Knighted For Services To Music
Read full article