Did Hannah Gadsby Know She Read out Superstar SRK's 'Sweet Tweet' on 'Nanette'?
In a special video uploaded on Twitter, Hannah read tweets from Indians who complimented her Netflix special 'Nanette'.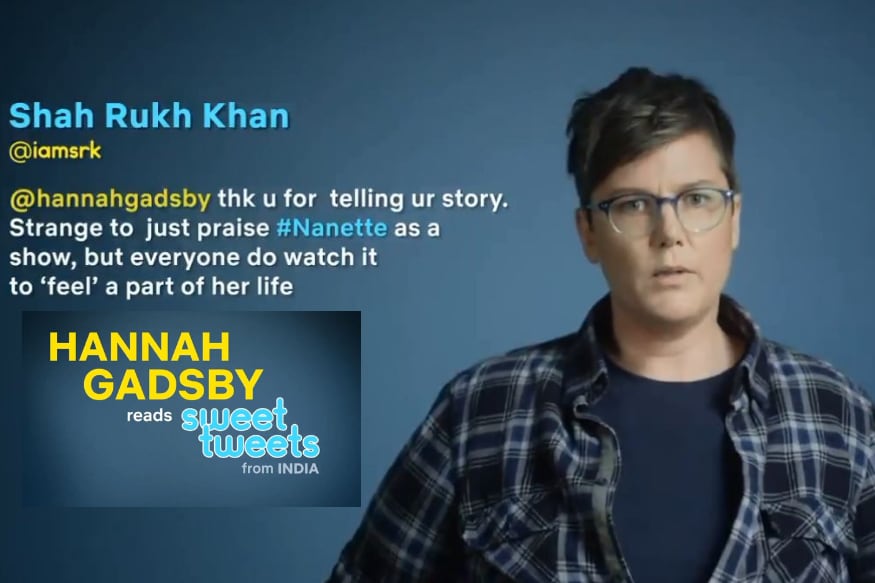 (Image: Twitter/@NetflixIndia)
Jimmy Kimmel's hilarious 'Celebrities Read Mean Tweets' segment on his talk show 'Jimmy Kimmel LIVE!' has celebrities reading out mean (and often downright offensive) tweets that were sent to them by fans(?!). The segment makes it seem like celebrities take it all in jest, often laughing at the insults. But hey, no one would want to read mean things being written about themselves and be made to read those, right?
Taking that pointer, Netflix decided to take some inspiration from Jimmy Kimmel's show and came up with their own version of 'mean tweets' except that they were not mean, they were 'sweet tweets'.
A video posted on Netflix India's Twitter handle shows stand-up comedian Hannah Gadsby from the Netflix special 'Nanette' read sweet tweets sent straight from the Indian community.
Now Hannah, who is obviously uncomfortable with the idea of having to read compliments about her, is slightly reluctant but decided to go ahead with it.
Sweet. Hai-nah? #Nanette pic.twitter.com/A10PxqG9Kp

— Netflix India (@NetflixIndia) September 12, 2018
The video shows tweets where users confess to tearing up watching 'Nanette'. The Netflix special talked about Hannah's struggle with being a lesbian woman, being abused physically and sexually, and the straight white man's privilege. Spoiler alert: even Shahrukh Khan praised 'Nanette' and asked everyone to watch the show.
But Hannah didn't bat an eye while reading the most popular Bollywood superstar's tweet.
However, Hannah is not at the receiving end of 'sweet tweets' only. She has gotten her fair share of criticism from (no surprises here) men who obviously did not understand the purpose nor the message behind 'Nanette'. Talking about the criticism she has received from men, Hannah tweeted that she is all right with being criticised by men for not being funny, however, she wishes that they would express their "disproportionate feelings about comedy in a more humourous way".
I don't have an issue with all the angry men telling me that I am not funny. I just wish they would at least try and express their disproportionate feelings about comedy in a more humorous way. — Hannah Gadsby (@Hannahgadsby) September 13, 2018
But like expected, Hannah's fans, of course, were there to support her through and through.
Nanette was a fucking masterpiece.

— Julius Goat (Read Pinned Tweet!) (@JuliusGoat) September 13, 2018
I don't even think laugh or cry sufficiently expresses the transcendent experience Nanette was. I don't think there was an emotion I didn't experience. — Michael McNeeley (@mtmjr90) September 13, 2018
I bought a ticket 45 minutes after watching on Netflix to see the show live 2 days later. It's THAT important.

— Jenny-From-The-Box (@Jenny_FTBox) September 13, 2018
The Beatles were a pop band; they made pop records. "The White Album" is pop music, but it is much, much more than that. It is rich and complex musically, lyrically, and thematically. "Nanette" is like that. — W. Earl Brown (@WEarlBrown) September 13, 2018
What makes a person funny is complex but I've always thought empathy is universal to all genuinely funny people.....which explains why angry conservative males aren't funny...well not intentionally.

— Seano [-0-] (@SeanBradbery) September 13, 2018
Nanette was: - funny - moving - the most moving thing I saw in years — Marcelo – All Cops Are Bastards (@alKhwaarizmii) September 13, 2018
Clearly they need to cheer up. Maybe if they smiled more they wouldn't be so negative.... come on lads give us a smile.

— Dani Leigh McGlasson 🏳️‍🌈 (@Dani_Leigh_Newt) September 13, 2018
I went from laughing out loud and crying so fast so many times during the show it was kinda exhilerating. When it was finished I felt hugely grateful. I feel bad for the angry people, they missed out on something pretty great. — A Queer Panda (@AQueerPanda) September 13, 2018
If they're angry, you're doing it right

— Duda Guida (@duda_guida) September 13, 2018
I clicked on "Nanette" because I'd seen it mentioned online and was in the mood for a comedy show. I finished it in tears, so very glad it wasn't what I had expected, but was instead more than I ever could've hoped for. — Heather Crabbe (@HMCBonczek) September 13, 2018
Your set transcends comedy. If they didn't laugh and they didn't feel something more watching you, their lack of funny bone is the least of their problems.

— Spencer Fordin (@SpencerFordin) September 13, 2018
I'm an angry man. I thought your special was insightful, funny, and basically a gut punch that left me questioning many of my preconceptions. It was one of the best things I've seen all year and everyone should see it. Granted, I'm angry over burning popcorn, not your special. — Joker On The Sofa (@jokeronthesofa) September 13, 2018
A lot of tension in those men. A society where being sensitive is a "weakness" that has raised men who react with violence. When they feel trapped and without arguments, they attack. Be just like you are: funny, intelligent, direct and sensitive with the stories 💖

— Nepa (@nepax) September 13, 2018
Read full article