Did Karunanidhi Really Deny a Marina Burial to Kamaraj and Rajaji?
While Karunanidhi was temporarily denied a burial until the Madras High Court passed a ruling him to be buried there, people started speculating how Karunanidhi had himself denied several burials at Marina.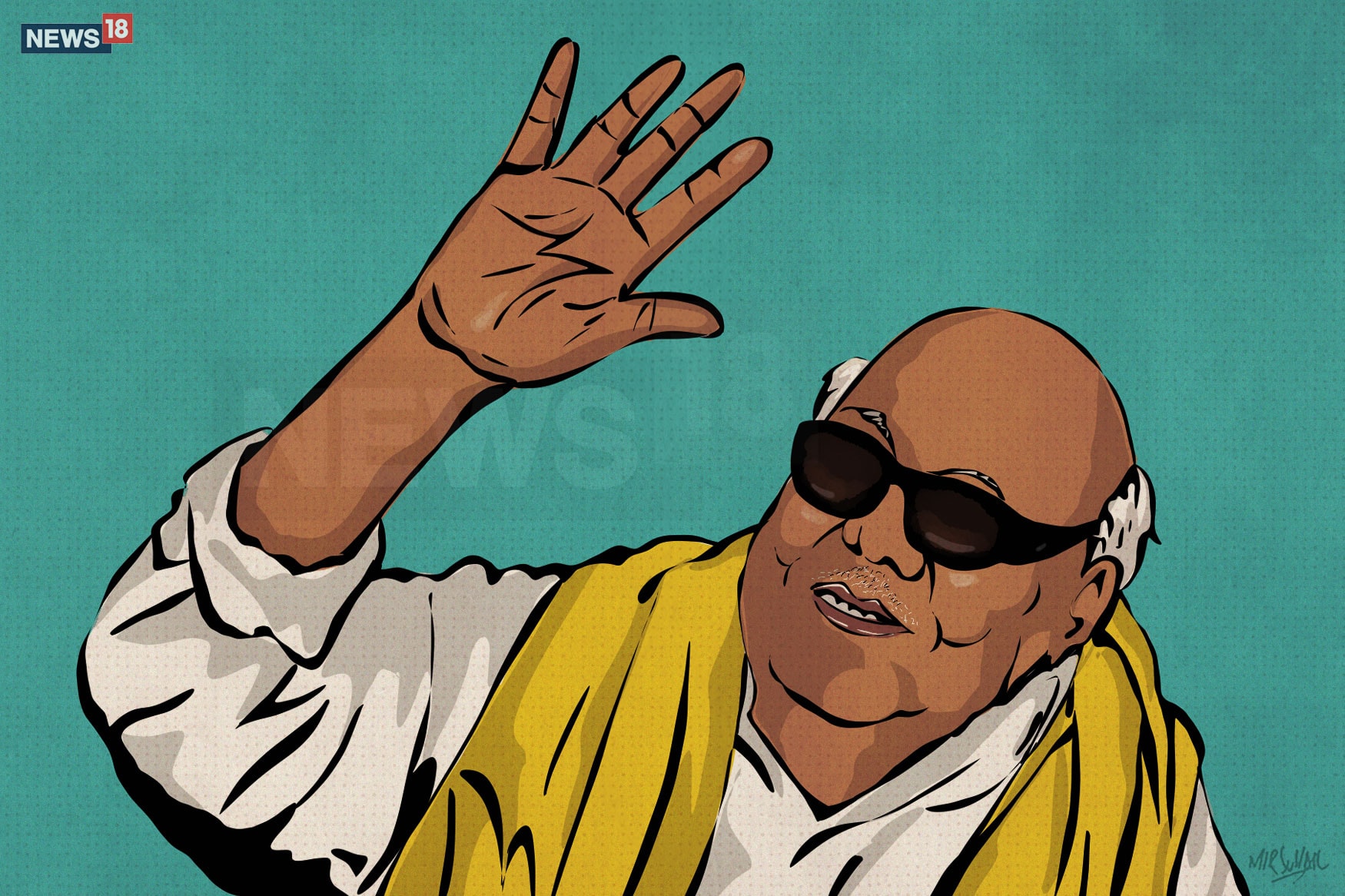 Illustration by Mir Suhail.
While Karunanidhi's death marks the end of an era in Dravidian politics, the burial of his body has received a lot of controversy - with multiple stories citing how he didn't allow other burials, like MGR's wife and Rajaji to happen at Marina.
While this sparked a controversy and people started noticing how it seemed only too ideal for Karunanidhi to be aptly denied his burial at Marina, it may not be all truth.
People on Twitter didn't notice this denial as simply a move by current Chief Minister of Tamil Nadu, Edappadi K. Palaniswami's government but started citing 'karma' as the reason.
It was a Precedence set up by the then CM of Tamil Nadu; M. Karunanidhi who denied giving a land at Marina for burial of a 3-term CM; Kamaraj; stating that Burial at Marina can't be allowed for past CM's. It's Only in Case of Sitting CM's that Burial at Marina can be considered

— Arnav (@tweetme_now) August 7, 2018
MK denied same Marina Beach Burial by saying Kamaraj was Ex-CM so only Gandhi Mandap ... Now why Marina for another Ex-CM MK ? Law can't be different .. #NoNoreGarbageatMarina https://t.co/QyQqRGnk7a

— ProudIndian (@ProudIndian54) August 7, 2018
And while this debacle on how Karunanidhi also shouldn't be buried continued until the Madras High Court finally passed a ruling, which allowed the leader to be buried at Marina.
However, following the controversy, senior journalists spoke up about how the 'rumors' of Karunanidhi denying Rajaji his burial at Marina, were actually 'fake news' and he had never been denied a burial.
According to The News Minute article, CR Kesavan, the great-grandson of Rajaji, said "It is untrue. Rajaji was cremated according to his wishes. The Rajaji Ninaivalayam at Guindy was designed by Karunanidhi."
CR Kesavan is also the National Spokesperson of the Congress and Trustee of the Tamil Nadu Congress Committee.
H.V. Hande, who was the leader of the Swatantra party in the Assembly during 1971-76, told The Hindu, how there was no demand was made for earmarking space on the Marina. After the cremation was over, "the request that we made to Kalaignar (Karunanidhi) was to have a 'manimandapam' to preserve the memory of Rajaji. To be fair to him, Mr. Karunanidhi immediately accepted our demand."
The Quint also reported how senior journalist V Jayanth said that there was no demand for a Marina burial by the state or Kamaraj's followers, "There was no demand at all for a burial at Marina. This is only a very recent Dravidian norm." he stated.
And while the Madras High Court passed the ruling allowing Karunanidhi to be buried at Marina and he was finally laid to rest there, yesterday as the entire city of Chennai bid him farewell, the entire controversy which was propelled by fake news, shouldn't have had to happen.
As current journalists point out, not only is it detrimental to the current political party, but also a petty move that lead to the further spread of these fake news.
It's petty and small minded that AIADMK Govt will not give space at the Marina to bury #Karunanidhi. #RIPKalaignar

— Zakka Jacob (@Zakka_Jacob) August 7, 2018
Pettiness should not define politics. #Marina4Kalaignar

— Dhanya Rajendran (@dhanyarajendran) August 7, 2018
Get the best of News18 delivered to your inbox - subscribe to News18 Daybreak. Follow News18.com on Twitter, Instagram, Facebook, Telegram, TikTok and on YouTube, and stay in the know with what's happening in the world around you – in real time.
Read full article