Did You Know All Protagonists in Chetan Bhagat's Novels Were Named After Lord Krishna?
How come no one noticed this before???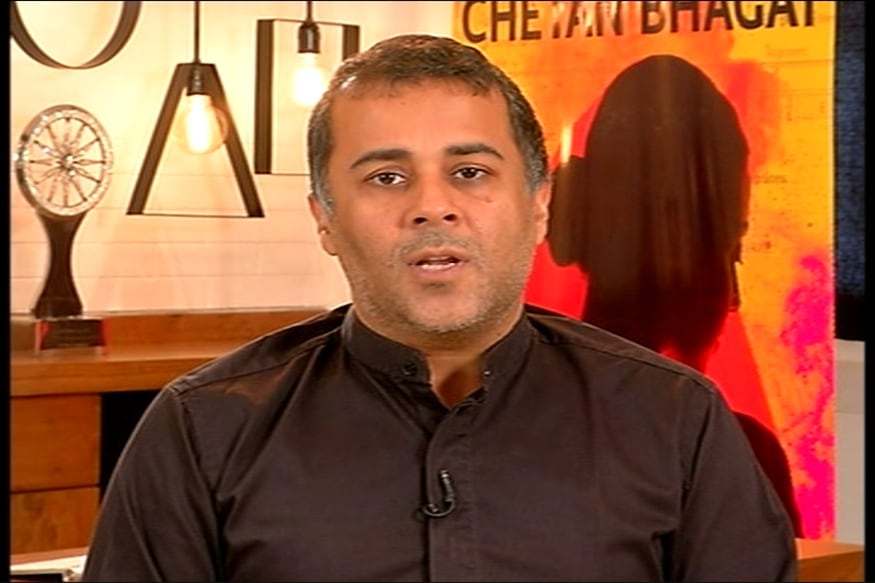 A file photo of Chetan Bhagat.
Ever read a series of books by an author and not noticed the most 'in your face' detail? It's all right. We have all been there.
Authour Chetan Bhagat, known for throwing Easter eggs by the dozen in his commercially-acclaimed novels, surprised his fans with perhaps the biggest revelation of all on the joyous occasion of Krishna Janmashtami.
Chetan took to Twitter and pointed out that all the leading men in his novels were named after Lord Krishna himself. Wait, what? Oh, of course, they were. 'Five point someone' but no one pointed out this tiny detail to us before now. HOW DID NO ONE KNOW THIS?
Hari (five point someone)

Shyam (one night @ the call center)

Govind (3 mistakes of my life)

Krish (2 states)

Gopal (Revolution 2020)

Madhav (Half Girlfriend)

Radhika /Brijesh (One Indian Girl)

And tomo.. it is Keshav. All my books. Krishna is the hero. Happy Janamasthami to all!

— Chetan Bhagat (@chetan_bhagat) September 2, 2018
Chetan, who has authored six best-selling novels, named all his principal characters after Krishna and his fans were left pleasantly stumped.
By coincidence or by (design)scripted... both ways it is so nice

जन्माष्टमी की शुभकामनाएं..जय श्रीकृष्णा

— jspandey (@jspandey_) September 2, 2018
THAT IS ANOTHER FUN FACT
Bt in all of ur books it has numbers .....one, three, 5, half....

— Shiva Mudgil (@shivamudgil) September 2, 2018
But mostly everyone else was left surprised with the latest details.
I read all that books but I can't even realize about this

You are simply great

N HAPPY JALMASHTMI

— Aishwarya (@Aish2533) September 2, 2018
Is this coincidence or done thoughtfully?

— Mahesh Lodhi (@lodhi_2010) September 2, 2018
Omg you are so right!!! Same on favorite ones!!! We need more

— Roxana Leon (@roxy_soleo5) September 2, 2018
Brilliant.

Though I have read these books unable to connect till time.

— SinghSight (@PriyadrshiSingh) September 2, 2018
Hey, that's lovely, but intentional or unintentional. May Lord Krishna shower his love on you this time too. By the way, have you given your protagonists Krishna's names in order to bribe him for making them bestsellers

— Anwesha Pattnaik (@anweshaIND) September 2, 2018
Ya... Never noticed.. Amazing.

And best of luck for new book. Cheers!!!

— Funny In India (@FunnyInIndia) September 2, 2018
You are indigenous genius sir. Keep it up and reach up to the Lord Krishna's 108th name in your novels ahead?! Best wishes in advance sir.... Shuvo Krishna jayanti

— SUBRATA Pramanik (@SUBRATA49549588) September 2, 2018
गजब। बुक्स तो सारी पढ़ी थी आपकी लेकिन सब में कान्हा हैं, यह कभी नोटिस नहीं किया था। एक आईआईटी-आईआईएम के स्टूडेंट का थॉट प्रोसेस इस तरह भी हो सकता है, यह कल्पना के परे था। बहुत खूब। आगे से यह पॉइंट ध्यान में रहेगा।

जय श्री कृष्णा।

बेस्ट सेलर शुभकामनाएं https://t.co/Fts1XlasTt

— Arvind Chotia (@ChotiaArvind) September 2, 2018
Someone even came up with his own fun fact about Chetan Bhagat.
Your name Chetan derived from Chaitanya the greatest devotee of Sri Krishna!!

— kingshuksen (@kingshuk_sen) September 2, 2018
But if that was not enough, Chetan cryptically added, "and tomo... it is Keshav." Are you thinking what we are thinking, too? Is Chetan releasing a new book on Janmashtami?
Well, he did not let us speculate a lot. Some hours later he tweeted about launching the cover of his latest novel LIVE on Facebook.
Excited to announce the cover launch of my new book! I'll be launching it LIVE on Facebook, do tune in!

Got a question? Ask me here and I'll answer some of them during the LIVE.

Date: 3rd September

Time: 3.00 pm

Venue: https://t.co/ajx49RhyzD #ChetansNext pic.twitter.com/DjOpeyC8EC

— Chetan Bhagat (@chetan_bhagat) September 2, 2018
Get the best of News18 delivered to your inbox - subscribe to News18 Daybreak. Follow News18.com on Twitter, Instagram, Facebook, Telegram, TikTok and on YouTube, and stay in the know with what's happening in the world around you – in real time.
Read full article