Did You Know You Could Grow Plants from Paper? Jaipur Based Company Shows You How
Save paper, and save the environment in the process.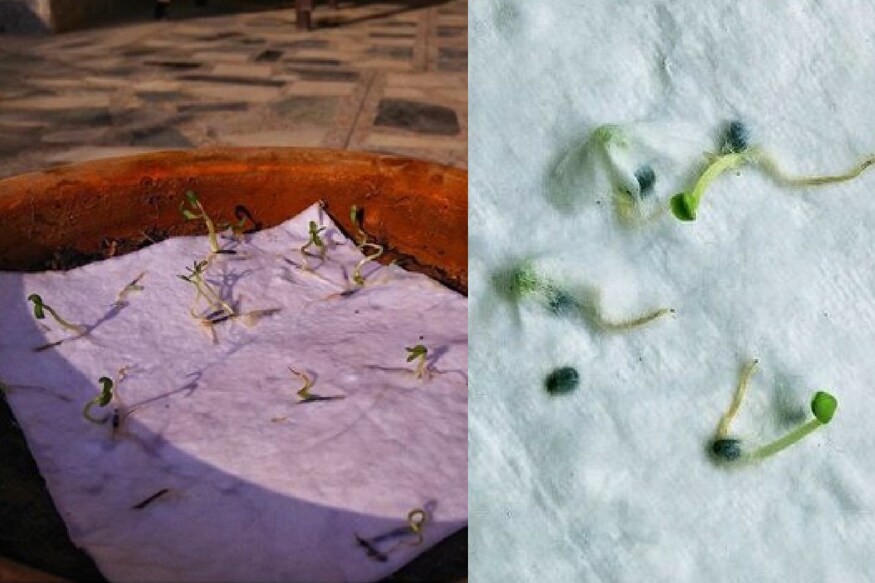 Save paper, and save the environment in the process.
As we all try to reduce our carbon footprint in minor ways - not using polythene, replacing plastic substances with more eco-friendly ones, a company called 21 Fools is taking the next step, by making plants grow from biodegradable paper.
Founded in 2014 by Divyanshu Asposa, 21 Fools is a company aimed at manufacturing unique, one-of-a-kind biodegradable paper made from cotton, and embedded with seeds.
This cotton produced paper which is essentially recycled cotton - the cotton comes from pre-consumed cotton, which is leftover waste cotton generated during production of other items manufactured from cotton. "This 'waste cotton' is purchased from textile factories near Jaipur and ship it to the company's factory in Sanganer." explains Tasneem, who is associated with 21 Fools.
After this paper is planted in the soil, the seeds embedded in the paper germinate while the paper composts away. This plan promotes sustainability - and reduces the waste generated.
The process of making this 'seed' paper, is a step-wise method.
First, the pre-consumed cotton is procured from vendors and factories, after which it is shredded into tiny pieces until it turns into soft consistency - and is then mixed with other materials like water and gum - after which seeds are added to the mixture - which is then dried to make the actual paper.
While this paper not only reduces waste - it also adds to the environment in a positive way - making seed paper which is made from waste and not wood is reducing the weight on trees and recycling from waste. On switching to plantable paper, no more waste is generated, thus preventing paper pollution. This paper also grows into a plant, which is another added bonus to the environment.
Though the inception of the idea for sustainable paper happened in a college room by its founder, Divyanshu, who at first single-handedly acted as the sole designer, sales & production hustler and sometimes the delivery boy to assure timely delivery for clients - now 21 Fools boasts of a lot of clients.
They've made seed paper coasters for Pepperfry, along with seed paper car danglers for Maruti Suzuki.
In the past four years, their clientele has expanded to Google, Viacom 18, Flipkart, Hyatt, BMW, Reliance and others. As more and more companies are looking to become conscious about the environment and opting for eco-friendly solutions, to produce less waste on their end.
Now, the plantable paper concept has expanded to include sustainable products using plantable paper - where they've created things like a calendar that grows into a garden, thank you cards, a newspaper, and a plantable rakhi for Rakshabandhan 2018.
The products not only reduce guilt of producing waste, but also reduces the stress on the environment.
Get the best of News18 delivered to your inbox - subscribe to News18 Daybreak. Follow News18.com on Twitter, Instagram, Facebook, Telegram, TikTok and on YouTube, and stay in the know with what's happening in the world around you – in real time.
Read full article