GET Stock

Quotes


Celebrities Send Diwali Greetings To Jawans Following PM Modi's #Sandesh2Soldiers Campaign
You too can send in your wishes and greetings.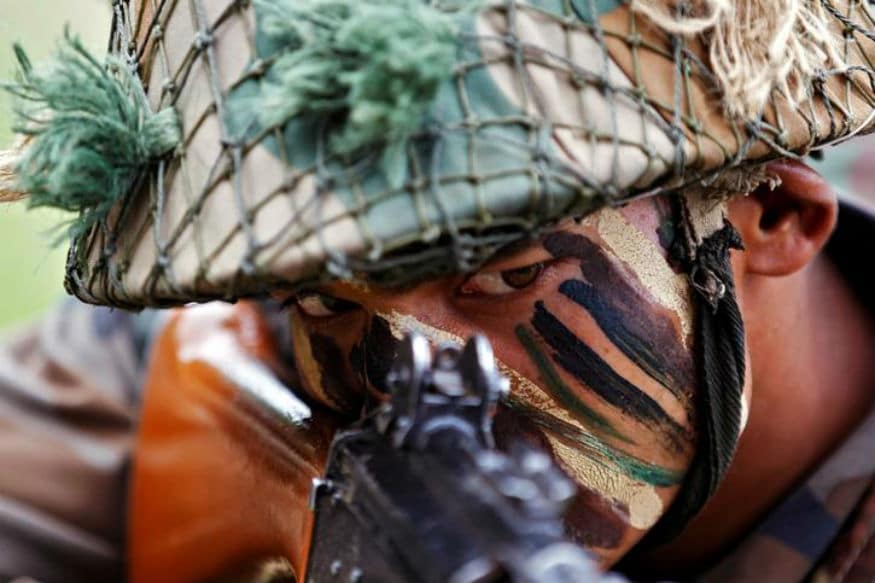 (Photo: An Indian Army soldier participates in a war exercise during a two-day "Know Your Army" exhibition in Ahmedabad, India, August 19, 2016. REUTERS)
Prime Minister Narendra Modi on Monday urged the people to send their good wishes to the Army and security forces personnel on Diwali saying such messages will boost their morale.
Speaking at a rally in Mahoba, Modi said, "I call upon the people to boost the morale of our soldiers - the Army, Naval forces, Air Force and all security forces - by sending them good wishes on Diwali".
While people can send messages and greetings under the #Sandesh2Soldiers campaign on the Narendra Modi App, through MyGov.in, and also through All India Radio, celebrities took to Twitter to share their messages and encourage millions on the platform to join the campaign.
Actor Akshay Kumar has sent out a special video message for the Indian soldiers, wishing them a "Happy Diwali".
In the video, which he shared on Monday the micro-blogging site, the actor said, "The best way to celebrate a festival is with your loved ones and the good luck of spending festivals with our families is because of you (soldiers). Without even knowing us, you love us and keep us safe."
"I dedicate this Diwali to all the soldiers...We are because of you. This was my message to the soldiers."
The 49-year-old actor also urged people to send their special Diwali message to the soldiers.
Ur one wish can be the reason for a lot of smiles this Diwali.Send ur #Sandesh2Soldiers now via https://t.co/bUEI7AuMQc or Narendra Modi app pic.twitter.com/HNJjFAyOpZ

— Akshay Kumar (@akshaykumar) October 24, 2016
Others who send in their wishes for the jawans include former cricketer Virender Sehwag, Mahindra chairman and managing director Anand Mahindra, actor Salman Khan, Aamir Khan, singer Kailash Kher and several politicians.
"Kisi Bhi Fauji Ko Dekho,Toh Ek Salute Thoko".Your wishes can bring a smile to a Soldier this Diwali.
Send ur #Sandesh2Soldiers via mygov.in pic.twitter.com/lGsK6hFqwB

— Virender Sehwag (@virendersehwag) October 25, 2016
I sent my #Sandesh2Soldiers. This Diwali let us all remember our soldiers! via NM App https://t.co/x4Q38O8bcO https://t.co/kJvqYliG7Y

— Kailash Kher (@Kailashkher) October 24, 2016
https://t.co/NnlefqKT24#Sandesh2Soldiers pic.twitter.com/VgoGFXGD6Y

— Aamir Khan (@aamir_khan) October 24, 2016
देश के सेना के जवानो और नवजनो को मेरी तरफ से दीवाली की हार्दिक शुभ कामनाए और सभी को हॅपी दीवाली #Sandesh2Soldiers . https://t.co/w754mw9hDn

— Salman Khan (@BeingSalmanKhan) October 24, 2016
I sent my #Sandesh2Soldiers. This Diwali let us all remember our soldiers! via NM App https://t.co/N7WUIoDLpZ https://t.co/d9vsmrLZ0p

— Suresh Prabhu (@sureshpprabhu) October 24, 2016
I sent my #Sandesh2Soldiers. May the diyas of #Diwali shine bright for them! @narendramodi https://t.co/QAg58ca8hd pic.twitter.com/dpK6gOVkPU

— anand mahindra (@anandmahindra) October 25, 2016
Reportedly, some of the messages will be read in PM's Mann Ki Baat.
The campaign comes against the backdrop of the surgical strikes carried out by the Army on terror launch pads in PoK and the heightened border tension.
The #Sandesh2Soldiers campaign is expected to generate increased interaction between the people and the Armed Forces.
With input from Agencies.
Also Watch
Read full article