Do We Really Need a Day to Celebrate Women? We Don't
Do we need one day to celebrate women? The fact is we really don't, but we're going to own the day either way and showcase our best (and perhaps our worst).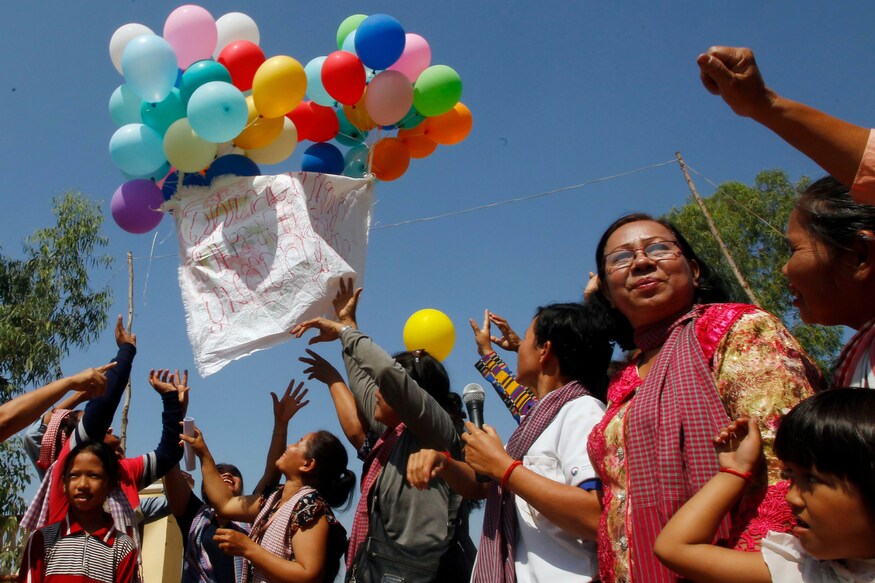 (AP Photo/Heng Sinith)
Picking up garbage. Sweeping floors. Typing out speeches. Illustrating comic books. Writing stories. Wrestling professionally. Fighting wars. Making videos. Reporting on current events. Rocking out on a stage. Horse riding. Ballet dancing. Baking cakes. Conducting research on radioactivity. Flying planes.
Flying to the moon. Running a business. Ruling a country. Making a home. Giving birth. Starting movements.
In Shania Twain's words "Man! I feel like a woman!" and that feeling makes me proud every day. What hasn't our gender achieved and what haven't we been able to overcome? And all of it has been in a day's work.
Do we need one day to celebrate women? The fact is we really don't, but we're going to own the day either way and showcase our best (and perhaps our worst).
Words. On this day we're not going to break-away from certain words that the patriarch keep associating with us. We own those words—we are beauty. We are grace. To hell with what anyone else thinks. However, to that we're adding, and owning, brave, strong, wise, pushers, speakers, influencers.
There is a dictionary full of words and we can choose, comprehend, and relate to any one of them that we wish. We've given words to the thoughts and imaginations of thousands, millions, for centuries, literally and figuratively. We've told stories, made people laugh and cry, reported events, written lyrics, and won legal battles. We've been able to use our words to go beyond our inhibitions and not walk the line that someone else has drawn. We're now beyond being politically correct and have the prerogative to have fun along the way.
Let's use Arya Stark's trick, but in reverse. Let's create a list. Not to murder, but instead celebrate and remember. Enid Blyton. Maya Angelou. Sylvia Plath. Arundhati Roy. Anne Frank. Harper Lee. Margaret Atwood. Beatrix Potter. Christiane Amanpour. Ida B. Wells. Oprah Winfrey. Sia. Whoopi Goldberg. Margaret Cho. Sappho. Mary Wollstonecraft. Indira Jaising.
Colours. We're colorful and it's not just about race. We've always respected and appreciated the value of color—words, clothes, make up, furnishings, flowers. Give us shades, hues, and tints, we'll take them all.
And that has transcended to us understanding plights, struggles, and victories across countries, religions, races. We relate. We respond. I associate the word with the gender (though not only to this gender).
Color and women go hand-in-hand—we've created movements in fashion, art, politics, human rights, and many more arenas which celebrate color. Coco Chanel. Vera Wang. Donna Karen. Ritu Kumar. Asmita Marwa. Frida Kahlo. Mary Cassatt. Elaine de Kooning. Tatyana Fazlalizadeh. Sarah Anderson. Nicola Scott. Katy Perry.
Movements. We've danced. We've walked. We've run. We've jumped. We've been swimming for years. We've stood up. We've sat down. We've stepped back. And we're leaping forward. Whether it's behind the curtains or in center stage, we've been marching to the beat of our drums and dancing to our own tune—but that dance and tune and rhythm is one that women everywhere can associate with.
We're unique, yes. But we're together in our movements. We fight for the same cause. We're spreading our legs and we're opening our arms (instead of closing our legs and covering ourselves). We're jumping so that other women, and other genders, can reach the top.
We're moving so that none of us feel isolated. And if we ever do feel alone, which inevitably we do, we remember that we're together in that too! Mother Teresa. Malala Yousafzai. Ellen Degeneres. Harriet Tubman. Rosa Parks. Mary Dan. Alaa Murabit. Irom Chanu Sharmila. Susan B. Anthony. Serena Williams. Sania Mirza. Billie Jean King. Queen Elizabeth.
Indira Gandhi. Steffi Graf. Mary Kom. P.T. Usha. Mithali Raj. Geeta Zutshi. Preethi Srinivasan. Arunima Sinha. Emma Gonzalez. Hellen Keller. Annie Besant. Anna Pavlova. Birju Maharaj. Helen. Rukmini Devi. Indra Nooyi. Marissa Mayer. Meg Whitman. Ursula Burns.
Sounds. Speeches and songs, we're great at both. Some of us have showcased it to the world, some of us excel at it in our heads. Either way, we're not lacking. We've sung. We've talked. We've yelled. We're speaking loudly and damn well making sure we're being heard. In contrast to one other gender of our
species, we also choose to listen.
We're in no competition. Each is a winner. Knowing what it's like not to have someone who will just listen, today we speak and we hear. The voices from every nook and cranny travel through various channels to reach others who relate, who empathize. The sounds we make aspire to heal. To change. To love. To inspire. Lata Mangeshkar. Whitney Houston. Chimamanda Ngozi Adichie. Tina Fey. Sojourner Truth. Alice Walker. Dolores O'Riordan. Hilary Clinton. Aung San Suu Kyi. Betty Friedan. Marie Colvin. Elizabeth Warren. Margaret thatcher.
You can choose so many qualities and have so many women to attach to each. There will always be fingers that point to the flaws of each person you choose to put on your list, the same way that there will always be someone to point at your flaws. The point is, we don't claim to be perfect. Humans aren't. Far from it in fact. What we want to claim is having the power to affect change for the better, for the positive.
We have flaws. We have shortcomings. But still we're fighting. We're still speaking. We're choosing to see the strength in the women standing beside us, behind us, in front of us. We're choosing to give those positive qualities precedence. We're choosing not to be defeated.
I did end up writing something for Women's Day.  And just like all the choices our gender has made (and those that we weren't even allowed to make) the rebel in me is choosing to, most importantly, celebrate ourselves today. And to remember that today is every day.
The author will doodle all over your face. She's zany, an environmentalist, and a feminist.
#BeingAWoman is a special series to celebrate womanhood in today's India on the occasion of International Women's Day 2018.
Get the best of News18 delivered to your inbox - subscribe to News18 Daybreak. Follow News18.com on Twitter, Instagram, Facebook, Telegram, TikTok and on YouTube, and stay in the know with what's happening in the world around you – in real time.
Read full article