Do You Know What Stan Lee's Catchphrase 'Excelsior' Really Means?
Stan Lee is known for creating superhero characters. But perhaps, Stan Lee was the superhero all along.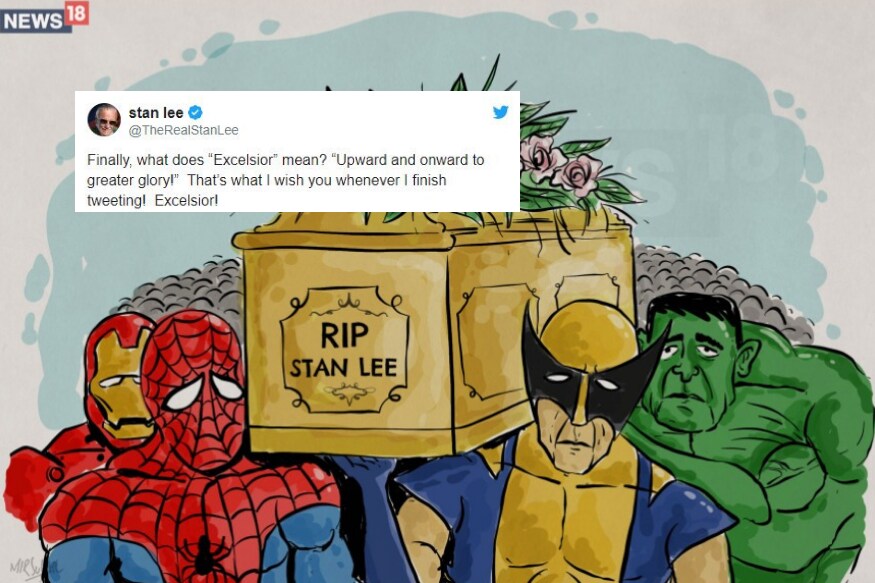 Stan Lee is known for creating superhero characters. But perhaps, Stan Lee was the superhero all along.
Comic and superhero creator, Stan Lee passed away at 95 yesterday.
He was known for creating characters like Spider-Man, Iron Man, the Hulk, X-Men and a cavalcade of other Marvel Comics superheroes that have become mythic figures in pop culture and have turned into movies with soaring success at the movie box office.
After the news of his death broke, fans, friends and family paid their tribute on social media with one keyword 'Excelsior.'
There will never be another Stan Lee. For decades he provided both young and old with adventure, escape, comfort, confidence, inspiration, strength, friendship and joy. He exuded love and kindness and will leave an indelible mark on so, so, so many lives. Excelsior!!

— Chris Evans (@ChrisEvans) November 12, 2018
You have a full feature up there big guy!

Rest in peace good sir, I booked LA in January hoping to finally meet you while I was there, sadly this will never happen now. At least you are now with the love of your life. We will miss you 😢 @TheRealStanLee #RIPStanLee #Excelsior pic.twitter.com/sPZiCAGMSO

— BossLogic (@Bosslogic) November 13, 2018
I have hesitated to tweet about Stan Lee dying today because I couldn't find the words. Thankfully, he gave us one: Excelsior. 'Nuff said.

— Yuri Lowenthal (@YuriLowenthal) November 13, 2018
No one has had more of an impact on my career and everything we do at Marvel Studios than Stan Lee. Stan leaves an extraordinary legacy that will outlive us all. Our thoughts are with his daughter, his family, and his millions of fans. #ThankYouStan #Excelsior!

— Kevin Feige (@Kevfeige) November 12, 2018
Excelsior also spiked in Google Trends searches.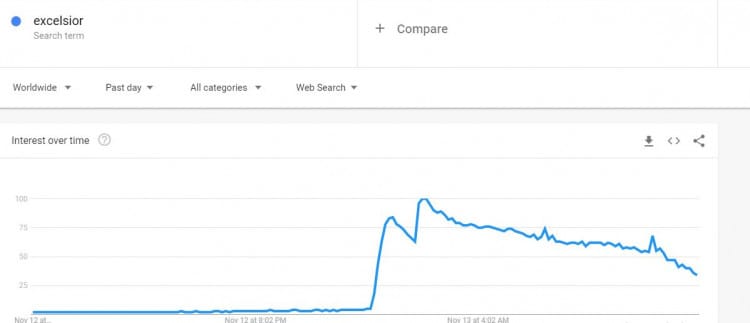 So, what is 'Excelsior'?
'Excelsior' which is Latin for "ever upward," was Stan Lee's catchphrase. In 1960's when Atlas Comics became Marvel, Lee's monthly column would be signed off with "Excelsior."
In a 2007 interview, he revealed how he wanted to create a unique word that his rivals at the time wouldn't be tempted to copy.
"I used to have a lot of expressions that I would end my comic book columns with: Hang Loose, Face Front, 'Nuff Said, and I found that the competition was always imitating them and using them. So, I said I'm going to get one expression that they're not going to know what it means, and they won't know how to spell it. And that's where excelsior came from, and they never did take up on it, thank goodness," he had then said.
What Stan Lee claimed started as a clever way to sign-off and not have it copied, became a slogan for him, which he would continue to repeat throughout his life. Maybe more than just a way to sign-off, 'excelsior' became part of Stan Lee's way of reminding us, to move 'ever upwards.'
Stan Lee is known for creating superhero characters. But perhaps, Stan Lee was the superhero all along. Through his work he gave us enough space to be weird, different and ourselves. To all the young kids who would pore over their pulp magazines, turning pages, wide-eyed at Spiderman yet again saving the day, he provided a refuge, a different world, and a safe space. More than just creating superheroes, he created superheroes in all of us - reminding us that potential is endless, and even though we can't all have Adamantium running through our veins, bravery was something Wolverine didn't have clinically injected into him.
Tributes to Stan Lee after news of him passing, show just that.
Thank you Stan Lee for making people who feel different realize they are special.

— Seth Rogen (@Sethrogen) November 12, 2018
True story: My 10 yr old son was at the end of a Stan Lee autograph line at a con. Stan gets ready to leave & my son finds he doesn't have enough money with him. Stan Lee sees him, signs his Spider-man comic, won't take any money, talks to my kid for 20 minutes. #Excelsior #RIP

— Mo Ryan (@moryan) November 12, 2018
He took to Twitter once to explain what 'Excelsior' meant - and how he'd use it when he finished tweeting.
Finally, what does "Excelsior" mean? "Upward and onward to greater glory!" That's what I wish you whenever I finish tweeting! Excelsior!

— stan lee (@TheRealStanLee) November 9, 2010
And in the end, he did.
— stan lee (@TheRealStanLee) November 12, 2018
Ever upwards, superhero.
Read full article