Donald Trump Ignores Apostle's Creed at Bush Funeral, Is Questioned Over 'Christian' Credentials
Jimmy Carter, Bill Clinton, Barack Obama and their wives glanced up and down from the programs they held in front of them and spoke the prayer, along with everyone else visible in the video.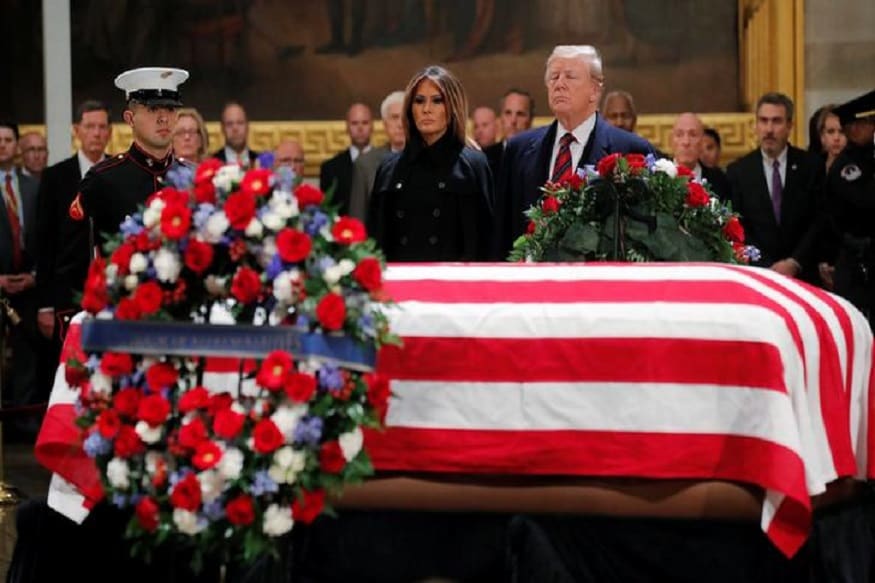 U.S. President Donald Trump stands with First Lady Melania Trump as they pay their respects at the flag draped casket of former U.S. President George H.W. Bush as it lies in state inside the U.S. Capitol Rotunda on Capitol Hill in Washington, U.S. (Image: Reuters)
It's a prayer recited in homes, churches, and cathedrals across the world, as an affirmation of Christian faith and acceptance of the divinity of Jesus Christ, as well as an acclamation of the Holy Trinity.
"I believe in God, the Father Almighty, creator of heaven and earth. Do you believe in Jesus Christ? I believe in Jesus Christ, his only Son, our Lord, who was conceived by the Holy Spirit, born of the Virgin Mary, suffered under Pontius Pilate, was crucified, died, and was buried; he descended to the dead."
The Apostle's Creed is Christianity 101 is what we're saying, known to anyone with even the slightest familiarity of the religion But, as he is in so many other things, Donald Trump seems ignorant of it; or at least, he doesn't seem to know the words.
The recent state funeral of former US President George HW Bush saw other previous holders of that high office, American statesmen, politicians, diplomats and dignitaries, unfettered by partisanship and ideology, come together simply to celebrate the extraordinary life and career of an even more extraordinary man. It was truly a somber, respectful ceremony, until the 45th President of the United States come and completely crass up the joint.
ALSO READ | Scott Free: Donald Trump Makes Spelling Mistake, and Twitter is Making Him Pay
Among his many faux-pas during the funeral, both Trump and his wife Melania did not join in the prayer recited by everyone else present in the cathedral.
According to the Washington Post, videos from the funeral showed a front row of presidents at the Washington National Cathedral, standing and reciting it along with the program. Jimmy Carter, Bill Clinton, Barack Obama and their wives glanced up and down from the programs they held in front of them and spoke the prayer, along with everyone else visible in the video. The program, as is typical, calls for the prayer to be said in unison. Trump stood, with his hands folded in front of him, his lips not moving, the program held absently in one hand; Melania also did not speak, nor did she hold a program.
The response was swift and unforgiving, with eagle-eyed observers pouncing on the fact that a President, widely, if vaguely, viewed as a folk hero by American Christian hardliners didn't seemn aware of, or even worse, interested in this most basic of prayers.
It's SO weird that Barack Obama (the "Muslim") knew all the words to the Apostles' Creed, and Donald Trump (the Evangelical hero) didn't know any of them, and didn't even bother to read them. #GeorgeHWBushFuneral

— John Ziegler (@Zigmanfreud) December 5, 2018
The Trumps aren't reading along with the Apostles' Creed. It's right there on the program.

— Laura Seay (@texasinafrica) December 5, 2018
How do Donald and Melania Trump get away with not reciting the Apostles' Creed along with literally everyone else in the National Cathedral? Not even gonna participate in church, on camera, in front of the world. Can't be bothered. #GeorgeHWBushFuneral

— The Modern Kingfish (@ModernKingfish) December 5, 2018
In 2016, someone who worked for HRC at State offered me this advice about writing for her: At the end of the day, she's a Methodist from the Midwest.We appealed to red-state voters on moral grounds. They chose a guy who doesn't know the Apostles' Creed:pic.twitter.com/wz4Fy0Qlvx

— D.J. Koessler (@DJKoessler) December 5, 2018
Get the best of News18 delivered to your inbox - subscribe to News18 Daybreak. Follow News18.com on Twitter, Instagram, Facebook, TikTok and on YouTube, and stay in the know with what's happening in the world around you – in real time.
Subscribe to Moneycontrol Pro and gain access to curated markets data, trading recommendations, equity analysis, investment ideas, insights from market gurus and much more. Get Moneycontrol PRO for 1 year at price of 3 months. Use code FREEDOM.
Read full article