Donald Trump's Presidential Alert Has Turned into a Hilarious 'Meme Alert'
Presidential Alert - Memes are incoming.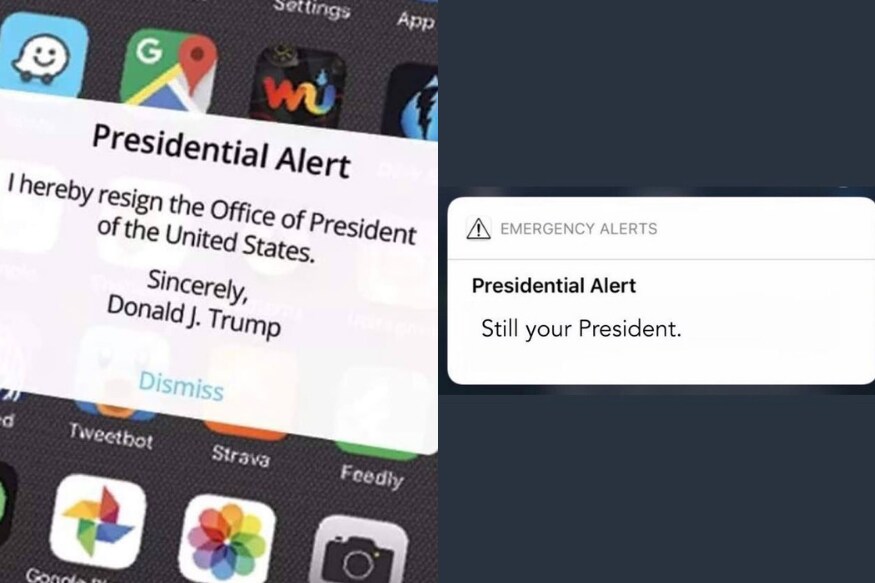 (Image: Twitter)
On Wednesday, over 225 million smartphones received a 'Presidential Alert' in the United States. The alert, similar to state-level alerts in USA, allows the President to address the country in times of a national crisis or emergency.
Sent by the Federal Emergency Management Agency (FEMA), the message read, "THIS IS A TEST of the National Wireless Emergency Alert System. No action is needed."



Three things you need to know about the #presidentialalert system



(Tap video to expand) https://t.co/u26NRuLfbH pic.twitter.com/TuDNEZzDPb
— BBC News (World) (@BBCWorld) October 3, 2018
In any event of an actual national emergency in the United States, the message would include information about the particular emergency followed by precautionary measures and instructions on staying safe. And although the message was only a test, people took to social media to do what they do best -- make memes out of it of course.

Well, this was sweet. #PresidentialAlert pic.twitter.com/fxccEzJG6m

— Ellen DeGeneres (@TheEllenShow) October 3, 2018




The Only #PresidentialAlert I Want To See 💅🏾 pic.twitter.com/8Ejoa9plQC


— 🇭🇹GreatGriotGoddess✨ (@Livin_Liberated) October 3, 2018

on october 3rd president trump texted to ask me what day it was

— Adam J. Kurtz (@adamjk) October 3, 2018




The Presidential Alert Only LIBERALS received #winning pic.twitter.com/LXAMfayMR0


— Steve 🔥Mudflap 🔥McGrew (@stevemcgrew) October 4, 2018

Guys..... he's so random #PresidentialAlert pic.twitter.com/yqk566LlCv

— lil purp stan (@lilpurpstitle) October 3, 2018




How do I stop a sexual predator from texting me?
Asking for 225,000,000 friends. #PresidentialAlert


— Frances Fisher (@Frances_Fisher) October 4, 2018

Wait... was this the #PresidentialAlert everyone else got? pic.twitter.com/LfGDXGgg13

— Nick Jack Pappas (@Pappiness) October 3, 2018




This is a test. #PresidentialAlert pic.twitter.com/McTWFqaNn1


— PETA 🐾 (@peta) October 3, 2018

*get presidential alert*

*throws phone at wall*

— Calypso 💋 (@Shes_TheBestYo) October 3, 2018




Is there a way to turn off the presidential alert thingy or nah?


— Johnny Weir (@JohnnyGWeir) October 4, 2018

so hey how bout that presidential alert today wow pic.twitter.com/ze2t6Yp3Uu

— NE Ohio Regional Sewer (@neorsd) October 4, 2018




The Next Presidential Alert Text! Be Prepared. Lock and Load. pic.twitter.com/Fb3C0NZWsw


— Steve 🔥Mudflap 🔥McGrew (@stevemcgrew) October 4, 2018

Donald Trump is texting me now #PresidentialAlert pic.twitter.com/xHT33k5GNt

— Justin Wilkie (@JustinWilkie81) October 3, 2018




#PresidentialAlert

"DID YOU GET MY TEXT MESSAGE" pic.twitter.com/u7zBCzB7vG


— A Lil Birdie Told Me (@EmmReef) October 3, 2018

Nothing but respect for MY President. #PresidentialAlert pic.twitter.com/fOoeusIlIh

— BreatheHeavy (@breatheheavycom) October 3, 2018




The #PresidentialAlert I got today, anyone else get this? pic.twitter.com/qWwxz6CCi8


— Logan (@Stummy1996) October 3, 2018
Read full article
Countdown To
Elections Results
To Assembly Elections 2018 Results