GET Stock

Quotes


East Bengal vs Mohun Bagan: The War Between Hilsa and Prawns
Depending on the result of the match, fans of the winning team would be celebrating by having the 'unofficial' team mascot or team fish.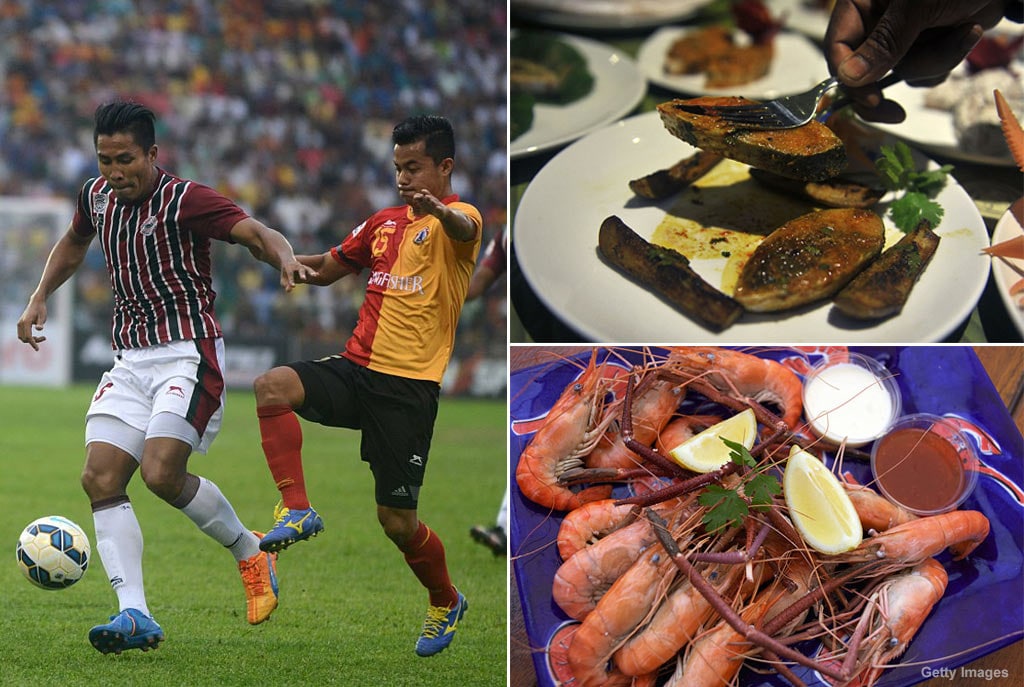 (L) File photo of East Bengal-Mohun Bagan match; (top) ilish dish and (bottom) prawns platter. (Photo: Getty Images)
Nothing motivates an average Bengali more that the love for food and football. A typical Bengali will devour his Ilish and Chingri (Hilsa and Prawn) with the same passion as he would discuss the last minute goal that his favourite team scored to clench the coveted trophy. Most often these two worlds - in a strange manner - collide. Because any kind of celebration is incomplete in Bengal without food. Be it Durga Puja or Football, election results or an unexpected downpour on a balmy day - almost everything is celebrated with food.
Every occasion has a food item or a particular dish associated to it. So a football match between the two most popular clubs of Bengal would also be celebrated with food surely. And as East Bengal gets set to take on Mohun Bagan at the Kolkata Derby on Wednesday afternoon - preparations are being made in scores of household for the gala feast that will ensue at night post the match.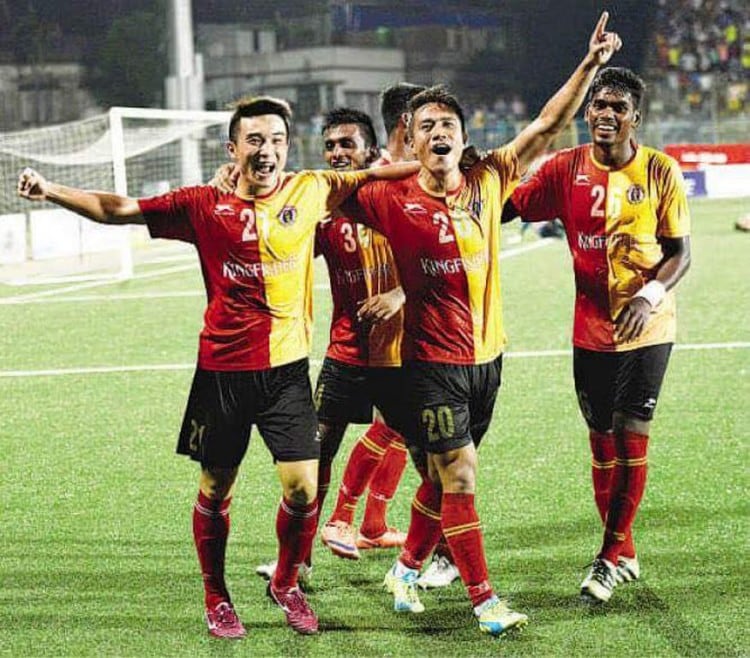 Photo via Facebook/Kingfisher East Bengal FC
Depending on the result of the match, fans of the winning team would be celebrating by having the 'unofficial' team mascot or team fish. So if East Bengal wins today fans of the team, who primarily are the Bangals, will devour Hilsa and if Mohun Bagan wins, plates of Jumbo Prawns cooked in coconut will be had with steamed rice by Ghoti fans.
What is the connection, you may ask. Now for the uninitiated, Bangals are those whose roots belong to the other side of Padma river - now known as Bangladesh. While Ghotis are those whose roots are in western side of the same river. There has been an underlying rivalry between Ghotis and Bangals since time immemorial which has spilled on to the football field as well. While Bangals are known to support East Bengal Club, Ghotis are ardent supporters of Mohun Bagan.
Photo via Facebook/Mohun Bagan FC
Naturally any win of the East Bengal team was celebrated with Hilsa - considered a king of the fish basket and associated to the eastern side of the state. As a fitting reply, Mohun Bagan adapted the golda chingri (jumbo prawns) as their fish mascot.
Depending on which team wins, prices of their mascot automatically rises the next day. Recounts Utsab Ghoshal, an East Bengal fan, "The last time East Bengal won a match in April 2016, the demand for Hilsa shot up so much that local market had run out of stock early morning next day. When my father went to buy - there was no hilsa in market. Everything was lapped up."
Such is the craze that fish shops across the city increase the prices of the fish by Rs 200-300 approximately. And everything is mostly sold out, as Ghoshal points out.
Celebrations also include lighting a flaming torch (logo of East Bengal) or smearing the team colours on fan faces. Those who cannot make it to the stadium, gather around a TV set at local club room, and when their team wins, the TV set is obviously garlanded as supporters go around the town for a victory lap in their preferred mode of transport.
An ardent football fan, Ghoshal has been following Football since a young age. Like most Bengalis, he has inherited his love for the team and the game from his father. Ghoshal, has also been following ISL matches, 'especially when Atletico Kolkata plays', as he points out and states that the frenzy is not even close to what one witnesses when Mohun Bagan and East Bengal plays. "I think no other state gets to witness this frenzy for a football match in our country like Kolkata does when these two teams play," says Ghoshal.
East Bengal in all probability will be getting a walkover on Wednesday afternoon. So one can easily assume, which fish is going to devoured tomorrow in several Kolkata kitchens.
Also see: Bengalis Are Losing Their Mind Over This Brilliant Song on Fish Curry
Also Watch
| Edited by: Shomini Sen
Read full article