Eco-Friendly Visarjan and Cleaning Beaches Become the New Norm This Ganesh Chaturthi
Say hello to an eco-friendly Ganesh visarjan.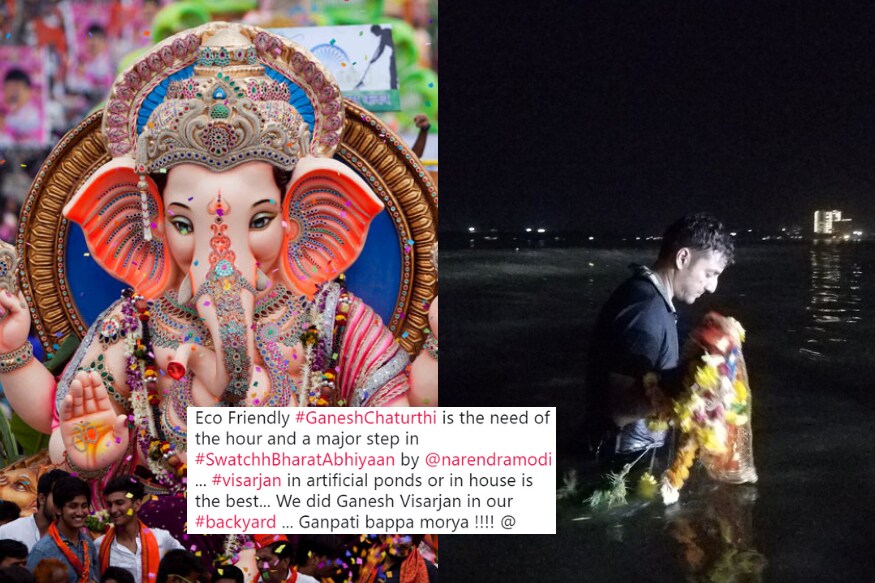 (Image: Twitter)
As the 10-day festivities of the Ganesh Chaturthi festival conclude, people bid an emotional adieu to their beloved Lord Ganesha as they immerse the Ganpati idols into the ocean or other natural water bodies. Ganesha may leave everyone's home after the festivities but the partially dissolved idols are found floating in the water bodies.
India, don't immerse Ganpati in the ocean or natural water-bodies. Can't bear to see half-dissolved idols all over again. Treat Ganesha & Nature with the respect they deserve. Use natural, soluble idols & immerse at home/in tanks built for this. Pl. don't let this happen again. pic.twitter.com/42IaT9bZEe

— VISHAL DADLANI (@VishalDadlani) September 12, 2018
Really sad to see "Ganesh Visarjan" like this. We are not only dishonouring the diety, we are polluting the environment #PseudoDevotion #GaneshVisarjan pic.twitter.com/rbm7qxTgNB

— anu sehgal (@anusehgal) September 16, 2018
Immersion of ganesh idols can cause damage to the environment as important as it is to worship god, it is equally important for us to protect this beautiful world that he has created.

Look What Happens To The Ganpati Idols After Immersion@AssoOfSocialBB @narendramodi @PMOIndia pic.twitter.com/TikVU3xf5t

— Sagar Jain (@SagarJain1993) September 21, 2018
Social media has run several awareness campaigns and while there is room for improvement, several people have started taking an initiative to keep this Ganesh Chaturthi environment-friendly, whether it is by cleaning the seas and the beaches or by immersing eco-friendly Ganesha idols into a bucket of water or an artificial pond.
Week 153. #MyCleanIndia #cleanseas

Last night , 35,000 citizens at the beach celebrating Ganesh Visarjan.

We - Citizens and BMC - worked all night for 9 hours.

At 3 .00 am , we leave the beach -as it was - before the arrival of Citizens.

Hard work to protect ourselves pic.twitter.com/84Hony7aln

— Afroz shah (@AfrozShah1) September 20, 2018
Eco Friendly #GaneshChaturthi is the need of the hour and a major step in #SwatchhBharatAbhiyaan by @narendramodi ... #visarjan in artificial ponds or in house is the best... We did Ganesh Visarjan in our #backyard ... Ganpati bappa morya !!!! @ pic.twitter.com/acu8Dt9YTW

— Shriniwas Tripathi (@imShriniwas) September 14, 2018
This is our 3rd year of making Chocolate Lord Ganesha. It took 10 days, 20 chefs & 65 kgs of chocolate for the #ChocolateGanpati to be made. The intention is to inspire people to celebrate #GaneshChaturthi in Eco-friendly ways! #गणेशचतुर्थी #GanpatiBappaMorya #GaneshUtsav pic.twitter.com/x4IYH4jXVS

— Harjinder Singh Kukreja (@SinghLions) September 18, 2018
View this post on Instagram
View this post on Instagram
View this post on Instagram
And social media, naturally, is saluting the spirit of all these people who stand for change.
Now thats what we call responsible citizens. Needed every where in India. Brsvo https://t.co/F6Hs7V66kP

— Syed Ata Hasnain (@atahasnain53) September 21, 2018
Consistency is the keyword, good to see safe oceans, clean oceans and superb results of our great efforts.

— Vigneshwaran pillai (@Vigneshwaranpi4) September 20, 2018
one day I strong believe everyone will think like you that day there all ocean lakes and beaches will be free from plastic and all waste products

— kiran kotumbeerkar (@angelkkar) September 20, 2018
There are ppl who think good and and then there are who do good. Cheers Afroz Shah 👍 https://t.co/l5vZcGftIr

— Sidharth Bhutra (@sidharthbhutra) September 21, 2018
See how an imaginative Sikh businessmen could turn a religious event in into a welfare act for underprivileged without diluting the religious frevor. This is how Hinduism evolved not by excluding but by involving and helping the poor sections of society.

— Harish Meena MP (@HC_meenaMP) September 16, 2018
You are doing an amazing job sir.... Thanks for your immense contribution https://t.co/ttddIqHua8

— Pevendra Kumar (@GoluGp786) September 22, 2018
Get the best of News18 delivered to your inbox - subscribe to News18 Daybreak. Follow News18.com on Twitter, Instagram, Facebook, Telegram, TikTok and on YouTube, and stay in the know with what's happening in the world around you – in real time.
Read full article