Egypt Just Unveiled a Statue of Mohamed Salah But No One's Believing It's Him
All these memes may just give Salah an identity crisis.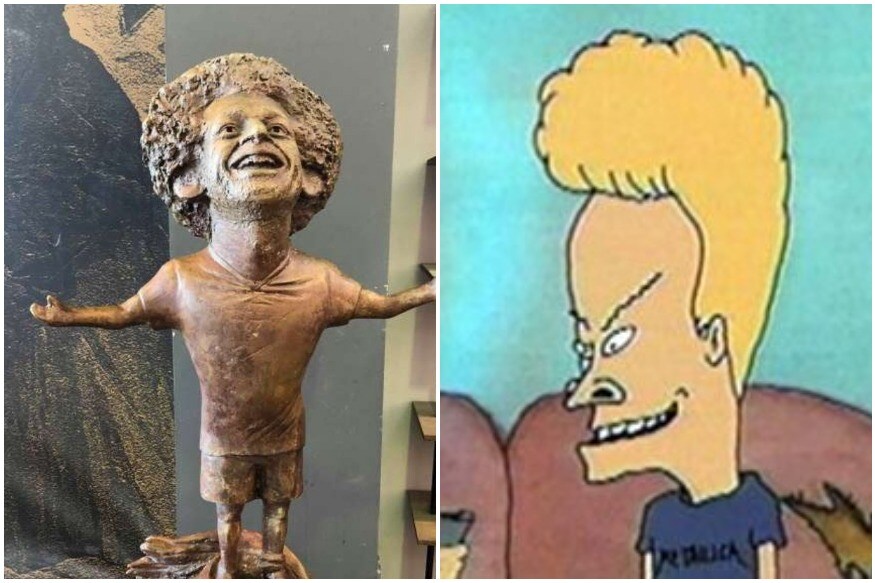 All these memes may just give Salah an identity crisis.
Recently, a statue of Liverpool footballer Mohamed Salah was unveiled in Egypt's Sharm el-Sheikh. However, the statue, which was made to tribute the Egyptian-origin Premier League player soon became a meme as many questioned that the statue did not actually look like the player.
26-year-old Salah broke the Premier League goalscoring record last season with 32 goals in his debut campaign. He also won the PFA Player of the Award and was nominated for the Fifa Best Men's Award. Encouraged by his success, Egyptian sculptor Mai Abdel Allah was moved to create the statue.
In the statue, Salah appears to be standing with his arms spread open in his signature celebratory pose. However, rather than act as a tribute, the statue has become the butt of several jokes on the internet, especially due to its likeness with several other celebrities.
Many Tweeples thought that the image looked a lot like Art Garfunkel of the iconic band Simon & Garfunkel.
that #MoSalah statue's a real winner pic.twitter.com/7Ls8QsxTIT

— kiefer hoverhand (@fivedollardare) November 5, 2018
Why does the statue of @MoSalah look more like #ArtGarfunkel? pic.twitter.com/wFd7dNulrC — Америко (Américo) (@Americo_Martinx) November 5, 2018
#MoSalah statue and Paul Simon in the Netherlands, 1982 pic.twitter.com/OQRUWGacRK

— kiefer hoverhand (@fivedollardare) November 5, 2018
Others thought he resembled the 70s era British musician Leo Sayers.
I think its great ... a statue for singer/song writer Leo Sayer is long overdue #mosalah pic.twitter.com/Td8nT4EeZh — Simon Watts (@SimonWattsHull) November 5, 2018
And yet others said the statue looked like it was of Marv Merchants, one of the two bungling villains from Home Alone played by Daniel Stern.
Once you've seen it you can't unsee it. Mo Salah's statue is a dead ringer for Marv. pic.twitter.com/CCNyU1rEzW

— Jack (@cr0ssland) November 4, 2018
Tbf, mo salah does look like Marv from home alone pic.twitter.com/y0jMWi6aPR — Whinney (@bwhinney15) November 4, 2018
To be honest, there were just too many comparisons. It looks like Mo Salah's statue looked like everyone but Salah himself.
This new @MoSalah statue looks very familiar.... @LFC #salah #Liverpool pic.twitter.com/3eOYCYHUY5

— ֆȶօɦ (@yaboystoh) November 5, 2018
This is supposed to be the@MoSalah statue.looks like Dobby with hair. Either ways #Legend pic.twitter.com/k37DOTzxxV — Abhro Bhattacharjee (@76Imo) November 5, 2018
the new mo salah statue #mosalah pic.twitter.com/CPsiVM5WLh

— Z (@zadddylonglegs) November 4, 2018
Does anyone else think this @MoSalah statue is more like a young Arsene pic.twitter.com/wgothlP2a4 — jame #WelcomeToTheEmeryates (@Weener14) November 4, 2018
Not sure about the new statue of Margaret Thatcher that has been unveiled in Grantham. #mosalah pic.twitter.com/j1RiLjX8Jt

— John O'Farrell (@JohnOFarrell) November 4, 2018
It Has Started No Offense @MoSalah . . .#cristianoronaldo #mosalah #Liverpool #premierleague pic.twitter.com/JrZGib2dAJ — AZR Organization (@AzrOrganization) November 5, 2018
That new statue of Mo Salah looks familiar pic.twitter.com/W84D1nMZIk

— Jamés (@utdsupreme) November 4, 2018
Some raised important questions:
So many questions... But most importantly, why is he coming out of a snitch, and where are his fingers???#MoSalah pic.twitter.com/k5OAAkGdcr — Jasmine Ruth Baluja (@jazz_stark) November 5, 2018
#MoSalah Statue creating great debate in the art world. pic.twitter.com/Bvmd7BbDwp

— Damian (@Dazoo1977) November 4, 2018
Many were reminded of the faily awful bust of Chritiano Ronaldo that was ;launched in 2017 to much booing and jeering for its unrealistic portrayal of the former Real Madrid star. some even dredged up statues of other star footballers such as Maradona for comparison.
A statue has been made of Mo Salah with his iconic celebration... Who did it better? pic.twitter.com/c6l1jKd4Fa — ODDSbible (@ODDSbible) November 4, 2018
#MoSalah gets the Ronaldo treatment with new statue unveiled in Egypt.

— Football Super Tips (@FootySuperTips) November 5, 2018
This new statue of Mo Salah... worse than Maradona or dead heat? pic.twitter.com/nCCsNFFU0G — Dan Walker (@mrdanwalker) November 5, 2018
All these memes may just give Salah an identity crisis.
Get the best of News18 delivered to your inbox - subscribe to News18 Daybreak. Follow News18.com on Twitter, Instagram, Facebook, Telegram, TikTok and on YouTube, and stay in the know with what's happening in the world around you – in real time.
Read full article