Elon Musk Faces Twitter Backlash After His Thai Rescue Operation Failed
It's not a f-Elon-y to try, is it?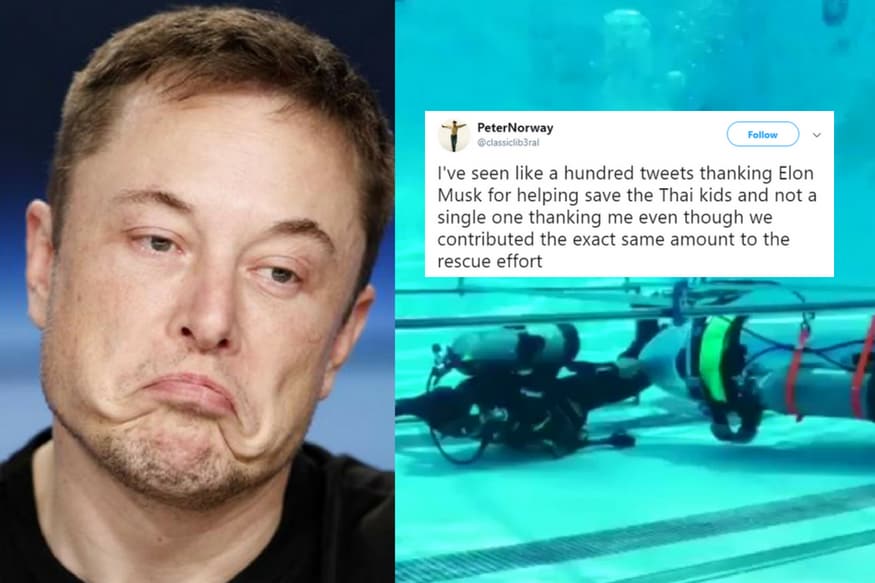 It's not a f-Elon-y to try, is it?
A lot of things have noble causes - but not all of them are practical, or end up working. Elon Musk's idea for the Thailand Cave Rescue Operation is much along similar lines.
The Thailand Rescue Operation which has been making news for a while now may have been picked up on by Elon Musk - but how much of his idea is practical or viable?
The idea of a submarine to rescue the kids may have been publicized widely, with Elon Musk himself even posting pictures of testing it out - but the plan to actually extract kids may not work.
"Although his technology is good and sophisticated it's not practical for this mission," Narongsak Osatanakorn, the head of the joint command centre coordinating the operation, told
The Guardian
reporters.
Musk tweeted that he had brought the mini submarine - "made of rocket parts and named Wild Boar after kids' soccer team" - to the cave site, leaving it there in case it was useful in the future.



Just returned from Cave 3. Mini-sub is ready if needed. It is made of rocket parts & named Wild Boar after kids' soccer team. Leaving here in case it may be useful in the future. Thailand is so beautiful. pic.twitter.com/EHNh8ydaTT


— Elon Musk (@elonmusk) July 9, 2018
Twitter picked up on Musk's enthusiasm, and noted on how it may not have been the best route to go.

Elon Musk: "I have an ingenious plan to rescue the trapped boys"

Thai rescuers: "It's okay bro we started two days ago"

Elon Musk: "A submarine with maglev turbo blast thrusters"

Rescuers: "we've rescued five already"

Elon Musk: "underwater galactic rescue escape pod"

— Shafik Mandhai (@ShafikFM) July 9, 2018




elon musk's thai cave submarine is... absurd. it doesn't make any goddamn sense pic.twitter.com/ntZo2Tghv1


— chris hooks (@cd_hooks) July 9, 2018

I've seen like a hundred tweets thanking Elon Musk for helping save the Thai kids and not a single one thanking me even though we contributed the exact same amount to the rescue effort

— PeterNorway (@classiclib3ral) July 9, 2018

[someone goes into cardiac arrest]

elon musk: but what about this!! we build a mechanical catapult and launch him 200 yards, and the adrenaline will restart his heart!

me: hey man ok but i'm just gonna do some CPR

all of twitter: YOU FUCKIN BITCH AT LEAST HE TRIED https://t.co/2YondpWhLe

— nurse ghoul (@TheDreamGhoul) July 10, 2018
But not all of them have been simply sarcastic. Some of the speculations have been nothing less than scathing.



Ah man they got some of those Thai children out of the cave without using Elon Musk's stupid thing that would have gotten them all killed. selfish


— Dan O'Sullivan (@Bro_Pair) July 8, 2018

Elon Musk peacocking over the Thai cave rescue (which he is not involved in) is astonishing cold egoism even for him

— joanne mcneil (@jomc) July 8, 2018

Musk, however, seems to be more or less unaffected by this.



If I am a narcissist (which might be true), at least I am a useful one


— Elon Musk (@elonmusk) July 8, 2018
Read full article
Countdown To
Elections Results
To Assembly Elections 2018 Results