Erm... Amitabh Bachchan is Now Talking About Losing Twitter Followers on 'Kaun Banega Crorepati'
Parampara. Pratishtha. Aur Twitter followers.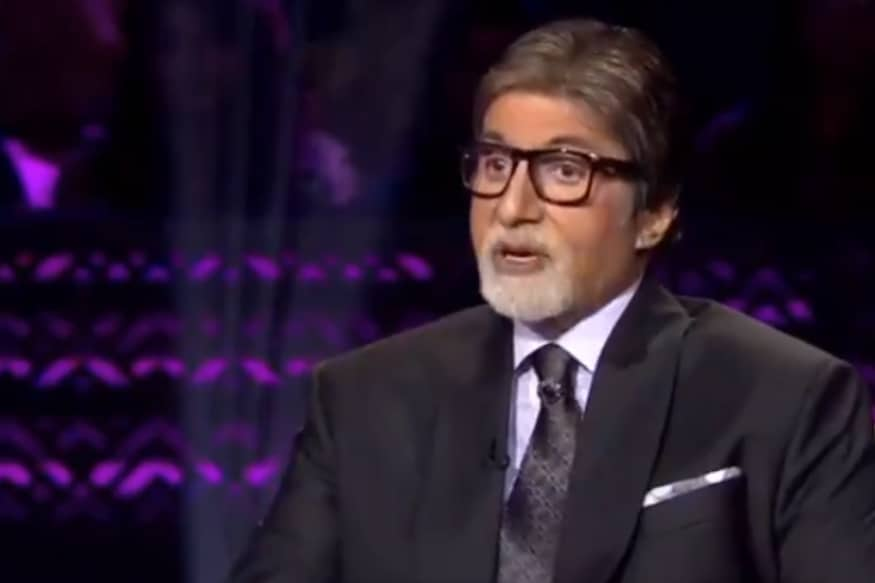 Image credits: Sony | @SahilRiz / Twitter
Bollywood legend Amitabh Bachchan loves his social media followers and he isn't subtle about it.
Bachchan, who has had several angry young man moments on Twitter over losing his followers has now escalated the matter and taken his obsession offline.
For starters, the Bollywood star is pretty much in sync with the Internet culture and regularly uses Twitter and other platforms to share updates about his personal and professional lives with his fans and well-wishers.
Being a regular on microblogging site, Bachchan has time and again ranted about the decline in his followers' list.
T 2793 - Dear Twitter Management , its quite amazing how you manage to keep numbers of followers CONSTANT, & not moving AT ALL despite maximum activity !!👏👏👏👏👏.. well done !! I mean how do you keep the score board from not moving despite every ball being hit for a 6 !! pic.twitter.com/oDZU9xxYAZ

— Amitabh Bachchan (@SrBachchan) May 2, 2018
T 2599 - TWITTER ..!!!?? you reduced my number of followers .. !!??HAHAHAHAHAHAHA .. !! thats a joke .. time to get off from you .. thank you for the ride .. 😠😠😠 .. there are many 'other' fish in the sea - and a lot more exciting !! pic.twitter.com/85c15pDif4

— Amitabh Bachchan (@SrBachchan) January 31, 2018
T 2795 - Arre yaar Twitter ji .. yaar ab toh hamare numbers badha do .. kab se itna kuch dal rahe hain .. kuch aur karna ho, number badhane ke liye to bolo🙏🙏🙏🙏🙏🙏🙏 .. TJKBM !!! pic.twitter.com/V5L4AMJNGq

— Amitabh Bachchan (@SrBachchan) May 4, 2018
Bachchan's angry tweets haven't gone unnoticed. A Twitter team reached out to the actor to explain that they weren't messing around with his followers.
T 2619 - The Twitter team came from across the seas to visit me at work and to explain to me how TWITTER works .. thank you !

The truth of the working is so 'apparent' !! pic.twitter.com/RTJdHkepZb

— Amitabh Bachchan (@SrBachchan) February 18, 2018
Despite Twitter acknowledging his concerns, the actor decided to talk about his seemingly 'low' followers' list on television. Kaun Banega Crorepati, which is in its tenth installment, saw Bachchan in a light-hearted mood, shedding light on his social media followers with the Indian janta.
In an episode that aired on October 29, the contestant was questioned about the celebrity with the highest Twitter followers. Bachchan, in his usual baritone, went on to narrate how he has lesser followers than Barack Obama, Cristiano Ronaldo and PM Narendra Modi on microblogging site.
Barack Obama: 103M
Cristiano Ronaldo: 75.7M
Narendra Modi: 44.4M
Amitabh Bachchan: 35.5M
Somehow, the Shehenshah saw a brighter side to this. He said he's active on other social media platforms such as Facebook and Instagram as well and more than 60M followers on the interwebz.
Remember how Amitabh keeps bitching about not having enough followers here? (https://t.co/yn5UisDIKY).

Just wanted y'all to know that he's taken that shit offline & is now addressing it IRL. 😂 pic.twitter.com/K8gtuEfMOW

— Sahil Rizwan (@SahilRiz) October 30, 2018
Get the best of News18 delivered to your inbox - subscribe to News18 Daybreak. Follow News18.com on Twitter, Instagram, Facebook, Telegram, TikTok and on YouTube, and stay in the know with what's happening in the world around you – in real time.
Read full article