GET Stock

Quotes


Everyone Was Cracking the Same Joke After Ronaldo And Messi's Dramatic World Cup Exit
Twitterati is Messi around with Ronaldo.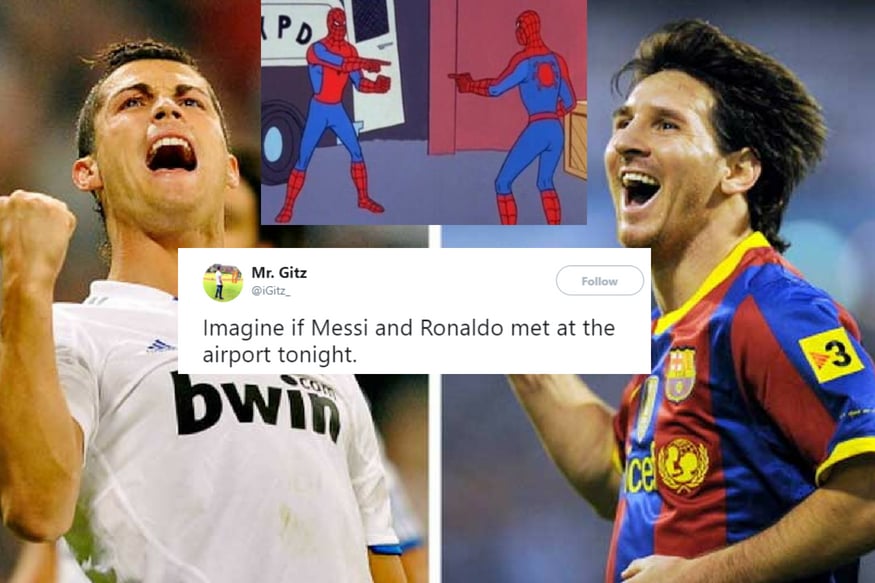 Image Credit: Getty Images.
The knockout round of the FIFA World Cup has just begun and both five-time Ballon d'Or winners were shown the exit doors on Saturday.
First, France's teenage sensation Kylian Mbappe stepped up to the occasion and blew the Argentines away with a breathtaking performance for his side. Messi and Argentina could not keep their defenses from getting breached as Didier Deschamps' France roared back in grand style. As a result, Argentina succumbed 4-3 to France in the thrilling encounter.
Cristiano Ronaldo, on the other hand, put on a subdued performance against Uruguay and Portugal suffered a humiliating 2-1 defeat.
Interestingly, Messi and Ronaldo have never scored in a World Cup knockout match. Yep.
0 - Neither Cristiano Ronaldo or Lionel Messi have scored a goal in a World Cup knockout match:

Ronaldo: 0 goals in 6 games from 25 shots (514 mins)
Messi: 0 goals in 8 games from 23 shots (756 mins)

Kryptonite.#WorldCup #URUPOR #FRAARG #POR #ARG pic.twitter.com/lgydl2UDb8

— OptaJoe (@OptaJoe) June 30, 2018
Fans around the world were hoping to see their favourite stars meet each other at the field but after they were sent packing home on the same day at the World Cup, netizens made sure they met at the airport.
That 'Messi and Ronaldo will meet at the airport' joke might come true.

— Trendulkar (@Trendulkar) June 30, 2018
Imagine Messi and Ronaldo going out on the same day....of the World Cup, not with each other.

— Gary Lineker (@GaryLineker) June 30, 2018
When Messi and Ronaldo meet each other at the Airport#URUPOR pic.twitter.com/OlbUMEaCV7

— J E R E M I A H🐐 (@jerriejerrie_) June 30, 2018
Ronaldo: Yo what time are you going to the airport?
Messi: I got the 11:40 flight hbu?
Ronaldo: Bet me too pic.twitter.com/uCLadIz5xL

— Alejandro Ferman (@Alex_livin_life) July 1, 2018
Cristiano Ronaldo bumping into Leo Messi at the airport. #WorldCup pic.twitter.com/r9TAkUFf0c

— FutbolBible |WorldCup (@FutbolBible) June 30, 2018
Messi and Ronaldo at the airport tomorrow #URUPOR pic.twitter.com/xhNfc3JiHK

— Dexter⏺ (@da_illusion007) June 30, 2018
Just a rare pic of Messi and Ronaldo at the airport waiting for their respective flights back home #URUPOR #FRAARG pic.twitter.com/zcN1rsDowF

— Femi Factor (@femifactor) June 30, 2018
Every Football fan's dream. #TheOffsideBuds #LightUpTheWorldCup #URUPOR #WorldCup #FRAARG pic.twitter.com/CLu35G3ahr

— East India Comedy (@EastIndiaComedy) June 30, 2018
Cristiano Ronaldo: "Bro, you're at the airport yeah?"

Messi: "yeah, what's up?"

Cristiano Ronaldo: "With the way this game set up, you might have to help me book my flight home too"

Messi: "No problem bro, I got you"#URUPOR #WorldCup pic.twitter.com/PkgFEjey0N

— KVNG (@PRINCE_VIIII) June 30, 2018
Rare footage of Luis Suarez waving goodbye to #Ronaldo & #Messi at the airport.... pic.twitter.com/z51o01ddro

— pegah (@pegahmilan) June 30, 2018
Read full article