EVERYONE Wants to Move to Chile After Photos of 'Puppy Parade' Go Viral on Internet
Do the puppies make you want to move to Chile, too?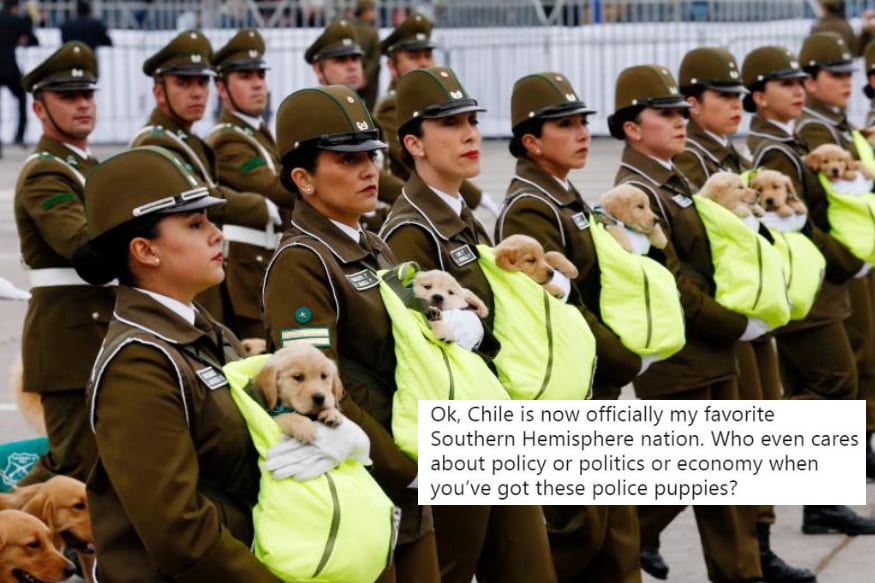 (Image: Reuters)
It only takes a puppy parade to fall in love with a nation. And now the internet wants to pack its bags and leave for Chile after images and videos of a troop of adorable golden retriever puppies taking part at Chile's annual military parade are flooding social media.
Puppies steal the show at Chilean military parade pic.twitter.com/rNCSRv2cvg

— Reuters Top News (@Reuters) September 20, 2018
The puppies, comfortably nestled in neon green pouches, were part of the annual military parade to celebrate Chile's 208th Independence Day. Carried by police trainers, the puppies were immediately followed by golden retrievers who wore tiny boots and strode with confidence along with the uniformed personnel.
Needless to say, EVERYONE is going 'awwww' at the sight of the adorable puppies and wants to move to Chile whenever possible.
i have 3 words for you on this Thursday:CHILEAN. POLICE. PUPPERS. pic.twitter.com/yS6B5SYFKW

— J.D. Durkin (@jiveDurkey) September 20, 2018
Ok, Chile is now officially my favorite Southern Hemisphere nation. Who even cares about policy or politics or economy when you've got these police puppies? https://t.co/f1C1S5DfUd

— Mary Beth Miotto MD (@MAhealthforkids) September 20, 2018
Police Puppers, we ALL salute you. Even those napping on the job. https://t.co/HALlZgvJOZ

— Rachael Dunlop (@RachaelDunlop) September 20, 2018
So. Many. Good. Boys. https://t.co/nYoEo7Tsix

— Myles Salazar (@myles_salazar17) September 20, 2018
FINALLY dogs being shown the respect and honor the DESERVE 😂😂Also omg the sleeping one 😭😭😭 https://t.co/XY1gjissju

— AbbyQT (@AbbyGaleQT) September 20, 2018
Now this is a military parade I would support.

— PinkLadyLA (@PinkLadyLA) September 20, 2018
* Moves to Chile, gets citizenship, joins army unit , becomes sergeant of puppies* https://t.co/gfLP9beNp8

— Elizabeth West (@Limeylizzie) September 20, 2018
They have puppies! I'm moving to Chile.

— Carter Goodrich (@Cartergoodrich2) September 20, 2018
I'm pretending they're all there to specifically salute the pups

— kate bush stan account (@ashcech) September 20, 2018
Now this is my kind of parade.

— Katie Phang (@KatiePhang) September 20, 2018
I can close twitter now, for this is the best thing I will see all day.

— Jennifer Levering (@JengyBowserMD) September 20, 2018
How do I apply for this job? pic.twitter.com/OkqAnF3pBE

— Alexansa 🍟 (@LexandrahStyles) September 21, 2018
Chile is the place i want to spend the rest of my life 😍

— Anjali Muralidharan (@amazinganjali) September 20, 2018
This is the kind of Military parade I could sup-pup-ort

— Simply Amazing (@Redox_rules) September 20, 2018
Be right back, gonna pack bags and move to Chile.
Get the best of News18 delivered to your inbox - subscribe to News18 Daybreak. Follow News18.com on Twitter, Instagram, Facebook, Telegram, TikTok and on YouTube, and stay in the know with what's happening in the world around you – in real time.
Read full article