Fake News: Viral Video of Rahul Gandhi's Photo on Burj Khalifa Is Doctored
The footage was probably made using 'Biugo', an editing app that allows users to create and edit videos with special effects.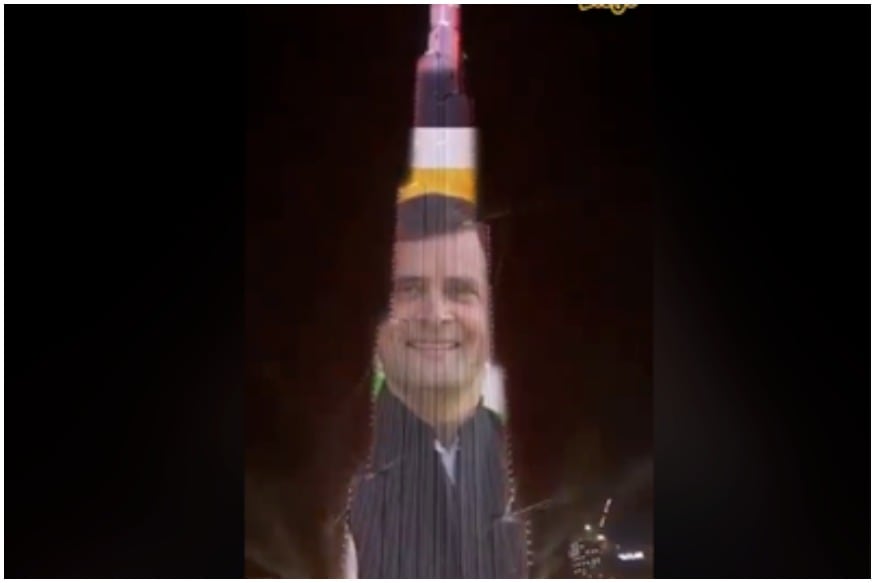 The video of Rahul Gandhi's face on Burj Khalifa went viral a few days before his UAE visit. (Source: Facebook)
With Rahul Gandhi's UAE visit just days away, a video of the Congress Chief's face flashing on Dubai's Burj Khalifa went viral.
The video in which a projected image of Gandhi can be seen appearing on the world's tallest building was shared by several of Facebook and Twitter accounts including Gandhi's fan pages and support groups.
Rahul Gandhi's pic displayed on Burj khalifa pic.twitter.com/DCuCo0NJjY

— Abdul M Valappil (@majeedvalappil) January 8, 2019
The Facebook post has over 6,000 shares with most sharing it with the same caption as the initial post.
However, there is one small snag. The video is not real.
The fact that the video was fake could be seen from the small logo that appears on top of the alleged footage. 'Biugo' is a video editing app that allows users to choose from various video footage presets and edit them to insert their own photos in them.
One of the presets is the 'Burj Khalifa' preset that allows users to put their photo on the tower. Several videos with faces of users on the Burj Khalifa can be found on the internet. All videos made from Biugo carry the app's logo, which cannot be edited out without sing third party software.
Since a similar watermark appeared on the Rahul Gandhi 'footage', it seems likely that the video is a fake. Even the audio that can heard in clip is part of the Biugo preset and can be heard when one uses the preset to make a new video.
A quick search of the official social media handles of Burj Khalifa also reveal that the footage may be fake. Usually, Burj's Twitter handle actively tweets about the tower's activities.
It tweeted when the tower lit up in with the Indian tricolour during PM Narendra Modi's February 2018 visit and also when it wore the tricolour during India's Independence and Republic Day.
#BurjKhalifa lights up in the colours of the Indian national flag, in honour of the Indian Prime Minister @narendramodi and his delegation visiting the UAE. pic.twitter.com/9SBhMkOnax

— Burj Khalifa (@BurjKhalifa) February 10, 2018
As far as putting an actual image of a person on the tower is concerned, Burj recently displayed Mahatma Gandhi's image in October 2018 to commemorate the leader's 150th birth anniversary.
#برج_خليفة يستعرض صور وبعض الأقوال المأثورة لمهاتما غاندي في ذكرى ميلاده ال١٥٠Burj Khalifa beams Mahatma Gandhi's images and iconic quotes marking his 150th birth anniversary pic.twitter.com/Sdrdp8F2uI

— Burj Khalifa (@BurjKhalifa) October 2, 2018
But this time, no such posts were made. A quick scan on news reports in local media in the UAE also indicates no such incident being reported.
The Gandhi scion is set to visit UAE on Jan 11 and 12 and is expected to meet Indians living and Dubai to discuss the issues they face in the country.
Read full article