Municipal Corporations

9/10

TRS

8

INC

0

BJP

1

AIMIM

0

OTH

0
MUNICIPALITIES

114/120

TRS

96

INC

9

BJP

3

AIMIM

2

OTH

4
Refresh Data
Fans Continue to Relate to Farhan Akhtar's 'Dil Chahta Hai' Even After 18 Years
Akash, Sid and Sameer are still the ideal trio of friends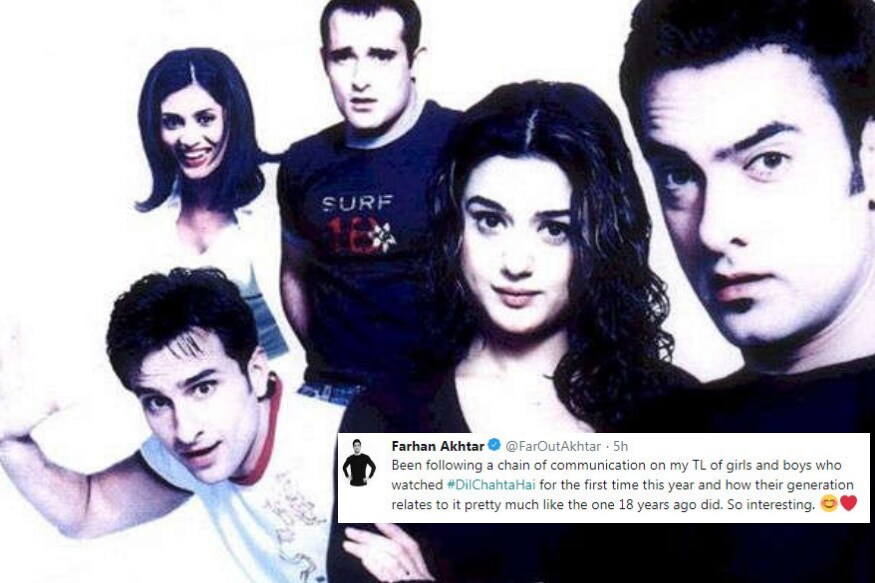 (Image: Poster of Dil Chahta Hai)
When Bollywood's urban comedy-drama Dil Chahta Hai starring Aamir Khan, Preity Zinta, Saif Ali Khan, and Akshaye Khanna released in 2001, it instantly received cult status among the youth for its relatable story-line and dialogue. That was 17 years ago. Cut to 2018 and surprisingly, nothing much has changed.
The hip millennials are still watching the iconic movie (many for the first time) in 2018 and the emotions of "OMG YAAAS. We relate" have never echoed so loud.
I watched Dil Chahta Hai for the first time today in 2018 seen it in parts of course. Cannot believe how beautifully each character was dealt with back then in time and how I could still resonate with all of it today. @FarOutAkhtar Thank you for this one.❤️

— Pun (@chiinuuu) October 8, 2018
I too had heard a lot about this movie and I have also seen this movie in 2018.🙏🙏😀The film is fantastic...😄 — Harsha Choudhary (@HarshaChoudha20) October 9, 2018
One of my all time favourites!! And also the first movie I saw with my then girlfriend and now wife! 😊

— Navroop.j@outlook.ie (@j_navroop) October 10, 2018
I watched it like 2 months back for the first time. Everyone remembers the movie and i too m going too do the same. Movies like this are unforettable. — Shivam Goswami (@shivamxgoswami) October 9, 2018
I went for it 1st day, 2nd show in black ofcourse as it was housefull, the scene where Sid explains and example about grains of sands in the hand on the beach in Goa always stood out to me.

— Maharaja Rahul (@btpsupporter) October 9, 2018
I Watched in 2001 when it Got released, But Still it comes on TV it all together gives me Goosebumps and remind me of that Time. The Most Beautiful Movie ever made on Friendship. — Aamir Sohail Ansari ( Alamgiri) (@Aamir1114Fight) October 9, 2018
The echoes reached the director of the movie, Farhan Akhtar, himself. Moved by the fans reactions to the film, Farhan tweeted about how the young generation continues to relate to the film even in 2018.
Been following a chain of communication on my TL of girls and boys who watched #DilChahtaHai for the first time this year and how their generation relates to it pretty much like the one 18 years ago did. So interesting. 😊❤️

— Farhan Akhtar (@FarOutAkhtar) October 11, 2018
And his fans, while asking for a remake, also remind him that his directorial debut was way ahead of its times.
Trust me, it's way better than some of the movies that are being made today. #DilChahtaHai was and will forever remain a cult movie, one that the youth of India will always look up to. Btw, it's one of my favourites too 😊 — Jeetanshu (@JeetanshuShah) October 11, 2018
Lakshya and Dil Chahta Hai will inspire youngsters for generations to come cos it is so relatable. Direct more movies Farhan. Plz you are amazing.

— amitjain002 (@amitjain002) October 11, 2018
Sequel please? #DilChahtaHai — Harneet Singh (@Harneetsin) October 11, 2018
I was 13 when It came out and I enjoyed it throughly. Now I am 30 and I watched it again to love it even more with better understanding of the complexities and simplicity of the characters. #DilChahtaHai was a game changer and is as fresh as it was then.

— PrideAndPrejudice (@YashuBnB) October 11, 2018
The movie really was a class apart and the foundation of the movie was friendship whose relevance remains same irrespective of different Eras ... — Yogesh (@YogeshShende) October 11, 2018
DCH wasn't a movie, it was a legend. As much as I'd wish a remake, I can't see it bettered in any way. Rock On! & ZNMD were good too, but its useless to compare.

— RadiOheAd (@ayachita) October 11, 2018
#DilChahtaHai is a milestone in Bollywood film industry. Actual trend setter of moder bollywood movies and trend breaker of typical Bollywood masala movies. Hat's off to you sir — baba (@modi_bakchodi) October 11, 2018
It would be more interesting if you announce Dil Chahta Hai sequel today.. 😉

Aamir, Saif & Akshay..

— Rohan K (@RoflMarathi_) October 11, 2018
Get the best of News18 delivered to your inbox - subscribe to News18 Daybreak. Follow News18.com on Twitter, Instagram, Facebook, Telegram, TikTok and on YouTube, and stay in the know with what's happening in the world around you – in real time.
Read full article