Father Apologises After Facing Backlash Over Dressing His Son as Adolf Hitler for Halloween
Many felt the costume was in poor taste.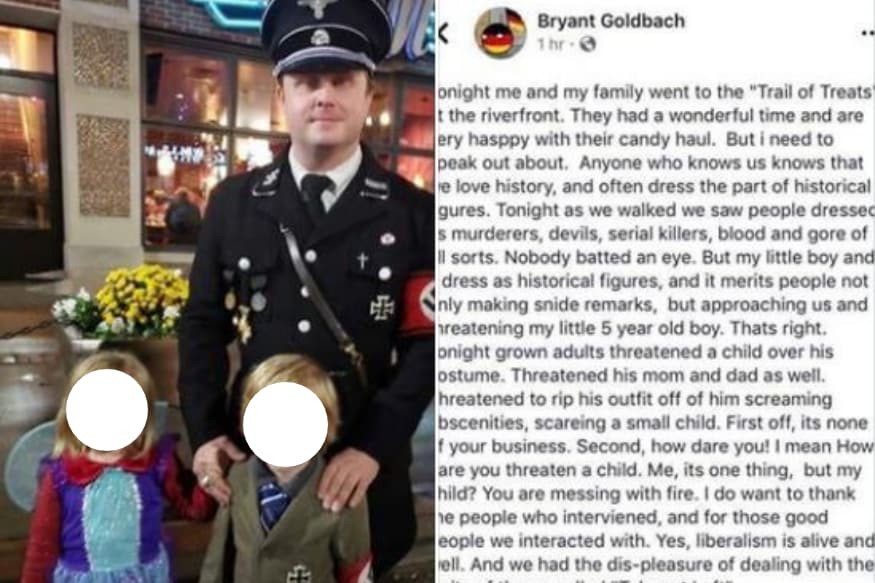 Image posted by @kysportsradio / Twitter
It's that time of the year when people don 'scary' costumes to celebrate the festival of Halloween. But even though there's a premium on creativity and novelty when it comes to picking the perfect costume for the night, a man's decision to dress his son up as Adolf Hitler has forced him into issuing an apology.
Dressed in a Nazi soldier uniform himself, the father, Bryant Goldbach, had earlier taken to his Facebook account to condemn those who had threatened him and his family at a Halloween party - 'Trail of Treats' in Owensboro on Thursday night. Justifying the dictator costume, Goldbach wrote that he and his son love history and often dress up as 'historical figures'.
"Tonight as we walked we saw people dressed as murderers, devils, serial killers, blood and gore of all sorts. Nobody batted an eye," Goldbach originally wrote. "But my little boy and I dress as historical figures and it merits people not only making snide remarks, but approaching us and threatening my little 5-year-old boy," Goldbach captioned his photograph.
"Yes, liberalism is alive and well," he continued. "And we had the displeasure of dealing with the fruits of the so called 'Tolerant Left,'" he further wrote.
Though the original Facebook post has been reported and taken down, the photo from the event triggered a social media outcry, with many calling out Goldbach for his poor judgement of the costume.
A man in Owensboro went to a community Halloween event last night dressed as a Nazi and dressed his child as Hitler

His costume is disgusting...but dressing his child like this is heartbreaking pic.twitter.com/LPq8oSXaz5

— Matt Jones (@KySportsRadio) October 26, 2018
After facing severe backlash, Goldbach admitted that he had erred and the costume was in bad taste.
Speaking to WEHT, he said, "I think it was in bad taste for me to let my child to wear that, probably for me to wear that. It didn't occur to me. I thought it was a bad decision on my part."
In a statement, Rabbi at Temple Adath B'nai Israel said that Goldbach's apology was 'important' but also felt it was a 'sad reflection' on society as he didn't know it would be offensive.
"A good rule of thumb would be: 'if your costume calls to mind an event where millions were killed, choose another costume'," he added.
Read full article