GET Stock

Quotes


Fed Up Of Being Catcalled, This Woman Decided To Take Selfie With Street Harassers
A 20-year-old Amsterdam-based student Noa Jansma who was clearly fed up of being harassed and catcalled on the streets decided to take selfies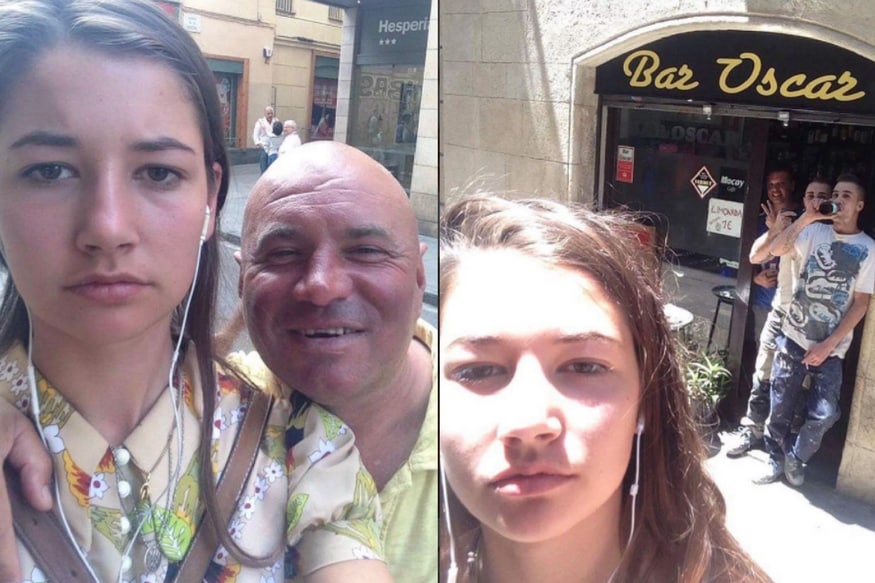 Photo credits: Noa Jansma
Women safety is an issue that persists all across the world. Whether they are online, on the street or even at home, women are subjected to lewd comments, harassment, and misbehaviour from the men they encounter in their lives.
No woman likes being catcalled on the streets (something that our own Bollywood has romanticised for decades) by men who yell, pass comments, make noises, whistle or worse follow them.
A 20-year-old Amsterdam-based student Noa Jansma who was clearly fed up of being harassed and catcalled on the streets decided to do something about it. Jansma started taking selfies for a month with all the creeps she came across on the streets and uploaded them on her Instagram account
@dearcatcallers
.
Titled "dearcatcallers: It's not a compliment," Jansma's project is to throw light on how common the street harassment is.
She writes in her inaugural post:

#dearcatcallers, it's not a compliment.

This Instagram has the aim to create awareness about the objectification of women in daily life.

Since many people still don't know how often and in whatever context 'catcalling' happens, I'll be showing my catcallers within the period of one month.

By making the selfie, both the objectifier and the object are assembled in one composition. Myself, as the object, standing in front of the catcallers represents the reversed power ratio which is caused by this project.

Please join me in the fight and post your own #dearcatcallers or send me a DM
And the most disturbing part of this project? The men who catcalled her had a grin on their faces, while some used the "opportunity" to wrap their arms around her while she stood with a straight face taking the selfie.
She has posted 24 photos on her Instagram account while captioning them with the comments passed by the harassers.
"weheeee horny girl"

"meisjeeeeee!" *gefluit* / Girlllllllll! *whistling*

"I know what I would do with you, baby"

"Babyyyyyyyy! THANKYOU" *blowkiss* (slide ➡️)

"baby! Baby! *whisting*"

*giggling + two thumbs up* softy whispers "yess bonita"

"Ey sexy Chiquita! A donde vas sola?/Ey sexygirl, Where are you going alone?"

... after following me for straight 10 minutes "sexy girl Where you goin'?? Can I come with you ?" ...

Classic 2.0 "psssst, whoooooop, Can he have your number?"

"Wohoo look! *laughing and loud whistling*"

"Hey beautiful, Why are you sad?" ~"I'm not sad" ~"Why don't you smile at me then? You're too sweet to be sad"

"hmmmm you wanna kiss?"

Though the month of catcaller selfies is over, she will pass on her account to different girls around the world to the spread the message that catcalling is a global phenomenon and is a common thing many women around the world deal with on a regular basis.

My month of posts has ended, but it doesn't mean that catcallers are in the past as well.

To show that it's a global phenomenon and that this art-project is not only about me, I'll pass on the account to different girls around the world. This will be a process that will take some time, so please stay tuned.

I would also like to remember you that is still possible to send in your own #dearcatcallers post

Thankyou for all the support and messages.

It has made it clear that catcalling is still a common occurrence that many of us are dealing with.
From January 1st, 2018, catcalling will be punishable by law in Jansma's native Netherlands, and violators will be subject to fines of up to 190 euros ($220). Hope other countries follow the suit.
Read full article