Fendi's New 'Vulva Scarf' is Reminding Everyone of the Time They Were Born
Questionable fashion.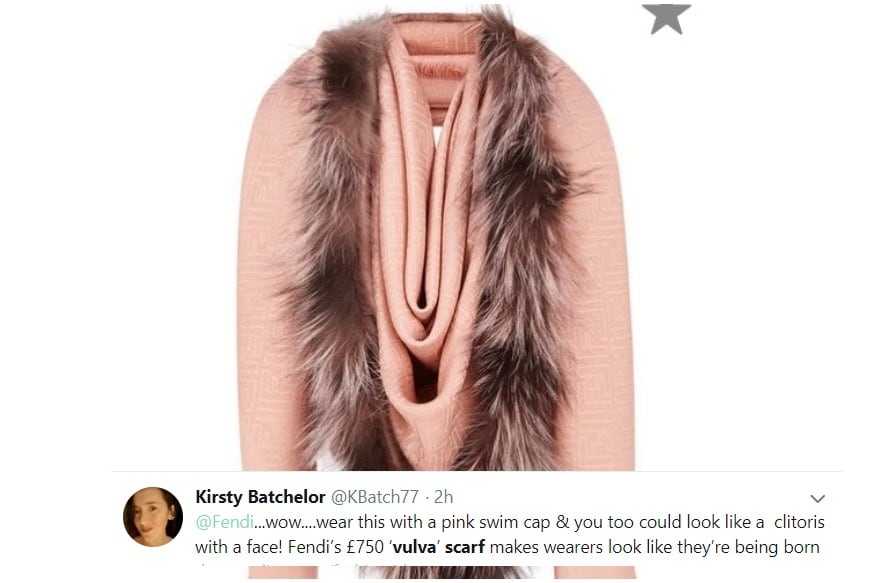 Questionable fashion.
Fashion can sometimes be inspiring, sometimes bold. And sometimes it can be plain bizarre.
Take this new scarf from Fendi, for example. Named 'The Touch of Fur', the shawl is salmon in colour with fur trimmings. Priced at just over £750, the shawl is the latest in Fendi's womenswear collection.
However, the shawl, with dollops of layers and folds, soon became subject to severe trolling after some Twitter users pointed out that it reminded them of the vulva - the outer part of the female genitalia. And true enough, on a second look, the scrf did look an awful lot like a vagina!
Many pointed out that wearing the scarf made them resemble how they probably looked when they were first born into the world.
😳 Someone must be trying to work out some ... Ah.... mother issues...

Fendi's £750 'vulva' scarf makes wearers look like they're being born | Fashion | The Guardian https://t.co/6CpFpnvoxH

— MC Wright #VoteBlueNov6th (@MCW_Disruptor) October 15, 2018
Anatomy may not be destiny but it sure is #fashion https://t.co/r8lN0cv1PB

— Monica Karpinski (@monkarpi) October 15, 2018
Just when you thought you'd reached peak capitalism. https://t.co/NbNljp5tDw

— Philip Porter (@philipgporter) October 15, 2018
#MondayMotivation can I get a #fauxfur #vulvascarf please? pic.twitter.com/w1vM0pknHF

— Fashion Bloc (@fashionbloc) October 15, 2018
'I'm sick and tired of wearing clothes that don't look like vulvas' https://t.co/xrjccTIRJX

— Kristin Grogan (@KristinGrogan) October 15, 2018
strangling myself with an expensive vulva scarf to make a statement of some sort. I'm banky

— hayl o'ween (@isamyelyah) October 15, 2018
@Fendi I see you! I see what you did there, you clever lot. A touch of fur? I think you mean a touch of fanny. All hail the #vulvascarf yayyyyyyy pic.twitter.com/BSCqmWXIG1

— Jessica Eaton (@Jessicae13Eaton) October 14, 2018
Read full article