Flight Attendant's Clever Response to Passenger Who Kept Complaining About Window Seat is a Win!
Work of art.
Being a flight attendant is no small feat.
Turbulence, crying babies, potential drunk and
racist co-passengers
who want another bottle of wine - the cabin crew has to deal with much more than one can imagine. To make things more challenging, they often find themselves in a spot, 35000 feet above the ground.
But a flight attendant in Japan had a unique way to deal with an annoying passenger, who created a fuss about his window seat. As
Mirror
reports, the incident took place in a Japenese flight when a man demanded to be moved to another row after his 'window seat' didn't really have a window.
According to the report, the passenger's seat wasn't aligned with a window - which bothered him as he had no 'view' to the outside world. As luck would have it, the flight was packed and with no other seat to offer, the attendant came up a genius solution.
She simply drew clouds and sea on his cabin wall and voila - he suddenly had a view.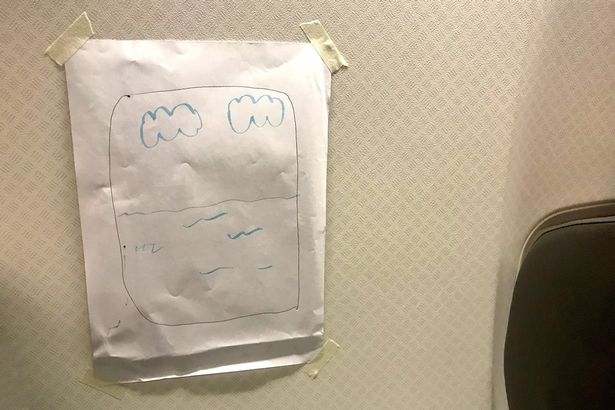 Twitter user @kooo_TmS-suke, who was perhaps aboard that flight took to the microblogging site to show the work of art.



窓が無い座席だったので隣のお兄さんがCAさんにクレームをつけたら、上空の景色書いて貼り付けてくれたwww pic.twitter.com/FJv6kJnwnD


— こぉ↑すけ@しおりおし (@kooo_TmS_suke) November 5, 2018

すんごい雑www pic.twitter.com/Zkk8WOyd5z

— こぉ↑すけ@しおりおし (@kooo_TmS_suke) November 5, 2018

Twitterati was amused.



A flight attendant on a plane in Japan had a funny and clever response to a passenger who was unhappy about not having a window seat after he requested one. When the passengers ended up in a row without a window and... https://t.co/d62XjwhNT2


— Blake Ozz (@BlakeOzz) November 13, 2018

Simply amazing https://t.co/ScLdyyUDOP

— DrLuvKashyap (@DrLuvKashyapUS) November 13, 2018




If you don't get a window seat on a flight, the flight attendant can draw one for you. https://t.co/Q210ZRbvzl


— Hugo Martin (@hugomartin) November 14, 2018
Earlier this week, Daniel Sandberg, a flight attendant with the Frontier Airlines, left the passengers in splits after he turned into a stand-up comedian no one had anticipated for.
Sandberg began his
3-minute comedy routine
safety announcement by introducing the two female Flight Attendants as his wife and mistress - to which crew, as well as the passengers, chuckled.
He went on to describe the life vests as itsy-bitsy, teeny-weeny yellow polka dot bikinis. Without the teeny-weeny and polka dot bits. And gives a friendly warning: "If by chance yours does not inflate, grab your neighbour and hold on for dear life."
Read full article
Countdown To
Elections Results
To Assembly Elections 2018 Results