Football Fans are Awarding Oscar to Brazil Star Neymar For His On-Field Theatrics
Leonardo DiCaprio who?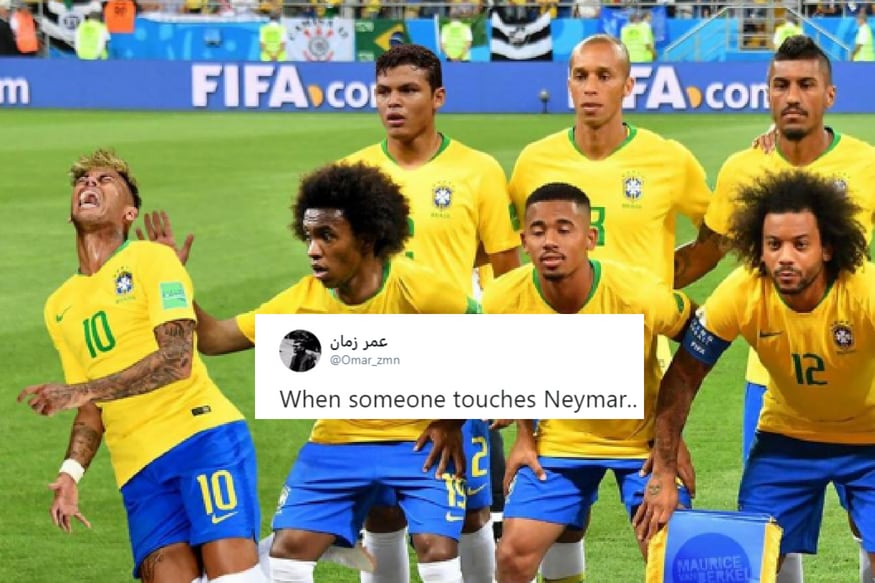 Image and edit credits: @omar_zmn / Twitter
Neymar Jr. barged his way into the World Cup limelight with a goal and an assist as Brazil roared into the quarter-finals with a 2-0 victory over Mexico on Monday that inflicted a seventh straight last-16 exit on the central Americans.
Naturally, Mexico coach Juan Carlos Osorio was upset. His team is out of the World Cup. But more than his team's loss, Osorio was furious with Neymar.
The Brazil star, who has been accused of diving and on-field histrionics at this year's World Cup, was seen writhing on the floor, seemingly in agony, after Mexico's Miguel Layun had made slight contact with his ankle.
This didn't go down too well with the Mexican coach and he didn't hold back after the match.
"We had control of the match, but to me it is just shameful that so much time could be lost over one player," the Mexico coach was quoted as saying by ESPN.
"The delay for one player lasted four minutes, and that is a lesson for even children who play. This should be a game of men and not so much clowning around."
Football fans, online commentators gathered on microblogging site Twitter and made jokes and memes at the expense of Neymar's on-field behaviour.
Neymar is pathetic.

— Matthew Lewis (@Mattdavelewis) July 2, 2018
When someone touches Neymar.. #BRAMEX pic.twitter.com/BrUcXPrUUi

— عمر زمان (@Omar_zmn) July 2, 2018
The next time Neymar plays for Brazil #WorldCup #BRA pic.twitter.com/Fsm6xEvmVw

— Pie Sports Booze 🔞 (@piesportsbooze) July 2, 2018
#BRAMEX I expect Neymar to be the first human being to achieve the incredible double of winning a World Cup trophy as well as an Oscar.

— Ramesh Srivats (@rameshsrivats) July 2, 2018
On a level of 1 to 8 what level Neymar do i feel like? 6 #WorldCup pic.twitter.com/BCXCiEe32u

— Rodriguez 🇲🇽🇺🇸 (@RRWWE) July 2, 2018
Fair play to Neymar. Trying to win an Oscar and a World Cup in the same year isn't easy, but he's definitely giving it a go... pic.twitter.com/rqZRgkBXte

— talkingbaws.com (@talkingbawscom) July 2, 2018
Neymar deserves an Oscar after this performance #BRAMEX pic.twitter.com/ZVxnVb4lzi

— m🌙 (@starsblazing) July 2, 2018
And The Oscar goes to.... Neymar 👏

— Xtiian Zech (@XtiianZech) July 2, 2018
Oscar for best actor goes to #Neymar#BRAMEX pic.twitter.com/6xbbRuA6Kb

— general ⚙🇮🇳 (@shiventhakur1) July 2, 2018
'Wow, Neymar, take my Oscar' - DiCaprio#BRAMEX #Neymar pic.twitter.com/t6mPCOJyzi

— Awgku Khairuddin (@AkbakIdin) July 2, 2018
It is worth noting that Neymar's "acting skills" did not have an impact on the match and Layun was fortunate to escape the incident without at least a yellow card.
Get the best of News18 delivered to your inbox - subscribe to News18 Daybreak. Follow News18.com on Twitter, Instagram, Facebook, Telegram, TikTok and on YouTube, and stay in the know with what's happening in the world around you – in real time.
Read full article