Football Fans (Including Animals) are Copying Their 'Roll' Model in the Most Neymar Way Possible
Je Suis Neymar.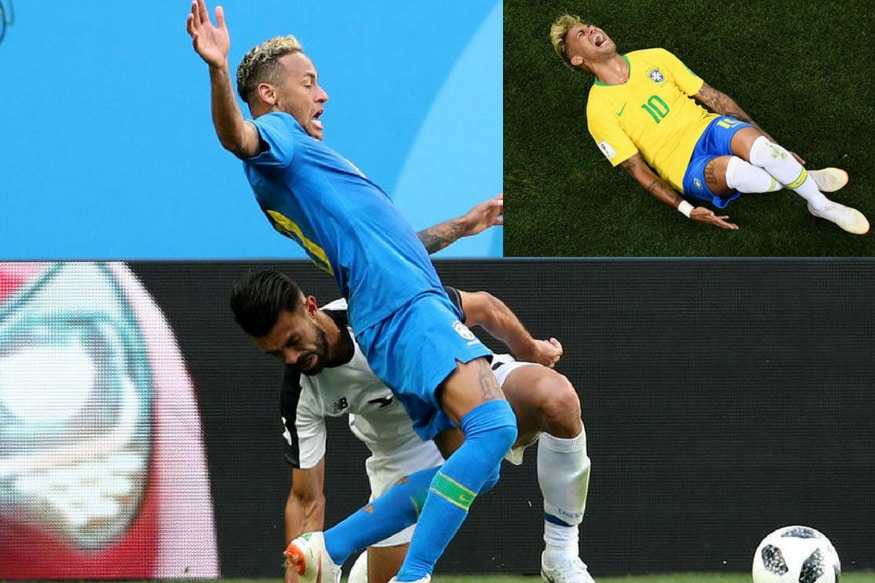 Image credits: AFP
Neymar Jr. has been in the news for all the wrong reasons at the on-going FIFA World Cup in Russia.
The Brazil superstar has been accused of excessive diving and on-field histrionics several times at this year's World Cup and people aren't happy. Despite scoring a goal and assisting Brazil in their 2-0 victory over Mexico to barge into the quarterfinals, Neymar attracted criticism when he was seen writhing on the floor, seemingly in agony, after Mexico's Miguel Layun had made slight contact with his ankle.
"We had control of the match, but to me it is just shameful that so much time could be lost over one player," the Mexican coach was quoted as saying by
ESPN
.
"The delay for one player lasted four minutes, and that is a lesson for even children who play. This should be a game of men and not so much clowning around."
Neymar, however, shrugged it off after he earned a man-of-the-match for his performance and said, "I don't care much for criticism or praise, because this can influence your attitude."
When someone touches Neymar.. #BRAMEX pic.twitter.com/BrUcXPrUUi

— عمر زمان (@Omar_zmn) July 2, 2018
Social media
anyway went ahead and awarded Neymar with Oscar
for his "award-winning performance" and no, it wasn't for scoring a goal.
Earlier, Neymar, the most expensive player in the world, took a tumble against Serbia and proceeded to roll over several times. The roll, that has already inspired a thousand memes, came in the first half against Serbia on a tackle. But Neymar made it look really, really dramatic when it led to a card.
#Copa2018 pic.twitter.com/aakpU9wRrN

— Reality Social 🇧🇷 (@RealitySocial) June 27, 2018
"There is no doubting the ability of him. He is a magnificent player," said Shearer, who is working in Russia for Britain's
BBC
. "But it really is pathetic when he is rolling around as if he is in agony."
The football fans (including animals) around the world are unhappy with all the attention Neymar has been grabbing and they are copying their "roll" model to shift some attention toward them. Don't believe us?
Here you go:

1) A video has surfaced on Twitter in which a bunch of kids fall to the ground in agony untouched before mimicking injury.
Jajajajajajajaja pic.twitter.com/0fDyY5maJd

— LaGrondona (@LaGrondonaTwitt) July 4, 2018
2) Indian actor copied Neymar before Neymar did Neymar.
If Neymar was an Indian actorpic.twitter.com/e4UBFAcsyx

— Troll Football (@TrollFootball) July 3, 2018
3) Neymar's family.
#Neymar family reunion pic.twitter.com/WwgsN2JQLh

— Paul McClean (@paulmcclean) July 2, 2018
4) KFC South Africa's new advert shows a local football game taking place when one of the players is fouled. The players surround him to make sure he is ok but he keeps rolling away from them. Eventually, he rolls away from medics, camera, and crew and ends up at a KFC outlet. Of course, he's back on his feet instantly.
5) This pug.
If Neymar Jr. was a dog...#worldcup #neymar #neymarjr #brazil @TomHall #500pxrtg pic.twitter.com/eyYoOzAjSu

— Buitengebieden (@buitengebieden) July 2, 2018
6) Or a rat.
If Neymar was a Ratpic.twitter.com/ZkMxcTcbGl

— Troll Football (@TrollFootball) July 1, 2018
7) A coach.
If Neymar was a coach. pic.twitter.com/BfeJvJufpq

— Gautam Trivedi (@KaptanHindustan) July 3, 2018
8) This woman when Neymar gets a free kick.
Neymar when he's in "rolling around in pain" but magically recovers when the referee gives him a free kick... pic.twitter.com/LqiGCu4XFT

— Zlatan Facts (@ZIatanFacts) July 2, 2018
9) Aaaand a panda.
Neymar really on a roll here lol#SRBBRA#WorldCup pic.twitter.com/L1JNBeVWhu

— Gav (@miracleofsound) June 27, 2018
Like they say, love him or hate him but you can definitely not ignore him. Poking fun at the Paris Saint-Germain striker, last week, a Rio de Janeiro bar had invented a new drinking game -- free shots every time Neymar fell down during the game against Serbia.
"At each Neymar fall, it's a round of shots on the house!" the Sir Walter Pub in northern Rio posted on its Facebook page.
Read full article
Countdown To
Elections Results
To Assembly Elections 2018 Results