Assembly Elections 2019
Exit Poll Results
For the First Time, Panjab University Gets a Woman President
06 September is 'Making History' day.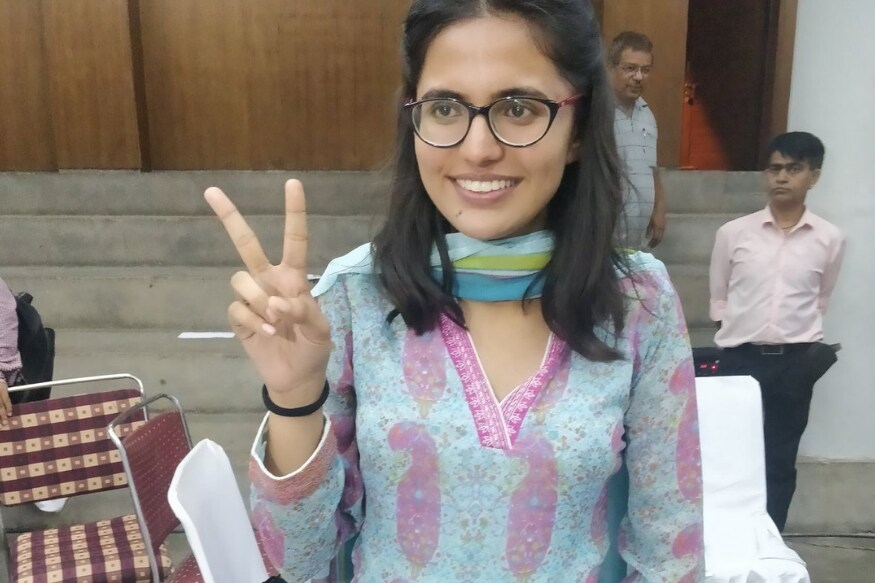 (Image: Twitter)
Supreme Court was not the only one making history on Thursday with its landmark ruling on Section 377. Quashing all opponents, 22-year-old Kanupriya became the first woman president of the Panjab University Students' Council.
Left-leaning Students for Society (SFS) won the polling for Panjab University's Students' Council on Thursday by a margin of 719 votes, winning 2802 votes. Akhil Bhartiya Vidyarthi Parishad (ABVP) procured 2083 votes, Students Organisation of India (SOI) got 1997 votes, National Students Union of India (NSUI) got 1583 votes and 209 votes went to NOTA.
Kanupriya, who is a second-year student of MSc in Zoology, talked to the media and said that now students would not feel afraid before raising concern about real issues, adding that everyone will question the agenda of other political parties without any apprehension.
The Internet was, of course, flooding with congratulatory messages for Kanupriya.



Congratulations Punjab University on electing your first female president! My heart soaaaars with pride.


— Gurmehar Kaur (@mehartweets) September 6, 2018

Election of Kanupriya from Leftist SFS as first woman president of Panjab University, Chandigarh is a snub to RSS to take over this oldest university in the region. RSS design was unleashed with appointment of VC few months back.

— jagtar singh (@jagtar201) September 6, 2018




Aye Bhagat Singh, tu zinda hai.
Kheto mein, khalihano mein,
Chhatro ke armano mein. ✊

The red flag is waving high in Chandigarh. ❤️

Students For Society (SFS) has won the Students' Union elections at Panjab University, Chandigarh by a huge margin.#SFS


— Ranvir Singh (@ranvirmr7) September 6, 2018

I congratulate Ms KannuPriya of Sfs on becoming the first woman President of Punjab University Chandigarh,its a major step towards empowerment of young women on the pedestal of political spectrum of Punjab & India

— ਜਸ਼ਨਦੀਪ ਸਿੰਘ (@im_JD84) September 6, 2018




Panjab University gets its first woman president . Kanu Priya, from SFS is the first woman president of Panjab University. @TOIChandigarh #PUPolls pic.twitter.com/2eLoT974pJ


— Vishakha Chaman (@VishakhaCTOI) September 6, 2018

Congratulations to Kanu Priya of the SFS, the first woman ever to win the presidential election at Panjab University!

— Ajachi Chakrabarti (@marcopolar) September 6, 2018




#SFS leads the way at Panjab University elections today! pic.twitter.com/eSBgYJESRN


— N (@_morphiine_) September 6, 2018
Read full article
Countdown To
Elections Results
To Assembly Elections 2018 Results