For white Southern music, a time of soul searching over Confederate flag
The musician says that while he had always seen the flag as an expression of Southern history, and rocker rebellion, he will no longer wear it on stage.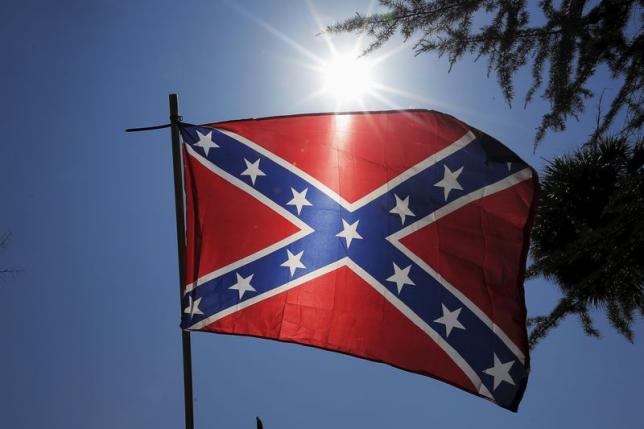 The musician says that while he had always seen the flag as an expression of Southern history, and rocker rebellion, he will no longer wear it on stage.
Country singer Cody McCarver for years wore T-shirts featuring the Confederate battle flag - the "rebel flag" as he calls it -when he toured in the U.S. South as a member of the Confederate Railroad band.
Even after fights nearly broke out over merchandise sold at the group's concerts with the flag on it, McCarver continued to wear the T-shirts.
It took last week's controversy over the Confederate flag following the murder of nine worshipers at an African-American church in Charleston to fully drive home to him how divisive the symbol can be.
"It made a difference to the way I see it," said McCarver, who in 2013 briefly featured images of the flag in a video for his song, "Redneck Friends Of Mine."
The Tennessean says that while he had always seen the flag as an expression of Southern history, and rocker rebellion, he will no longer wear it on stage.
(Cody McCarver. Image source: paducahracing.com)
"I think that if, and this is a huge if, taking the rebel flag out of our society would stop racism, I am all for it," said McCarver, who quit as keyboard player for Confederate Railroad several years ago to pursue a solo career.
The Charleston killings have caused widespread soul-searching in the Southern rock and country music industry, as some artists rethink what it means to display the Confederate flag.
Country musicians are by no means a unified group. While some have embraced Republican candidates and causes, others have been outspoken in defense of gay marriage and abortion rights. Country star Tim McGraw drew both praise and fire when he endorsed Barack Obama for president in 2008, as did the Dixie Chicks when they criticized President George W. Bush in 2003.
The flag, while not universally embraced by country performers, has been featured in lyrics and used as a stage backdrop or fashion accessory by numerous country artists, including singers Hank Williams Jr., Trace Adkins and Blake Shelton.
The members of Southern rock band Lynyrd Skynyrd, one of the groups most identified with the flag, distanced themselves publicly from it in 2012.
In the country music world, musicians in the more raucous "outlaw country" subgenre, dating back to the 1960s, are most likely to express pro-Southern sentiment.
But some of today's descendants of outlaw country are wary of discussing the flag. Several musicians declined to comment for this article, including Colt Ford, who has performed in boots bearing the flag, and duo Montgomery Gentry, who defiantly declared, "it ain't nobody's business what kind of flag I fly" in their song "Carrying On."
Country singer-songwriter John Rich, however, who draws on outlaw country and Southern rock imagery in his songs, said this week he agrees with South Carolina Governor Nikki Haley's call for the removal of the Confederate flag from the State House grounds. "I applaud that and I think she's right," he told Fox News.
AVOIDING CONTROVERSY
One reason many mainstream country stars steer clear of the Confederate flag controversy is a reluctance to alienate fans on either side of the issue.
"In some cases they are a lot like pop artists in that they are trying to reach as broad an audience as possible, and so engaging with that kind of imagery or the rhetoric that is associated with it would turn off a lot of audiences," said country expert Travis Stimeling of West Virginia University School of Music.
Some musicians have tried to tread carefully. Charlie Daniels, a Southern rock and country veteran who had a hit in 1979 with "The Devil Went Down To Georgia," wrote on his web site on Friday that the flag is "a sign of defiance, a sign of pride, a declaration of a geographical area that you were proud to be from."
But he condemned slavery and said "every human being, regardless of the color of their skin is just as valuable as I am and deserves the exact same rights."
Richard Young, guitarist for the Grammy-winning Kentucky Headhunters and a Southern rocker since the 1960s, says he believes Southern musicians need to acknowledge their debt to the black music that helped shape what they play. But he nevertheless feels conflicted about the flag.
"I understand the way many people, especially African Americans, feel towards this but I think there is a historical value that even African Americans must understand. We must not lose our history," said Young, whose band recently released an album that featured the late African-American blues pianist Johnnie Johnson.
"Everybody needs to reach into their heart and decide for themselves."
Get the best of News18 delivered to your inbox - subscribe to News18 Daybreak. Follow News18.com on Twitter, Instagram, Facebook, Telegram, TikTok and on YouTube, and stay in the know with what's happening in the world around you – in real time.
Read full article