Former Iranian President Quotes Tupac's Lyrics to Attack US, Leaves Twitterati in Disbelief
'It's time to fight back that's what Huey said. Two shots in the dark, now Huey's dead.'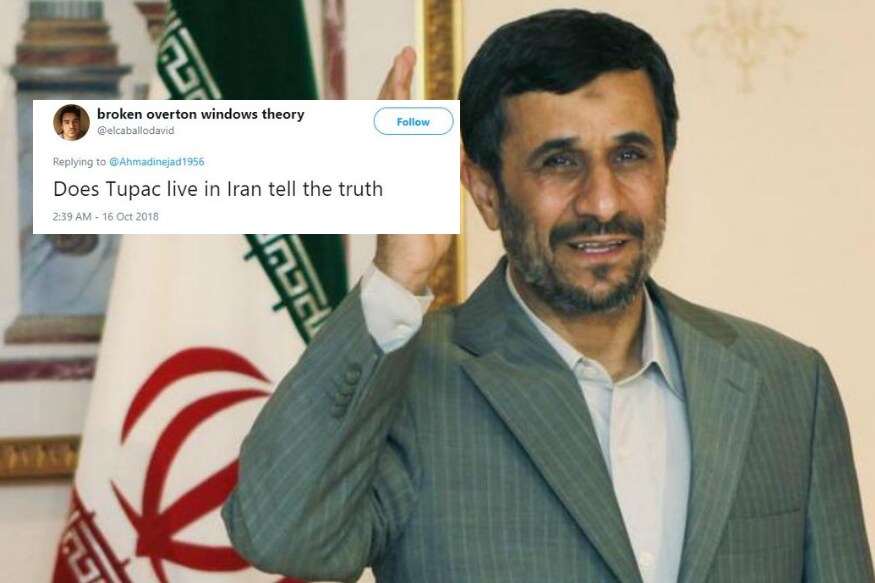 File photo of former Iran president Mahmud Ahmadinejad. (Reuters)
Mahmoud Ahmadinejad may have served eight years as the President of Iran, but the former Iranian chief has a habit of stirring up controversy time and again. Remember when he called homosexuality an 'ugly deed' or when he denied the holocaust? This time he has done it again by quoting slain US rapper Tupac Shakur to attack the US.
To mark the 52nd anniversary of the Black Panther Party, the former Iran prez tweeted lyrics from the late rapper's song "Changes".
The Black Panther Party was founded in 1966 in California by Huey Newton and Bobby Seale to patrol African-American neighbourhoods and protect the residents from acts of police brutality.
Ahmadinejad took to his Twitter account and wrote: "It's time to fight back that's what Huey said. Two shots in the dark, now Huey's dead."
One of the main objectives of the #BlackPantherParty was feeding the hungry; which did not sit well with the #UnitedStatesGovernment . #BrotherHuey #October15

" It's time to fight back that's what Huey said. Two shots in the dark, now Huey's dead"

— Mahmoud Ahmadinejad (@Ahmadinejad1956) October 15, 2018
While it is not clear what Ahmadinejad actually wanted to say in his tweet, but given his history, (he has previously accused the US of orchestrating the 9/11 attacks. He has also spoken of 'conspiracy theories' about former US president George W Bush and Osama Bin Laden being friends) it is pretty clear the former Iranian president isn't fond of the US. However, his tweet was enough to rile up Twitter as users were in disbelief that Ahmadinejad had actually quoted a Tupac (2Pac) song.
Did you just quote #2Pac ? Damn mr president that was boss 🙌🏼

— Soheil Biniaz (@SoheilBiniaz) October 15, 2018
Ahmedinejad listens to Pac?

— LoonWatch (@loonwatchers) October 15, 2018
Respect to you sir! I wonder if heaven got a ghetto. RIH Pac

— Tee Bush-Cartwright (@AladyBme1) October 16, 2018
— Amy Grindhouse (@pineappleweave) October 15, 2018
That's some real shit there, now its time to Smile!!!!!!!!#2Pac#KeepinItReal pic.twitter.com/Gn2tExwEMG

— CryptoSoccer18 (@CryptoSoccer18) October 15, 2018
Does Tupac live in Iran tell the truth

— broken overton windows theory (@elcaballodavid) October 15, 2018
— marea rosa🐝 (@smrt_fasizmu) October 15, 2018
This is the best twitter account, bar none

— Aristos Athens (@AristosAthens) October 15, 2018
Of course, there were memes.
— IMMIGRANTS (@itsimmigrants) October 16, 2018
Rapper Tupac's parents were active members of the Black Panther movement in the late 1960s and early 1970s and his songs often dealt with racism and the struggles of the black community.
Read full article