From Personal to Political, Rahul Gandhi's Gotra is Now Internet Meme
Gotra is the new anthem.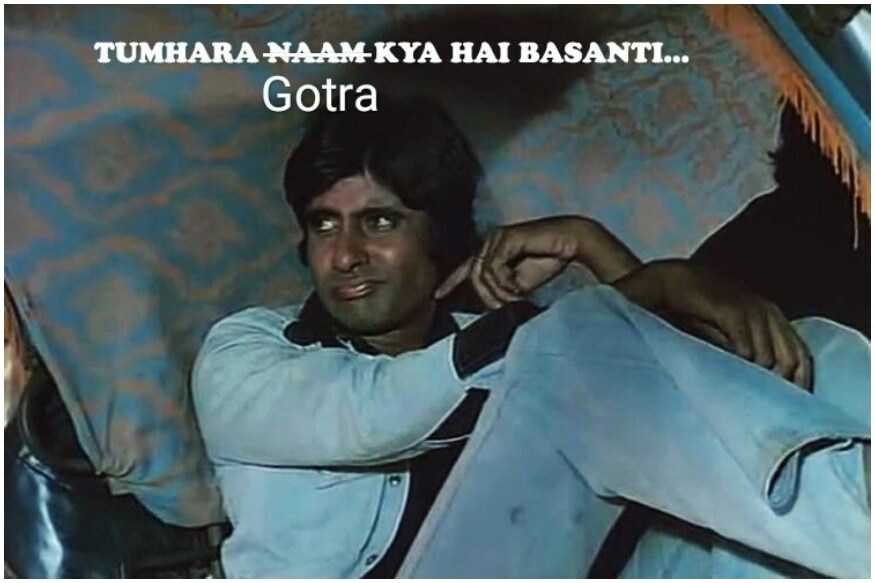 (Credit: Twitter)
While many would argue that the electoral issues this year should revolve around jobs, education, rising sectoral violence, and other important needs, political parties seem to be engaged in a new agenda - 'gotra'.
You may have heard of the almost obscure word in relation to weddings and pujas, but it seems that 'gotra' is an important poll plank for the 2019 elections. Party leaders and politicians from both the Congress as well as the ruling Bharatiya Janata Party have ensured that 'gotra', which in literal translation means 'clan', and is understood as a sort of bloodline that tracks descendants of an unbroken, male line from a common male ancestor. It is an important part of Hindu wedding ceremonies as marrying within the same 'gotra' is seen as equivalent to incest. Sociologists and historians have often analyzed 'gotra' to find it heavily Brahmanical and patriarchal. According to historian AL Basham, all Brahmins were believed to be the descendants of seers of ascetics after whom the 'gotra' is named.
However, 'gotra' recently became a political issue after Congress chief Rahul Gandhi visited the Pushkar temple in Rajasthan. The priest who conducted Gandhi's puja rituals revealed that Gandhi's 'gotra' was Dattatreya Kaul Brahmin.
This revelation opened a can of worms with many BJP leaders taking potshots at Gandhi and his mixed ancestry-- his mother Sonia Gandhi is of Italian descent and grandfather Feroz Gandhi Parsi descend from Persian Zoroastrians. Many speculate that the Gandhi scion may have taken his 'gotra' from his grandmother, Indira Gandhi while yet others claim the cast reveal is a ploy by the Congress to better align with upper-caste Hindus. And now, even BJP leader Smriti Irani has joined the fray, recently revealing her 'gotra' to be Kaushal.
My gotra is Kaushal Sir as is my father's as was his father's and his father's and his father's...My husband and children are Zoroastrians so can't have a gotra. The sindoor I wear is my belief as a practising Hindu. Now get back to your life. धन्यवाद🙏

— Smriti Z Irani (@smritiirani) November 28, 2018
The fact that the obscure 'gotra' has taken centrestage can be discerned from the innumerable times that the word has been searched on google lately, making it one of the top trends in the country in the last week. 'Rahul Gandhi gotra' was also a highly searched set of keywords. And perhaps the easiest way to understand the hoopla created by the 'gotra' controversy is by surveying social media. In just a couple of days since the inception of the debate, social media is teeming with commentaries and memes on the 'gotra' debate. In fact, some of the memes have been shared by politicians themselves.
गोत्र ! pic.twitter.com/BhV060Ur3Q — Shandilya Giriraj Singh (@girirajsinghbjp) November 26, 2018
Hahaha!!

So very apt!! pic.twitter.com/I0Jyvn8CsM

— Sambit Patra (@sambitswaraj) November 27, 2018
@RahulGandhi has Multiple Gotra n Religion as per different State Election #Rahul_Natvarlal pic.twitter.com/dZywFmnj1L

— Rajiv Harsora (@RajivHarsora68) November 28, 2018
This is how Sambit Patra meets people 😂 #Gotra pic.twitter.com/lmjNE7hYnM — Roshan Rai (@RoshanKrRai) November 28, 2018
Sholay in modern times...#Gotra pic.twitter.com/HTwUM9yNin

— akash (@AkaDaddu) November 28, 2018
Who did this? 😅#gotrapolitics #GotraRaGa #gotra pic.twitter.com/1vkBMTXfL7 — Chiru Bhat (@mechirubhat) November 28, 2018
Me trying to figure out How Moti Lal Nehru's Gotra became @RahulGandhi 's Gotra...#Gotra #RahulGandhi pic.twitter.com/BOWCVSn9Ez

— जाट ।।।। (@deepakkumar21) November 27, 2018
In response to a priest at a temple in Pushkar - Rajasthan, @RahulGandhi claims to be a 'Kaul Brahmin' by caste, with Dattatreya as his gotra. pic.twitter.com/8BNi20bTaC — Times of Rahul (@times_of_rahul) November 26, 2018
While the memes maybe funny, many expressed outrage at something so unnecessary (and personal) as 'gotra' becoming a matter of national interest before elections.
Read full article