'Game of Thrones' Fans are Convinced They Saw Jamie's Hand Grow Back in this Scene
Some keen-eyed viewers have claimed that they noticed Jamie Lannister's hand grow back in place of the golden prosthetic hand he has carried for nearly 5 seasons. But was it really an editing fail?
Image tweeted by @Hemswobrien.
The much-awaited final season of Game of Thrones hasn't got the universal nod from its fans for being anti-climatic, having abrupt character endings, the apparent loose plot, and the most criminal of them all - continuity and editing error. In fact, the last instalment from the critically approved show has a rating of 73% on Rotten Tomatoes, lowest for the show.
Just last week, the makers found themselves in an embarrassing spot when the medieval epic drama had a cameo no one had expected. A Starbucks-like takeaway cup sat next to Daenerys Targaryen during the celebrations at Winterfell post the "Long Night".
And now, some keen-eyed viewers have claimed that they noticed Jamie Lannister's hand grow back in place of the golden prosthetic hand he has carried for nearly 5 seasons, in the latest episode titled "The Bells".
Before you get on your outrage horses and call it another editing fail, it is worth noting that the "real" Jamie hand did not appear in the actual episode or behind the scenes but in a promotional still image on HBO's official website, newsweek reports.
In case you need a refresher, Jamie travels with Brienne of Tarth after leaving from the Stark captivity, back in season 3. Unfortunately, the duo is captured again, this time by the soldiers loyal to the Boltons, who are violent and give zero hoots about the fact that they have the Kingslayer in the captivity.
Jamie manages to safeguard Brienne from being sexually violated at the hands of the soldiers but loses his own, the sword hand, when he informs the leader, Locke, about his status and wealth.
Upon arrival at King's Landing, Cersei gets Qyburn to make a prosthetic gold hand for her twin brother and lover Jamie.
In Sunday's episode, Jamie sneaks into King's Landing to meet Cersei at the Red Keep and help her escape the devastation caused by the Mother of Dragons aka Mad Queen aka Daenerys Targaryen and her fire-spitting Drogon.
Realising their fates are sealed, the two share their final moments in each other's arms - the same way they came in this world before meeting their assumed end under the rubble of keep.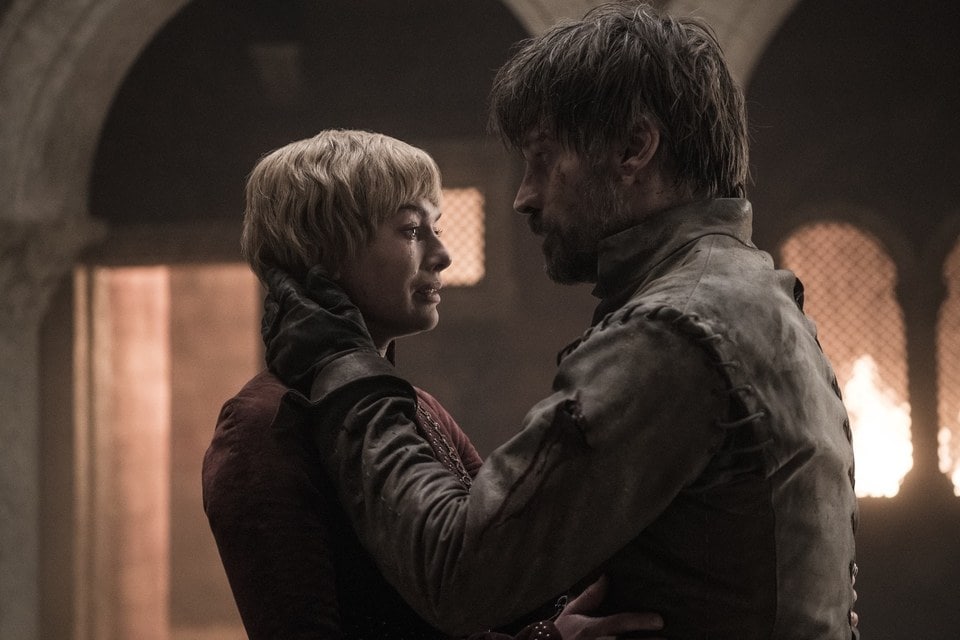 But what seemed like a powerful end to complex relationship the two have shared for all these years, met a rather comical end when some viewers latched onto Jamie's "real" arm that apparently showed up in the promos.
Now what? Jaime grew his hand ? How do start a petition to reshoot season8? #GameOfThrones pic.twitter.com/fvM63Iup3x

— vikaschaitanya (@vikaschaitanya5) May 13, 2019
"We kind of forgot Jaime lost his right hand in s3" pic.twitter.com/jEuPI4GY2Q

— Tati (@Hemswobrien) May 13, 2019
#Jaime still has his right hand in #GOTS8E5 😂 WTF???#GameofThrones pic.twitter.com/z9eXD0wKwM

— Game Of Thrones (@GameOfT57476878) May 13, 2019
Jamie Lannister magically has his right hand, in last night's episode of #GameOfThrones... I imagine he needs that hand, to hold his Starbucks. pic.twitter.com/PWcRIPGBqS

— Michael Telford (Chibs) 🇮🇪 (@ChibsRSR) May 13, 2019
Jamie Lannister grew his hand back 😂 😂 #GameOfThrones pic.twitter.com/xWzwsWywEP

— Peter Hepner (@PHep32) May 13, 2019
Jamie Lannister The King Slayer and Hand Grower pic.twitter.com/ula8r5PZ9n

— JLOX07 (@JLOX07) May 14, 2019
Well...
Calm down everyone, Jamie Lannister picked up @Starbucks on his way to #KingsLanding - everyone knows you can't hold your brew with a golden hand #GameofThrones pic.twitter.com/VhrLXBb2JX

— Michael Niland (@Michael_Niland) May 13, 2019
Get the best of News18 delivered to your inbox - subscribe to News18 Daybreak. Follow News18.com on Twitter, Instagram, Facebook, Telegram, TikTok and on YouTube, and stay in the know with what's happening in the world around you – in real time.
Read full article