GET Stock

Quotes


Game Of Thrones: How The Characters Have Transformed Over The Years
Tracing how some of the most popular characters of Game Of Thrones have undergone massive transformation over the years.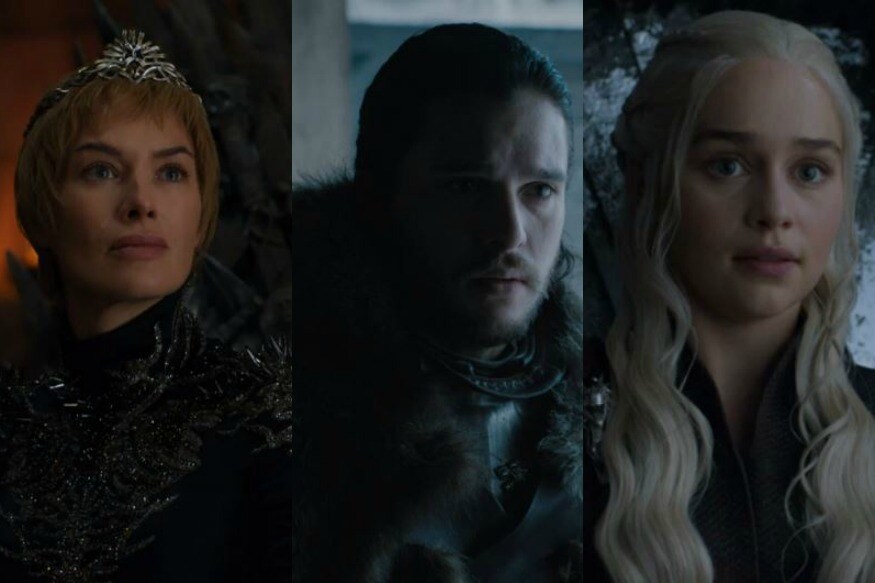 (Photo: A screenshot from the series/Hotstar)
We are in the penultimate season of Game of Thrones and like all the previous seasons there's lot of blood, violence and conspiracies in this one too, except that in this season things are a lot more violent, gruesome, savage and bloodier than before.
And while all of this has kept the fans hooked to the epic television series for last six years, it is also the way the characters have been portrayed by the makers, their journey, thought-process and transformations that have viewers from across the globe waiting for each episode one season after another.
In one way or another, over the last several years each character in the series has undergone tremendous transformation, both physically and mentally. While all the characters have physically matured and are now older than they were in the first season, each individual character has grown mentally as well.
Be it learning how to survive against all odds, acquiring certain skills, realizing their true identity, learning how to forge alliances, to trust, lead, command, make use of situations to one's advantage or an 'almost' change of heart, every character in the series has had their share of learning and transformation in the run up to either claiming the Iron Throne or making sure to be on the right side when the 'rightful' king/queen sits on the throne.
Here, we take a look at how some of the characters of the popular television series have changed/transformed/reformed as we move into the crucial episodes of the penultimate season.
Cersei Lannister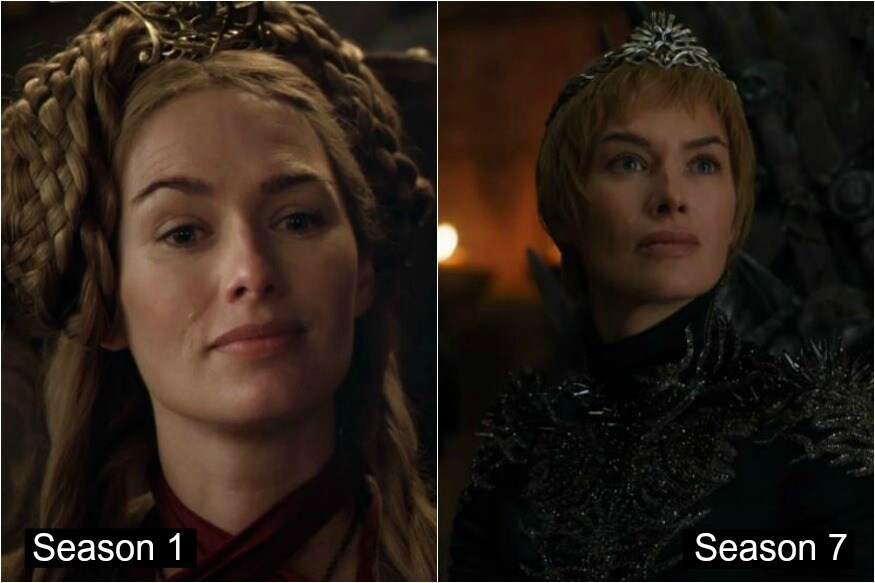 Perhaps the most ruthless of the three Lannister siblings, Cersei Lannister always had an eye for the Iron Throne unlike her brothers Jaime and Tyrion. While in the first few seasons she conspired and fought for her children and their right to sit on the Iron Throne, in the last two seasons, including season 7, we have seen Cersei force herself on the people of King's Landing and take revenge --brutal revenge-- against those who killed her children and acted against her family.
A minor detail such as how she maintains her short hair unlike her lovely golden locks in the first few seasons, gives a glimpse into her mindset and how she wants to present herself to the world. Her long tresses seemed more lady-like, but with her bold short hair and black attire, Cersei sure seems to be in command of everything.
She now seems more in control of her thoughts, has become more evil with each passing season, is more commanding than ever and is more than willing to do anything to maintain her position as the Queen of the Seven Kingdoms. And although by the look on her face she seems dead from within, like a soulless being, she is still hungry for power and position, now more than ever.
Jaime Lannister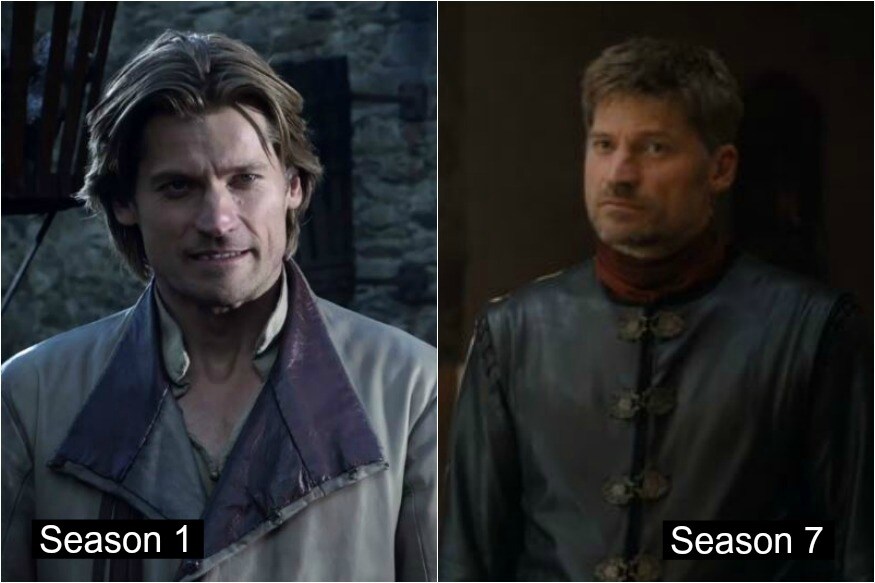 Jaime Lannister's character has witnessed huge transformation over the years. From being the evil-mind incestuous 'Kingslayer' who could do anything for his love (Cersei) - he pushed 10-year-old Brandon Stark from a significant height after being caught in the act - to saving Brienne of Tarth from the Harrenhal bear pit in season three and also from being raped, the self-confessed villain's character has seen a massive transformation over the seasons.
In fact, his ostensibly out-of-character act of heroism to admitting before Lady Olenna Tyrell that he convinced Cersei to only poison her (Lady Olenna) and not kill her brutally, only goes to show that he has had a change of heart, partially, if not completely. This reformation is probably one reason why fans wanted him alive and safe in the recent episode of season 7 when Daenerys attacked Highgarden (Jaime and the Lannister army).
Tyrion Lannister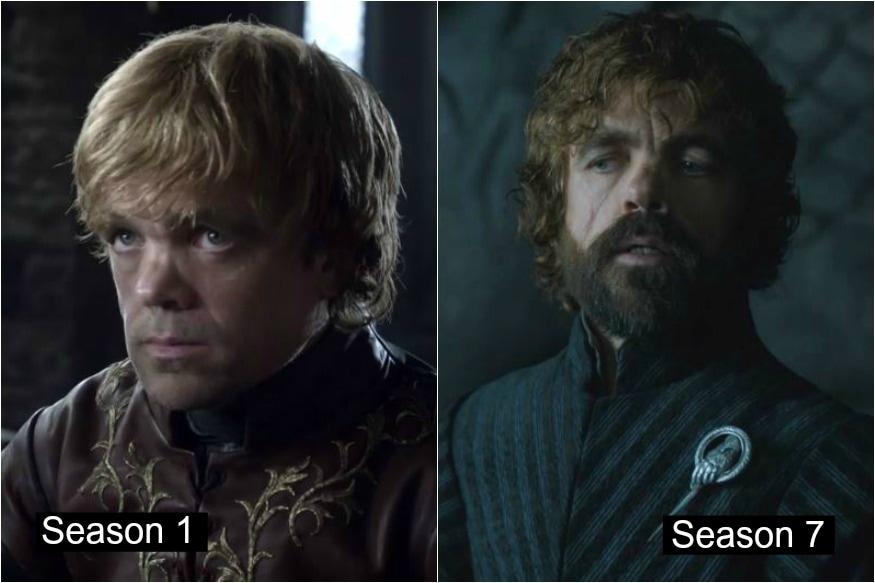 In very first season of Game of Thrones, Tyrion was introduced to us as someone who enjoys drinks and women more than anything else, including the Iron Throne and the power that comes with the position.
Referred to as 'The Imp', Tyrion in the later seasons seemed rather more involved in the politics of the game of thrones. And although he never conspired to acquire the Iron Throne per se, he killed his father because he hated his father as much as his Tywin Lannister hated him (Tywin would mostly tell Tyrion "you are no son of mine").
Later, to save himself and be on the right side when the big battle is being fought, he lands on Daenerys' side with a little help from Varys and soon earns the title of the Hand of the Mother of Dragons, courtesy his skill to impress with words.
Sansa Stark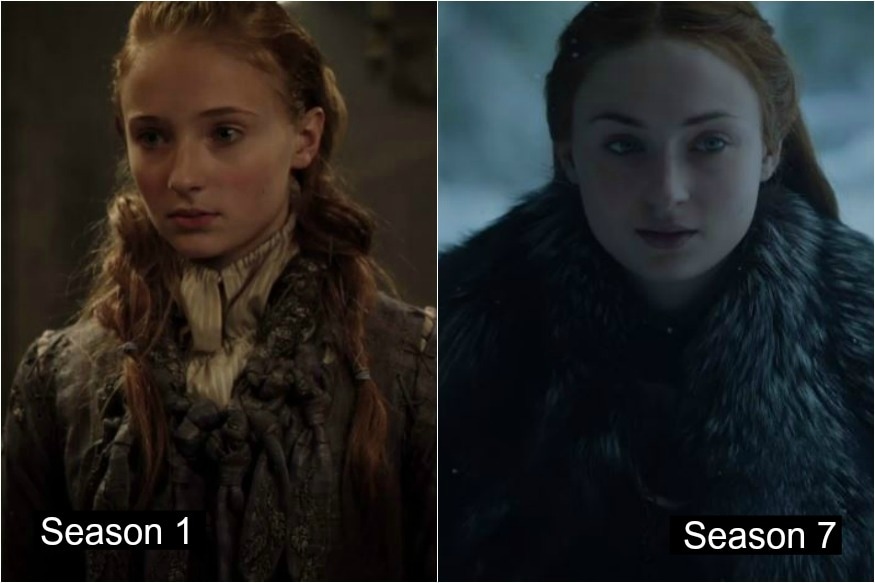 The eldest daughter of Lord Eddard Stark of Winterfell, Sansa was introduced as a sweet little northern girl, whose only dream was to marry southerner Joffrey, have babies and be queen someday. Of all the characters on the popular television series Sansa's has grown the most. "I did what I had to do to survive. I am a Stark. I will always be a Stark" - this dialogue by Sansa in the series sums up everything that her character has gone through in the last six seasons.
She pleaded for forgiveness for her father, accepted when her dream to marry Joffrey and be queen turned into a nightmare, swallowed the bitter truth that she was married to Tyrion Lannister so that Joffrey could marry Margaery Tyrell, fought her way smartly and survived in King's Landing despite being surrounded by enemies, stood up for herself, dealt with Ramsay's brutalities, managed to escape from King's Landing as well as Ramsay's clutches, and took her revenge when she fed Ramsay to the dogs. She did all that was necessary to survive.
Having dealt with sharp minds, Sansa learnt a great deal from them and in season 7 she re-introduces herself as a force to be reckoned with when she tells Jon that it wouldn't be that terrible if he listens to her before taking his own decisions.
Like a true northerner she remembers and hopes to take revenge in the upcoming episodes.
In the penultimate season, Sansa emerges as a bold character who has had her share of troubles, pain and hardships but who manages to deal with everything on her own and brilliantly so.
She finally makes her way back only to return as Lady Stark of Winterfell.
Jon Snow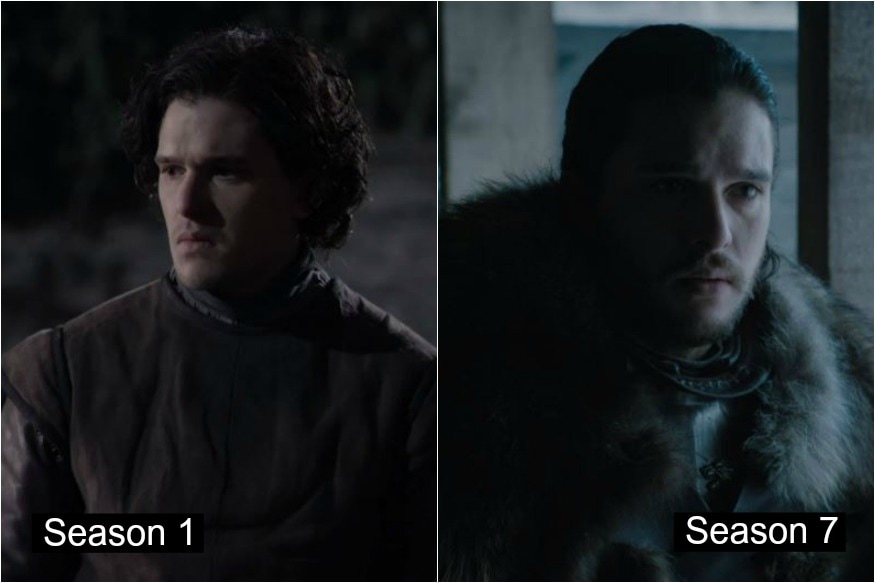 Lord Eddard Stark's illegitimate son, Jon Snow fought his way to become the King in the North (although he never really aimed for it).
Brought up with his noble half-siblings, Jon finds it difficult to fit in with the Stark family as he's not a 'trueborn' son, and so joins the Night's Watch at The Wall when his father Ned Stark accepts Robert Baratheon's offer to be the Hand of the king and travels south to do his duties. But, Jon finds it difficult to fit in with the Night's Watch gang too because he's the son of a lord. Later, he leads the Night's Watch.
But his true love for his family keeps him connected to the Starks. As a brother and for the love he had for his father, he wishes to help Robb Stark avenge his father's death but also wants to keep the promise he made as member of the Night's Watch, but finds it impossible to do all of it together. Consequently, at some point, he comes across as a confused person, but later we find out that he is almost always sure of his actions and decisions.
He returns to Winterfell, defeats Ramsay (of course with Sansa and Littlefinger's help), aims to build an army to defeat the Night King and the Army of the Dead and save the North.
In season 7, Jon Snow, emerges as a true leader, a decision maker (despite opposition he decides to travel to Dragonstone and meet Daenerys) who wants to rule the hearts of people and not their lands. He is the handsome, righteous, classic hero that every girl dreams of.
Arya Stark
From an innocent young girl wanting to learn sword-fighting to mastering the art of disguise as an assassin, Arya Stark's character has come a long way.
Right from escaping King's Landing, making friends on her journey, facing hardships, learning how to be one of the mysterious assassins known as the "Faceless Men" in Braavos, taking her family's revenge by killing Walder Frey and his men to displaying her skill with the sword when she returns to Winterfell, Arya's journey in the last six seasons has been extremely bold and inspiring. She seems more confident of her actions and with her sword now more than ever.
Brandon Stark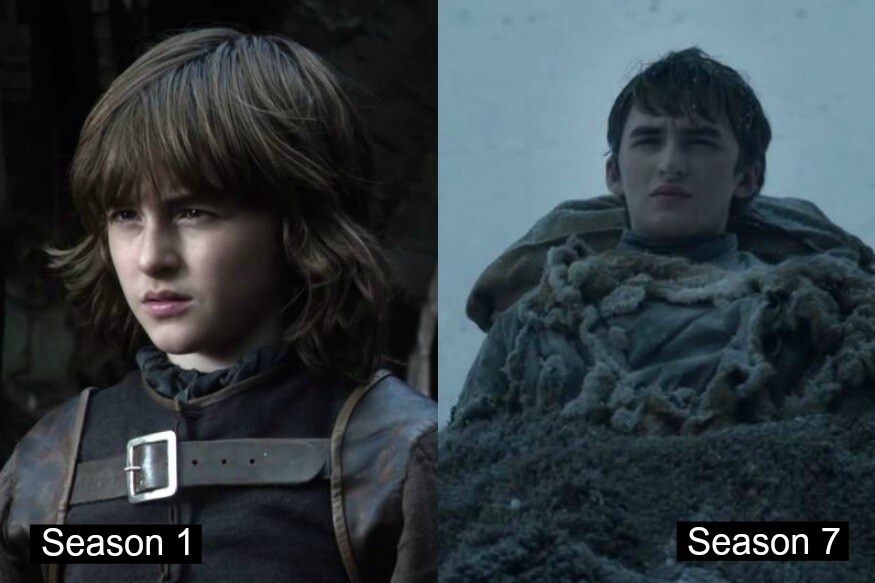 The innocent 10-year-old boy who happened to be in the wrong place at the wrong time has grown up to be the three-eyed raven and one of the most important characters in the penultimate season of Game of Thrones.
From the chirpy little boy to the crippled lad who everyone was trying to save from being killed to the young warg who has visions and can see everything happening everywhere, Bran's character transformation as the three-eyed raven will be most interesting to witness in this season and the finale.
Daenerys Targaryen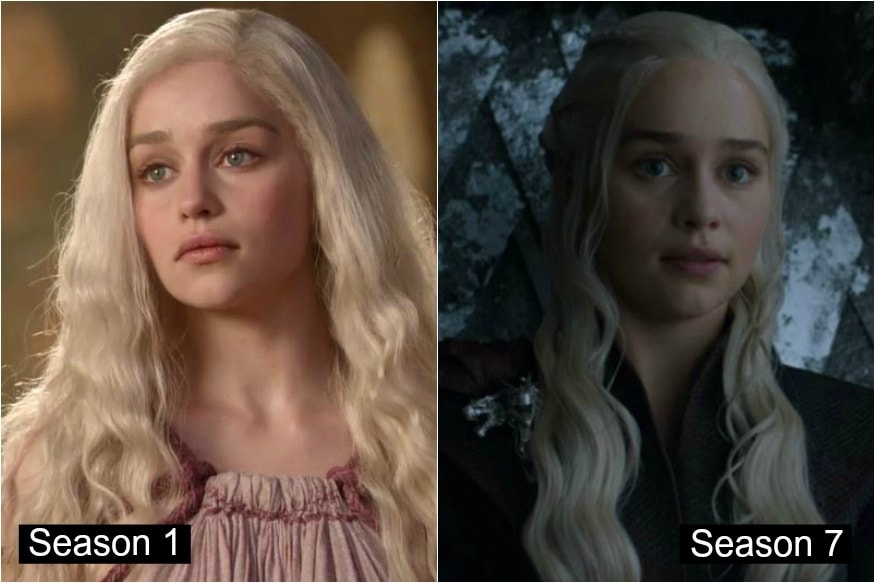 The youngest surviving member of the Targaryen family which ruled the Seven Kingdoms until Robert Baratheon defeated and took over the Iron Throne, Daenerys comes across as a damsel in distress when her brother 'sells' her to Khal Drogo. But she learns early on that she needs to take charge of things. It is only after Drogo kills her brother Viserys and later he himself dies that Daenerys emerges as a true leader, conqueror and an excellent commander of an army bigger than anyone else's.
She is shown to be gentle and kind (she sets the slaves free and raises the dragons as her children) and at the time extremely smart to take her own decisions and play her cards intelligently. She trusts, commands, kills and leads at the same time.
Over the last six seasons, Daenerys's character has seen quite a lot of change. From being the damsel in distress to commanding an army comprising of the Dothraki, the Unsullied, the Dornish, the Greyjoys and her three fully-grown dragons. From an underdog hero to a powerful queen, her journey has been inspiring and her transformation commendable.
(All images: Hotstar)
Also Watch

Commonly Confused Emojis on World Emoji Day
| Edited by: Mugdha Kapoor Safaya
Read full article