Game of Thrones Season 7 Episode 2 Teaser Hints Arya-Nymeria's Reunion, Daenerys-Cersei's Ultimate Face-Off
Game of Thrones Season 7 Episode 2 teaser trailer is here and there's lot that has been revealed in the under 30 second video.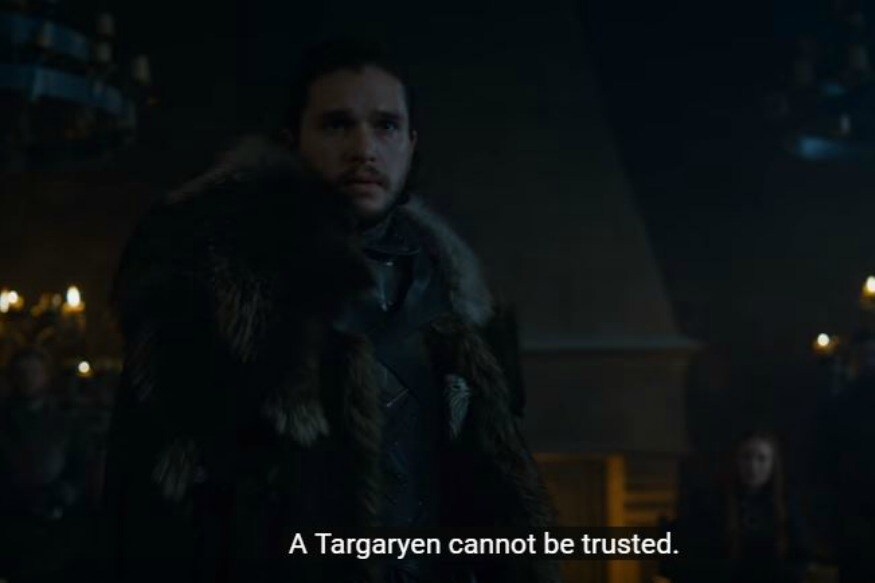 (Photo: YouTube screenshot)
Games of Thrones Season 7 Episode 2 teaser trailer is out and it looks like the makers are leaving no stone unturned to deliver on their promise of a bloody battle ahead.
Titled Stormborn, the official teaser trailer of the second episode begins with Yohn Royce warning the King in the North Jon Snow to not trust a Targaryen. 'A Targaryen cannot be trusted,' he warns the King of Winterfell. It suggests that Jon maybe looking at reaching out to Daenerys, perhaps to get to the mountain of dragonglass on which the Queen of the Andals and mother of the dragons is presently resides.
On the other hand, in King's landing, Cersei announces Daenerys's intentions of destroying the realm and conquering Westeros. She somewhat ironically says, 'The Mad King's daughter will destroy the realm'. These words come from someone who reduced the Great Sept of Baelor and everyone in it including Margery and others to ashes in the last season.
Meanwhile in Dragonstone, Yara Greyjoy is seen suggesting to Daenerys that they must hit King's Landing immediately since they own an army which looks undefeatable. "We have an army of fleets and three dragons. We should hit King's Landing now," she tells Daenerys.
Both Yara and Ellaria Sand along with Tyrion and Varys are officially a part of Daenerys's war council.
What follows are quick shots of soldiers riding through a castle gate, Yara kissing Tyene Sand's mother Ellaria, Arya Stark's (possible) reunion with her direwolf Nymeria, who was last seen in season one, where Arya forced her to run away into the Riverlands after she bit Joffrey, Tyene Sand putting a dagger through someone, close shots of Sansa Stark, Varys and Daenerys and someone choking Littlefinger in Winterfell.
In all, the new teaser trailer of Games of Thrones Season 7 Episode 2 looks intriguing and has us looking forward to the next episode.
| Edited by: Mugdha Kapoor Safaya
Read full article
Countdown To
Elections Results
To Assembly Elections 2018 Results