GoT Season 7 Finale: 5 Game-Changing Moments From The Last Episode
From revealing Jon's true parentage, Jaime abandoning Cersei to the wall shattering climax and army of dead marching to the Seven Kingdoms, the finale of Game of Thrones Season 7 couldn't have been better.
(Photo: Hotstar)
The final episode of Game of Thrones Season 7 titled The Dragon and The Wolf, which involved a show of strength (like a pack of wolves), trust and an ultimate bond from Arya and Sansa Stark, a game-changing 'moment' between Jon and Daenerys, a significant lie from Cersei Lannister, a revelation about Jon's true parentage and a wall shattering entry of the army of the dead into the Seven Kingdoms, was epic in more ways than one.
Here, we list down some of the biggest and game-changing moments that we witnessed in the Game of Thrones' final episode of Season 7:
*Spoilers Ahead*
Cersei Lannister's lie
The episode, which begins with the meeting of some of the major GoT characters - Cersei, Daenerys, Jon, Jaime, Tyrion, Jorah, Theon, the Mountain, the Hound, Lady Brienne of Tarth among others - at Dragonpit in King's Landing to discuss a truce and fight the 'common enemy' together, ends with Cersei's great lie that she would fight The Great War alongside the North and the Dragon Queen 'with no promises or assurances' from anyone.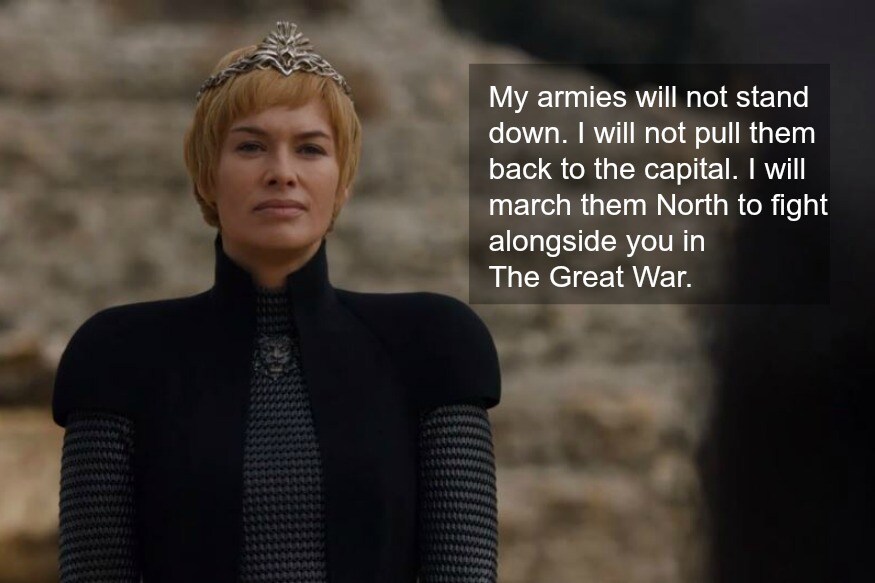 These words or rather lie from Cersei of course comes much later, after she has seen the 'dead soldier' that Jon and his men captured in episode 6 and after a 'secret' discussion with her brother Tyrion in her chamber.
Soon enough, we get to see the outcome of Cersei's lie when Jaime abandons her after he finds out that his sister lied to everyone back at Dragonpit. He finds out that Cersei certainly had no intentions of marching her army North to fight the dead. He also discovers that his sister plotted with Euron Greyjoy who had sailed to Essos to ferry The Golden Company to King's Landing which would help them win the war in Westeros, without his knowledge. He also finds out the Cersei had already schemed to take back all that was theirs while the 'Stark boy and his new Queen' defend themselves in the North and that she did not care about the pledge that they had taken minutes ago to fight together in The Great War.
Jaime feels betrayed by his own sister, his love interest, the woman who would be soon be mother of his child.
Soon after a heated conversation between the two -- where Jaime tries to explain to his sister that he intends to live by his pledge to ride North, that they don't stand a chance in front of the army of the dead or Daenerys and her army and where Cersei threatens to kill him if he walks away (he does calls her bluff) -- Jaime finally abandons the woman he loved all along.
Arya and Sansa's mind-blowing plot
The two Starks sisters, who we saw going through trust issues in the previous episodes, very cleverly plan and plot together in the finale to trick Lord Baelish aka Littlefinger into his own trial and execution.
Earlier in the episode, we see Littlefinger doing what he does best - turning Sansa against her sister Arya by 'playing a little game' with the Lady of Winterfell in her chamber and making her realise that Arya could do anything to her, in fact even kill her, to become Lady of Winterfell.
Later, we see the two Stark sisters, Bran and all the Northern Lords present at the Great Hall in Winterfell, awaiting Littlefinger's trial of which he is unknown. Sansa takes Littlefinger by surprise when she charges him of murder of her aunt Lysa Arryn and her son Jon Arryn, treason, her father's execution, betraying her mother and her, and being the reason behind the conflict between the Starks and Lannisters.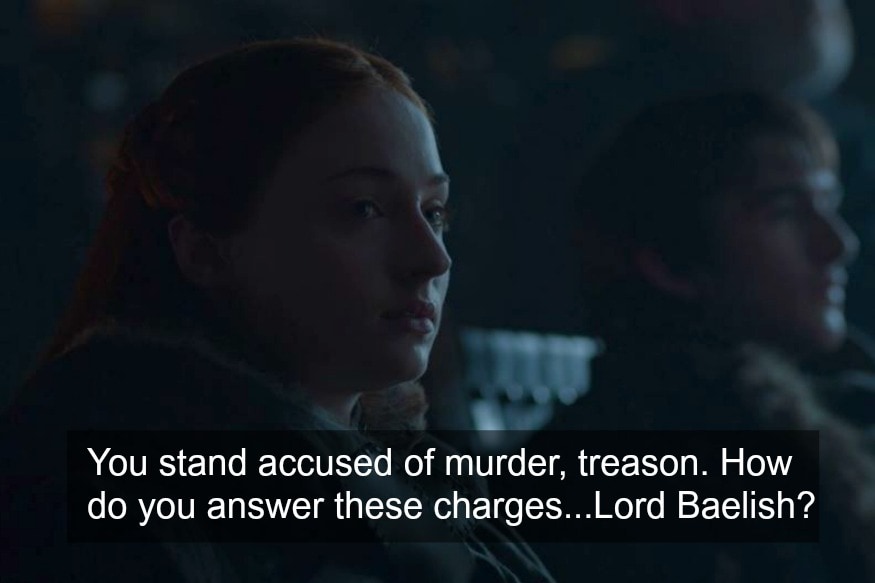 Littlefinger, who barely manages to defend himself, meets the fate that he sure hadn't dreamt of even in his worst nightmares and Arya sure does a great and clean job of it.
Jon's true parentage is finally revealed
Samwell Tarly, who we saw leaving from the Citadel to travel North to help Jon Snow in The Great War, meets Bran - the three eyed raven, in Winterfell.
Here, Bran tells Sam that it is imperative that Jon comes to know of his true parentage at the earliest. Bran reveals to Sam that Jon isn't Ned Stark's son but the bastard son of Rhaegar Targaryen and his aunt Lyanna Stark, who was born 'in a tower Dorne'. He also tells Sam that Jon's last name is Sand, since he was a Dornish bastard just like how bastards in the North are named Snow.
Sam intervenes to tell Bran that he transcribed a High Septon's diary at Citadel, which had the mention of Rhaegar Targaryen and Lyanna Stark's secret marriage. He also reveals that the High Septon had annulled Rhaegar's marriage to Elia making Jon not a bastard but a trueborn son of Rhaegar and Lyanna Targaryen and the true heir to the Iron Throne.
Oh, and we also finally come to know of Jon's real name - Aegon Targaryen.
Well, what ramifications will the reality have on Jon and Daenerys relationship and on the Mother of Dragon's claim to the throne, is for us to wait and watch.
Fire and Ice come together
What the makers had been hinting at since the last two episodes, became a reality in the finale.
Finally, Jon Snow or shall we call him Aegon Targaryen and the Mother of Dragons Daenerys Targaryen share a moment. Before the King in the North and Dragon Queen make their way North to fight the White Walker threat, Jon makes his way into Daenerys bedchamber and the two are seen indulging in a passionate lovemaking scene unaware that the two share blood relation.
If you are thinking about incest, well, it's Game of Thrones!
Army of the Dead march to the Seven Kingdoms
From the Night King riding Viserion who was spilling ice and shattering The Wall that had been protecting the North all along to the army of the dead making their way to the Seven Kingdoms with ease, this surely was the ultimate climax that the makers could have come up with.
With the dead marching into the Seven Kingdoms, we can only wait and guess what the final season will have in store for us. Till then we will have to make do with the fact that a few who deserved to die and be abandoned met with their fate.
| Edited by: Mugdha Kapoor Safaya
Read full article