GET Stock

Quotes


Gangnam Style: 'Uncool' Korean star Psy goes viral
'Gangnam Style' is about the luxurious lifestyle connected to the trendy Gangnam district, located in Seoul.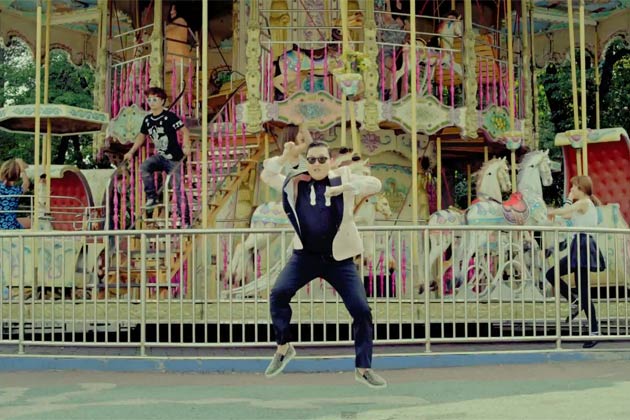 'Gangnam Style' is about the luxurious lifestyle connected to the trendy Gangnam district, located in Seoul.
A chubby, rapping singer with slicked-back hair and a tacky suit is the latest musical sensation to burst upon the world from South Korea, via a YouTube music video that has been seen by over 60 million people in under a month.
In a nation famed for the pretty-boy but often bland bands of K-Pop, nobody was more surprised by the success of the video 'Gangnam Style' than its creator, Psy, a musician with a decade-long career in his homeland who never thought to break overseas.
"The YouTube video never targeted foreign countries. It was for local fans," Psy told Reuters on the sidelines of a concert at the weekend. "My goal in this music video was to look uncool until the end. I achieved it."
Decked out in a bow tie and suit jackets varying from pink to baby blue, as well as a towel for one sequence set in a sauna, the 34-year-old Psy busts funky moves based on horse-riding in venues ranging from playgrounds to subways.
The video has been viewed by more than 60 million since mid-July, eclipsing the total for pop star Justin Bieber's most recent effort, according to YouTube. Parodies have popped up in South Korea and the United States, and the tune was used as part of Stockholm's Pride Parade earlier this month.
Even a few of South Korea's normally staid presidential candidates are imitating Psy's moves in an appeal to voters.
The song, released in mid-July, was meant as a commentary on the rampant materialism and emphasis on appearance of today's South Korea - particularly in relation to Gangnam, which Psy terms Seoul's Beverly Hills.
"It is too hot, and the economy is so bad," said Psy, whose real name is Park Jai-sang. "So I just wanted the song - lyrics, dances and everything - to be full of gusto."
At one point enrolled in a US business school by his traditional parents, who wanted their son to inherit the family business, Psy confessed to sneaking out and buying musical instruments with his tuition money.
"Since when I was very small, I have been looking for something fun," he said. "If I did not do music, I would most likely have been a loser. I was very lazy - just drinks, clubs and ladies. That was fun at that time."
Eventually graduating from the Berklee College of Music in the United States, Psy rose to fame with a 2001 debut album. But he landed in hot water several times - once for smoking marijuana and later for trouble over his mandatory military service.
Known for his brash style, catchy beat and kitschy antics, Psy specializes in high-energy and outrageous performances. At a weekend concert that packed a Seoul stadium, he staged a parody of Lady Gaga - complete with fake breasts that he set on fire.
"He makes people crazy, real crazy," said Yoon Sun-sik, a 29-year-old fan. "He has the power to blow away all the stress in the world with one punch."
Psy, who is having a pop culture moment with his viral music video for 'Gangnam Style' - says he's been doing funky choreography for a decade in his native Korea. But he's excited that his colorful style is being celebrated in the United States and around the world.
"I did a lot of strange dance moves for 12 years in Korea," Psy said in a recent interview, adding that the reaction today reminds him of his musical debut back home. "This is kind of (the) same story."
The bright, vibrant clip features the comedic and flamboyant Psy delivering somewhat bizarre choreography - including a horse-riding dance - while rapping and singing in Korean over a thumping, dance-flavored beat. The video, full of colorful, lively outfits, includes a mob of dancers backing Psy, and the only words he says in English are "Hey, sexy lady." It's currently No. 1 on iTunes' music videos chart.
"The thing is, I have special visuals. I'm not like (a) normal entertainer (when it comes to visuals)," he said. "That's why when I dance it looks different. I have a different body, different shape, different visuals."
His stage name is derived from 'psycho', and he writes and produces his own music. 'Gangnam Style' is about the lavish and luxurious lifestyle connected to the trendy Gangnam district, located in Seoul. PSY even choreographed the routines in the clip.
"In Korea they're celebrating me because I didn't try anything. I didn't promote, I didn't target anything about going overseas," he said. "It just happened like this with YouTube and Twitter. I think those two feed me."
"Years ago we talked about this great, democratizing force the Internet was going to be, and it would strip down nationalities and barriers and boundaries, and this is a great way of that happening,'' said Bill Werde, the editor of Billboard. "In some ways it's very simple. There's no great science behind it.
Someone saw a video that they loved and they shouted about it."
Of millions watching the viral video, there are a growing number of celebrities expressing their love for the song, including Katy Perry, T-Pain, Robbie Williams, Josh Groban, and Nelly Furtado, who performed some of the song at a recent concert.
"When I realized that some top stars like have imagined or tweeted about me, I thought like, 'That's joking.... That's not gonna happen," he said. "I never expect things like this, not because they are top stars but because this is the biggest market in the universe for pop music, right, so everybody's dreaming about having appearance in the US. So I'm still saying, 'What am I doing.... here? This is beautiful."'
'Gangnam Style' appears on Psy's sixth studio album, 'PSY 6.' He had a recent meeting with Justin Bieber's manager, Scooter Braun. But the singer-rapper was tight-lipped about the get-together.
"He doesn't want me to talk about our relationship yet so what can I say?" Psy said, adding with a laugh: "He's a nice person."
The chubby musician is finding success at a time when K-Pop, Korean pop music, is growing in the United States. But Psy, whose song is spending its fourth week on top of Billboard's K-Pop Hot 100 chart, says he doesn't fit the typical mold of most K-Pop artists, and he's OK with it.
"There are standards, like skinny, muscular, handsome, pretty, tall, whatever, none (of those) categories belong to me," he said with a laugh.
"Doing it not right is right," he added. "That was my whole life. I was not suitable visually, musically, anything. I was not the standard. I was not suitable for common standards, and that can be unique, but in another way, it can be negative."
Psy released his debut 'PSY From the PSYcho World!' in 2001, and he said his musical influences are mainly rappers, like Eminem, 2 Pac, Jay-Z, and Dr. Dre.
"When I was a kid I was just a noisy boy, and I preferred to be in front of people when I was young all the time," he said. "At that time I was not a good singer; still I'm not a good singer. So when I see the rappers (I thought), 'Oh, talk can be music? Wow. That's for me."'
####
Read full article