Gatwick Airport Shutdown is Reminding People of Bruce Willis From 'Die Hard 2'
UK's second-biggest airport Gatwick has been shut down by a "deliberate" drone disruption, stranding hundreds of thousands of passengers and this is somehow reminding people of police officer John McClane.
Still from 'Die Hard 2'. Photo credits: 20th Century Fox
A drone has brought an airport in the UK to a standstill and Die Hard fans are waiting for American actor Bruce Willis to show up and resolve the situation.
In case you haven't watched or read the news in the past 48 hours, UK's second-biggest airport Gatwick has been shut down by a "deliberate" drone disruption, stranding hundreds of thousands of passengers.
Flights have been diverted or grounded since two drones, believed by Sussex Police to be of an "industrial specification," were spotted near the airfield.
While the search for the perpetrators who have brought air traffic in and out of London's Gatwick Airport to a halt, furious passengers and commenters took to social media to vent their anger. Many couldn't wrap their heads around the fact that a 'toy' could have such an impact on the commute.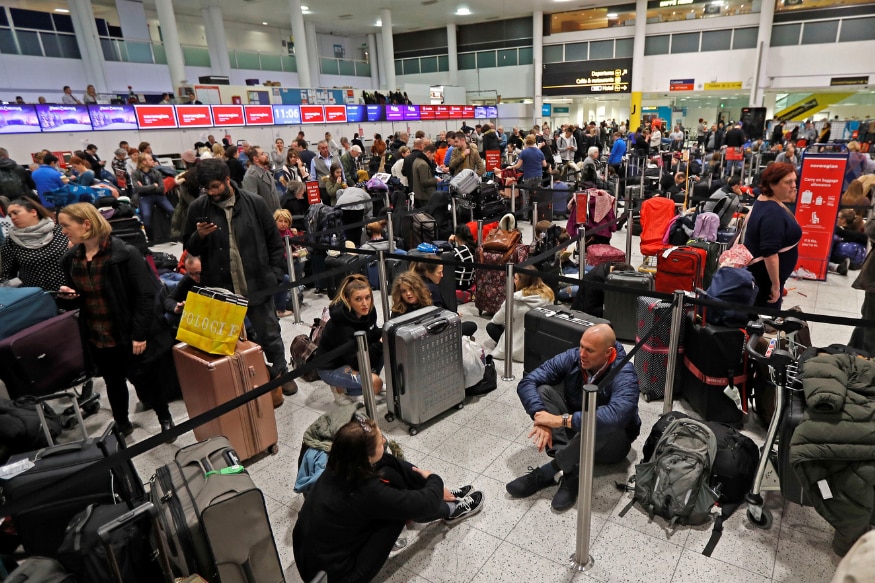 Tell me, why can't @Gatwick_Airport shoot the drone down?

— Geoffrey Boycott (@GeoffreyBoycott) December 20, 2018
So Gatwick airport has been completely shut down for THREE DAYS by some knobhead flying a drone?? Are you fucking serious?? What basically amounts to a child's toy has crippled a major airport?? What utter horse shit. There's something definitely not right about this.

— Paul Williams (@ProudManc72) December 20, 2018
God help us if UK ever comes under attack from a real enemy. What the hell is happening #GatwickAirport What if these #drones were armed or had chemicals on. Where are our defences. This is a complete and utter joke. Wheres the Government it s been going on for 20 hours. Agree?

— Jon Gaunt (@jongaunt) December 20, 2018
Twitterati didn't mind messing around with the world with their drone jokes.
Took some quality photos over Gatwick Airport earlier. Very proud of how these ones have come out. pic.twitter.com/IXc4MIQLV8

— Lux (@Callux) December 20, 2018
Hey Gatwick Airport! It's actually this easy. Maybe try to identify this man and call for help? #Gatwick pic.twitter.com/C5J8wL0bur

— Tom vdm (@TVDMolen) December 20, 2018
Took me all day but I finally got a cracking picture of Gatwick Airport. pic.twitter.com/Su7Xkyq2ga

— Dave McFarlane (@DaveMcF85) December 20, 2018
This was when people got reminded of police officer John McClane, who single-handedly (duh!) rescues thousands of passengers on and off ground, during a terrorist hostage situation in Die Hard 2 and eventually saves the day. Yippee-ki-yay, motherf**ker!
It needs some Bruce Willis. #Gatwick

— Charli Day (@charli_says) December 20, 2018
I do the people trying to find the #drone operators over #Gatwick have given Bruce Willis a call and are currently searching all churches within close proximity of the airport.... #diehard2 pic.twitter.com/hX0YqIuFSx

— Michael Weadock (@MichaelWeadock) December 20, 2018
I wonder if by any chance Bruce Willis is at Gatwick airport; maybe he could help!!!#yippeekyaymotherfucker

— Nick Turrell (@BaronMischief) December 20, 2018
Hey Bruce Willis.. There's an airport in trouble around Christmas.. GO. GO. GO ... #Gatwick #YIPPEEKAYAY

— Nat Jackson's Growler (@khakipillowslip) December 20, 2018
@Gatwick_Airport has anyone called Bruce Willis yet? pic.twitter.com/gQUOvVYDMG

— coffee is nectar (@butterfly51721) December 20, 2018
Bruce Willis is never at an airport when you need him is he #Gatwick

— Dudess of York (@DudessofYork) December 20, 2018
#drones causing flight chaos and delays over #gatwick airport. Anybody got a number for Bruce Willis? pic.twitter.com/yIcvLhAYsn

— FairlyGothMom (@Helinhandbasket) December 20, 2018
#Gatwick we need #Bruce willis #DieHardIsAChristmas to solve the problem even for #Heathrow #IT problem.

— ! Et tu, Brute? (@4vadar) December 20, 2018
A quick summary of what unfolds in 1990's Die Hard 2, the second film of the popular action movie franchise.
New York cop John McClane finds himself in the wrong place at the wrong time once again and this time at Washington's Dulles Airport where he's waiting for his wife's plane to arrive.
This is when he discovers that the airport is under threat and its landing system will soon be sabotaged. His worst nightmare comes true as the criminals, who wish to free a drug baron, hold airport hostage and present their demands.
Not the one to run away, John devices a strategy to save the passengers and bring his wife Holly McClane's plane back to safety.
Read full article
Countdown To
Elections Results
To Assembly Elections 2018 Results