George W Bush Handed Michelle Obama Candy Again, This Time at Bush Senior's Funeral
Bush had previously given candy to Michelle Obama in September during John McCain's funeral and repeated the gesture at his own father's.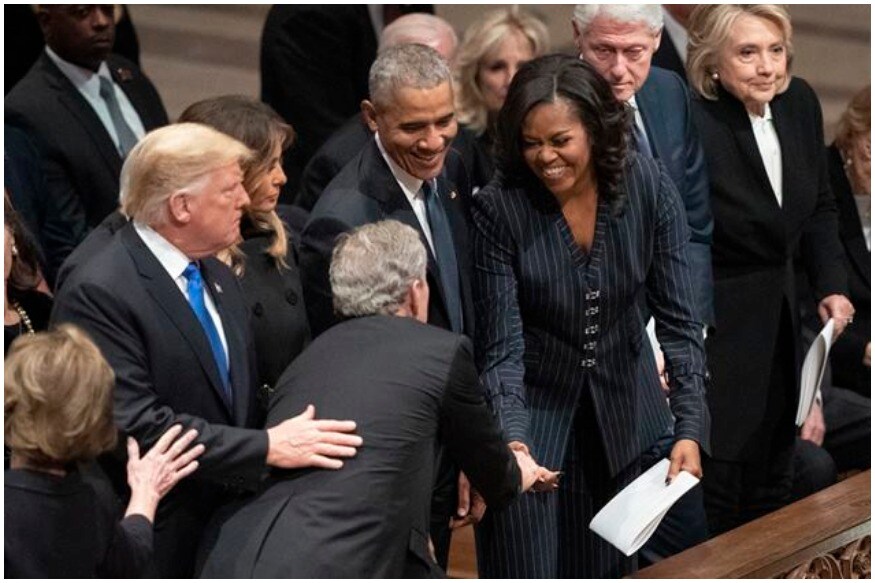 Former president George W. Bush (C), flanked by his wife Laura (bottom L) reaches past (from L-R) US President Donald Trump, First Lady Melania and former president Barack Obama to give former first Lady Michelle Obama something as US president Bill Clinton and Hillary Clinton, and former president Jimmy Carter and Rosalynn Carter look on during the funeral service former president George H.W.Bush at the Washington National Cathedral in Washington, D.C. (Photo: BRENDAN SMIALOWSKI, AFP/Getty Images)
Former US President George W Bush delighted fans and netizens on Wednesday after he was caught on camera handing a candy to former First Lady and Democrat Michelle Obama during his father and former President George HW Bush's funeral.
The camaraderie between former the Republican President and wife of the two-time Republican President Barack Obama is no secret.
The two recently revealed their informal relationship in September when Bush surreptitiously passed a candy to Mrs Obama during the funeral of John McCain. And to everyone's absolute delight, Bush repeated the same gesture at the 41st President's funeral.
In a photo that has since gone viral on social media, an earnest Bush can be seen reaching past current President Donald Trump, First Lady Melania Trump and Barack Obama to hand the candy to Mr Obama. As Bush walked up the National Cathedral during the solemn event, he can be seen taking a candy out of pocket and swerving to shake the hands of the Trumps and the Obamas, sitting together. The former First Lady can be seen looking pleased at receiving the candy, even as Trump's face was twisted into what could possibly be a scowl. An unaffected Bush went on to shake the hands of the Clintons next.
Bush giving out candy again 😊 #GeorgeHWBushFuneral pic.twitter.com/gaoddGCWmT

— Angel (@AngelBlabber) December 5, 2018
Previously, Obama had said on NBC' s Today Show that Bush was often her 'partner in crime' since protocol dictated they were 'forever seatmates' during official functions attended by the 'formers'.
President George W. Bush's candy hand-off to @MichelleObama at both Sen. McCain and President #Bush41 funerals. pic.twitter.com/geYnLErHx0

— CSPAN (@cspan) December 5, 2018
Social media was instantly all over the photo, with many people sharing their reactions,
Melania trump when Bush gave MichelleObama candy#GeorgeHWBushFuneral pic.twitter.com/lvor0Y83t5

— UltraInstinct (@shanuddin8888) December 5, 2018
George Bush gave Michelle Obama candy at his father's funeral. Dubya is the GOAT. 🇺🇸pic.twitter.com/3PnE4vLZxl

— Cloyd Rivers (@CloydRivers) December 5, 2018
Nice moment -- George W. Bush slipped Michelle Obama what looked like a piece of candy, upon entering the National Cathedral and greeting the former presidents and first ladies.

— Geoff Bennett (@GeoffRBennett) December 5, 2018
President Bush giving @MichelleObama candy today gives me all the feels. #Bush41Legacy #Bush41 #GeorgeHWBushFuneral pic.twitter.com/NFjLWdn2DR

— Alex Miller (@AlexMillerNews) December 5, 2018
Two favorite moments in the VIP seats at #GeorgeHWBushFuneral:1. @HillaryClinton, pointedly, not noticing Individual 1 had joined her pew; and2. George W. Bush, at his own father's funeral, having the grace and humor to slip @MichelleObama some candy:pic.twitter.com/0l1UkbAclo

— Mrs. Betty Bowers (@BettyBowers) December 5, 2018
The Obamas: You bring the candy? George W. Bush: Of course! Trump: Can I have some? Bush: Who invited this guy? #GeorgeHWBushFuneral pic.twitter.com/vrq4JcVX5L

— Cameron Grant (@coolghost101) December 5, 2018
*George Bush hands Michelle Obama candy* Black people: pic.twitter.com/IwBsuWUVS6

— Anthony Moore (@AllThatandMoore) December 6, 2018
Nobody is talking about this, but right as W is handing the candy to Michelle... Trump puts his hand on W's backThen someone literally nearly slaps Trump's hand awayI don't know what she said while doing so, maybe it was "Please don't touch President Bush, sir. " https://t.co/gzOpFYZUDV

— Shawn in Az 🌵 (@CaptainsLogAz) December 6, 2018
In fact, even Bush's critics ended up sharing the incident on social media.
George W. Bush has about two or three more times to hand Michelle Obama a piece of candy before y'all completely forget about the Iraq invasion and the 2008 financial crisis altogether.

— Donté Stallworth (@DonteStallworth) December 5, 2018
I don't even like GW Bush and I wear my vote against him like a badge of honor but when he leans over to give Michelle candy and Trump puts his hand on Bush's back, I straight up yelled,"Hands off my President!" https://t.co/3Ds0HAq4et

— Kaz Weida (@kazweida) December 5, 2018
Get the best of News18 delivered to your inbox - subscribe to News18 Daybreak. Follow News18.com on Twitter, Instagram, Facebook, Telegram, TikTok and on YouTube, and stay in the know with what's happening in the world around you – in real time.
Read full article