'Ghar Se Nikalte Hi': These Before and After Memes Have Taken Over the Desi Internet
Fresh new meme for your soul.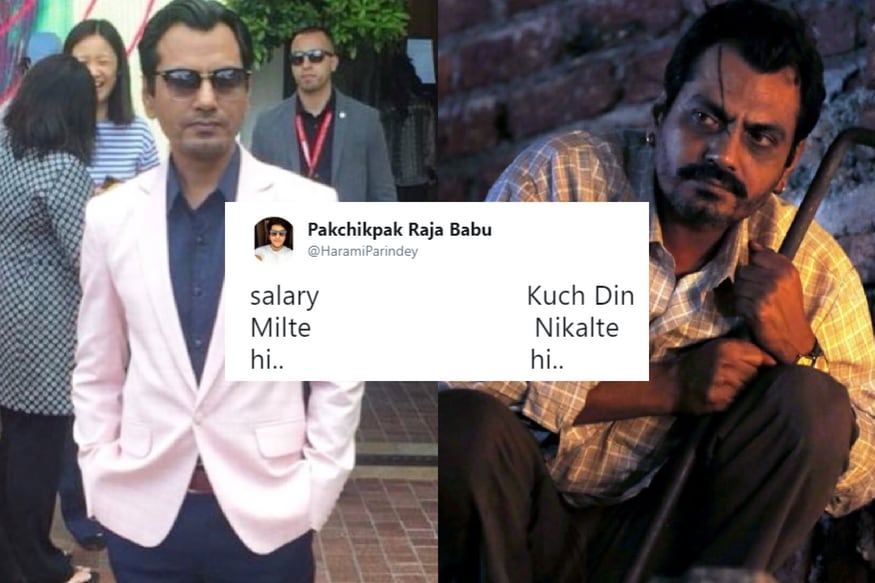 Image and caption credits: @haramiparindey | Twitter
A new "comparison" meme has sent the Internet users across India into a frenzy.
Taking inspiration from a previous trend-- "If You Don't Love Me At My", this "before and after" meme works on the lines of how people get out of their houses and turn into a completely different version of themselves in the process.
Of course, there's a Bollywood touch to this.
The lyrics of "Ghar se nikalte hi" from 1996 movie Papa Kehte Hain, recently popularised again by Amaal Mallik and Armaan Malik, have been incorporated to this meme to perfection.
Don't get the drift?
Here you go:
😹😹😹😹😹

Ghar se Kuch Dur

nikalte Chalte

hi.. hi.. pic.twitter.com/fjDocSDjMc

— Freelance 007 (@James_Beyond) May 13, 2018
*Indian Girl specially Delhi Girl*

Ghar se Kuch dur

Nikalte hi Chalte hi pic.twitter.com/5IkERqEcoA

— bhaavna arora (@BhaavnaArora) May 13, 2018
Dressing Kuch Dur

Room se

nikalte Chalte

hi.. hi.. pic.twitter.com/kfJR3TQeYH

— Mask ishan (@Mr_LoLwa) May 13, 2018
Ghar se Kuch Dur

nikalte Chalte

hi.. hi.. pic.twitter.com/Oo7ZAJWVq6

— Freelance 007 (@James_Beyond) May 13, 2018
Ghar se Kuch Dur

nikalte Chalte

hi.. hi.. pic.twitter.com/5lmdpDi9Rw

— Kaju Katli (@MonkNxtDoor) May 13, 2018
Crease se Kuch Dur

nikalte Chalte

hi.. hi.. pic.twitter.com/UF0oE2Ph4H

— Bade Chote (@badechote) May 13, 2018
Ghar se Kuch Dur

nikalte Chalte

hi.. hi.. pic.twitter.com/adEuS5hzKu

— Rishabh (@jokebazz) May 13, 2018
Ghar se Kuch Dur

nikalte Chalte

hi.. hi.. pic.twitter.com/kmqEYQpp59

— Keh Ke Peheno (@coolfunnytshirt) May 13, 2018
salary Kuch Din

Milte Nikalte

hi.. hi.. pic.twitter.com/RU4tG9pcd6

— Pakchikpak Raja Babu (@HaramiParindey) May 13, 2018
This summer heat I tell you 😝

Ghar se Kuch Dur

nikalte Chalte

hi.. hi.. pic.twitter.com/p89D5dgZyx

— Deepen (That LOL Buddhu) (@lolbuddhu) May 13, 2018
Ghar se Kuch Dur

nikalte Chalte

hi.. hi..#BengaluruTaffic pic.twitter.com/rlIbR9dSkf

— Tweetera (@DoctorrSays) May 14, 2018
Ghar se Kuch Dur

nikalte Chalte

hi.. hi.. pic.twitter.com/XM8yqr3IMX

— Manish Waghela (@iManishWaghela) May 13, 2018
Ghar se Kuch Dur

nikalte Chalte

hi.. hi.. pic.twitter.com/qtRrFWEksd

— TheKidFromSpaceX🚀 (@ShutUpSuneil) May 13, 2018
Ghar se Kuch Dur

nikalte Chalte

hi.. hi.. pic.twitter.com/OvTfnz7Rxp

— Thanos Chikna (@Madan_Chikna) May 13, 2018
Ghar se Kuch Dur

nikalte Chalte

hi.. hi.. pic.twitter.com/y3NnIVuWBr

— Hunट₹₹♂ (@nickhunterr) May 13, 2018
Ghar se Kuch door

Nikalte hi Chalte hi pic.twitter.com/5Hoog6KfYf

— PhD in Bakchodi (@Atheist_Krishna) May 13, 2018
Read full article